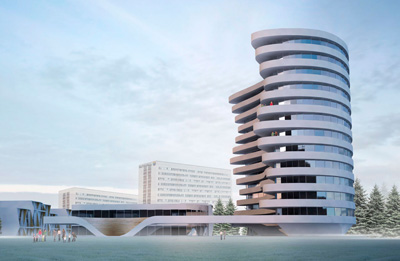 Project: Vällingby
Location: Stockholm, Sweden
Designed by 3XN
Website: www.3xn.dk
3XNs winning proposal for the new structure marking the entrance to Vällingby Parkstad in Stockholm symbolizes the soft values of the well known Swedish vision on mixed use development (ABC). This updated 2.0 vision aims to create a close relationship between work life, housing, and leisure.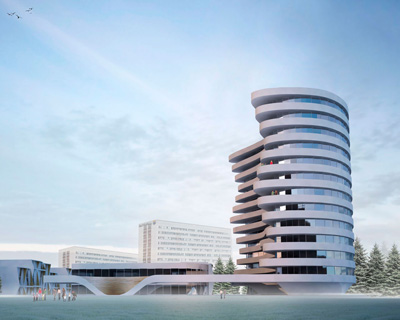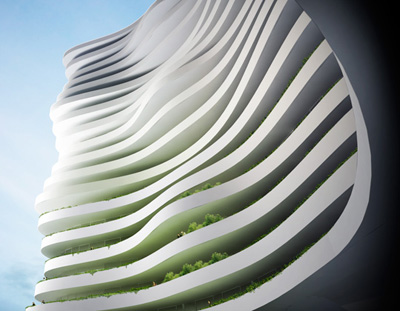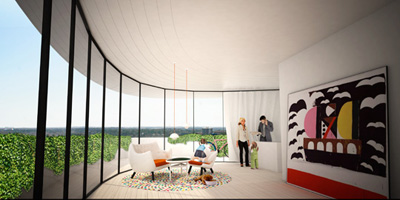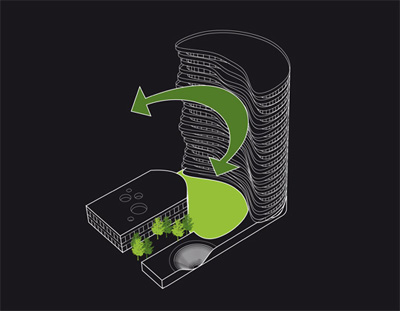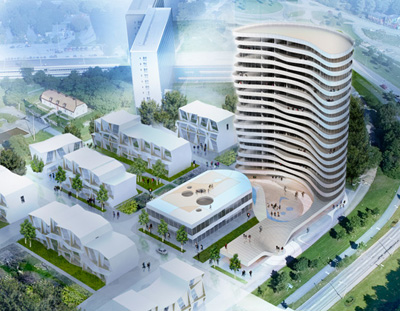 The building's curved design embraces the area, while the lively shaped balconies open the structure up towards the surroundings, seemingly drawing the park upwards into the air. The dense structure at the ground level adds activity at eye level, with further visual stimulation continuing upwards as seen in the active roof tops and flowering balconies.
The area's traditional ABC-structures are functional and angular – a clear demarcation from the green park next to it. In contrast to this, the new building softly rises from the ground in a human movement. The North facing façade is smooth and plain, the South and West facing sides are curved in an embracing gesture. The design is also functional as its shape minimizes shadow effects on the surrounding areas.
The wave-like variation between floors comes from a repetition of four different shapes in the building. This diversity adds dynamism and liveliness to the building, one which is further complemented by the individual touches that the tenants will bring through their furnishing and flower boxes of the balconies.
Address: Vällingby Parkstad
Client: Svea Fastigheter
Area: 13,000 m2
Competition Proposal: 2010
3XN Team: Kim Herforth Nielsen, Jan Ammundsen, Stig Vesterager Gothelf, Majbritt Lerche Madsen, Rasmus Hjortshøj, Audun Opdal, Eva Hviid-Nielsen, Sofia Steffenoni, Caroline Purps, Tobias Trudsø, Christian Lund Jeppesen, Henriette Byrge, Allan Edmond Hansen