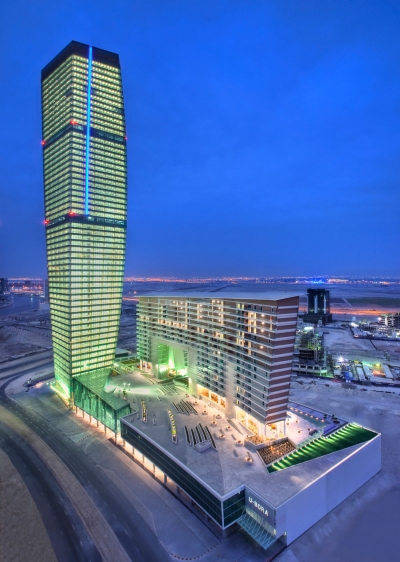 Project: U-Bora Towers
Designed by Aedas
Client: Bando Engineering & Construction Co. Ltd.
GFA: 120 000sqm
Location: Dubai, United Arab Emirates
Website: www.aedas.com
Designed for a location in Dubai by the world renowned Aedas the 250 meter high U-Bora Towers is a mixed-use development combining office, residential and retail space. For more images accompanied by architects description continue after the jump:
From the Architects:
Designed by Andrew Bromberg, the U-Bora Tower Complex is a mixed-use development located in the heart of Business Bay, Dubai, UAE. The design has given equal attention to its three different uses – office, residential and podium – in order to maximize their opportunities and viabilities within the site's context.
The office-tower position is rotated from the orthogonal at the street level to help focus the office space down the future view corridors toward the water and past the surrounding developments. As the tower increases in height, its four faces respond directly to their three-dimensional context. They all twist at varying degrees and angles to reorient their faces to maximize available views.
The residential block deliberately does not compete with the surrounding towers in height, and instead, keeps low and focused to the adjacent water body to the south. By designing the block as a linear bar rising from 12 stories at the tower end to 15 stories at the western end, a significantly greater percentage of units get an uninterrupted view of the water.
All three components are glued together with a 10,000 square-meter public, densely landscaped deck that has accessibility from all three exposed sides of the project. Two monumental stairs lead up from either side of the office tower with a third passing through a large "gateway" within the residential block down to the water edge to the south.
The U-BORA Tower's Mixed-Use offers something to everyone, and in a complementary way, balances its three major components of office, residential and retail in order to maximize the site's vibrancy. The architecture is powerful, pure and dynamic and will become a focal development in a setting of competing attention. The project will be unique to its setting in Business Bay and will also become a model development for the entire region.