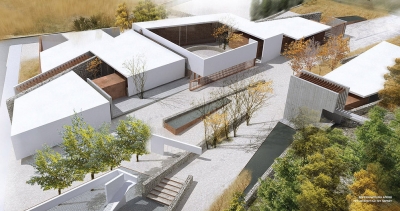 Project: Agricultural Heritage Museum & Park
Designed by Vamvakidis Simos, Tzortzis Antonis and Zapantiotis Fotis
Location: Eptagonia, Cyprus
Website: www.svstudio.gr
Agricultural Heritage Museum & Park designed by SVstudio for a location in Eptagonia by creating a fluid connection with the surrounding landscape. For more images continue after the jump:
From the Architects:
The individual volumes of the museum follow the gentle slope of the existing terrain, creating an "organic" connection to the landscape while creating individual passes and plateaus that are interconnected, in a composition close to the human scale and built context of the village.
The lot #686 that hosts the existing cultural center of Eptagonia is today characterized by a sharp elevation of about five meters with the new lot, #677. The stone wall that surrounds it, retains only a portion of the slope at the base of the hill, and stresses the strict demarcation between the two properties. As a symbolic gesture, the perimeter wall was broken down into smaller fragments or "debris" which slide within the surrounding space. The fragments now become stone walls and yards – a reference to traditional stone walls – while holding the soil and organizing the whole park area.
The museum, tavern and priest dwelling are expressed as flat surfaces that come to house the "debris" within space. This treatment allows the breakdown of the volume of the museum into smaller sections, assuring that the new buildings blend in with the existing built context. Finally, the programmatic areas of the museum appear as independent fragments that make up a larger whole. Their volumes are unfolded into surfaces that embrace and hold the program. This gesture also created interior spaces that are protected from the intense summer sun , while having gradual, smooth transitions and circulation among them.​