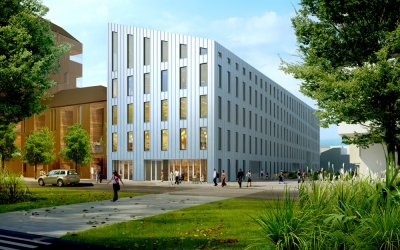 Project: Multifunctional Office Block 'Pôle de Compétences'
Designed by BARCODE Architects and Haber Autrement
Client: ICADE Promotion
Location: Bordeaux, Farnce
Website: www.barcodearchitects.com & www.habiterautrement.net
BARCODE Architects share with us their design for the modern multi-functional office block in French city of Bordeaux created in collaboration with Haber Autrement. Pôle de Compétences project taking 7,000 square meters is part of an extensive redevelopment of the local harbor area.
For more images as well as the architects description continue after the jump:
From the Architects:
Rotterdam based office BARCODE Architects and Paris based office Haber Autrement presented today the final design of the project 'Pôle de Compétences' in Bordeaux.
The 7,000m2 project is part of the masterplan 'Bassin a Flots' designed by ANMA/ Nicolas Michelin, an extensive redevelopment of the harbor area at the west bank of the Gironne in Bordeaux. The masterplan aims on a phased transformation of the present introvert industrial harbor area into a new lively precinct with an urban mixture of living, working, and recreation.
By invitation of Nicolas Michelin, BARCODE Architects and Habiter Autrement made a design for 'Pôle de Compétences', a centre for the assistance of new businesses. The slender 90 meter long and 21 meter tall building presents itself as a pure monolith volume stretching out over the entire length of the site. The facades are designed as a cut out of the characteristic sawtooth roof, a reference to the architecture of the former harbor area. The opposing facades are mirrored which creates an expressive and dynamic volume.
Both the façade and the roof are made out of silver colored aluminum panels. This material continuity lends the building a monolithic quality, which is reinforced by the regular geometry and consistent rhythm of the openings and the cladding. On ground level this rhythm is interrupted by larger openings which mark the entrees for the public facilities, such as the restaurant and the fitness. The brightly colored two-story high public passage guides visitors into the green inner courtyard.
'Pôle de Compétences' is one of the first buildings developed in the area of 'Bassin a Flots'. The design of BARCODE Architects and Habiter Autrement represents a compelling new architecture for the former harbor area, a meaningful quality boost for the waterfront of the Gironne.