BARCODE Architects was selected as finalist for the prestigious design competition for the New Headquarters of the United Nations in Bonn. The project of BARCODE Architects is a 50 meter tall office structure which will form the new entrance to the green Campus of the UN.
From the Architects:
The UN-Campus is situated on the location of the former German 'Bundesambt' along the Rhine. On this prominent waterfront location BARCODE Architects designed a 12.000m2 building with a simple form and representative character. The design challenges the usual rectangular office shape and instead comes with a dynamic parallelogram plan. This twist to the floorplan creates surprising optical effects from every viewing angle and make the building appear less massive in the silhouette along the Rhein. At the same time it maximizes the city views for the employees and let the park naturally flow around it, connecting all the buildings and generating a real campus feeling.

The architecture of the façade has its own specific identity, which is sustainable, exclusive and reflects the culture and the identity of the UN-organization. Inspiration was found in the line of flags that often accompanies the entrances of UN buildings. The idea is to 'wrap' the building in the 193 flags of all UN-members to reflect the gesture of unity where the UN-organization stands for. The vertical concrete shading devices are curved softly symbolizing the idea of the waving flags while at the same time providing a significant reduction of solar radiation on the façade.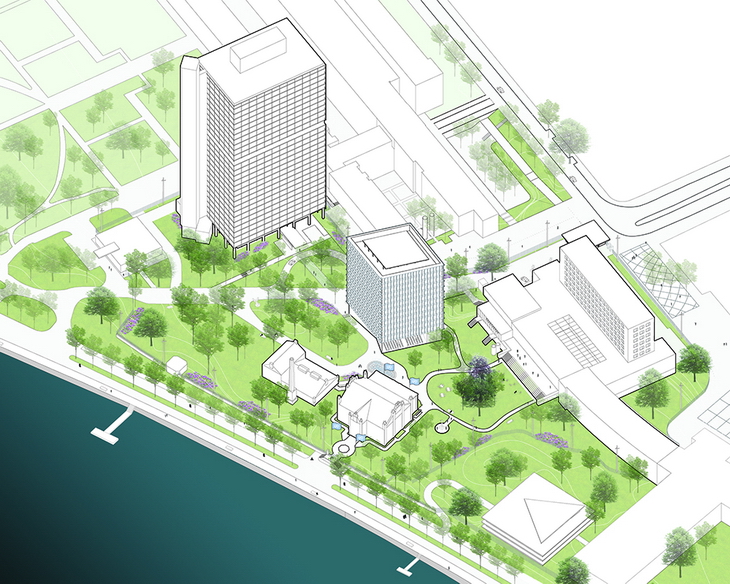 The main entrance of the building gives access to an open and welcoming lobby which has spectacular views into the park and connects via a generous stair to the park level below. The welcoming double height lobby space expresses the continuous interrelation with the surrounding park landscape and the other UN-buildings on the campus. For the campus landscape BARCODE worked together with West 8 Landscape Architects. West 8 designed a landscape concept which strengthens the character of the UN-Campus as a coherent working environment and beautiful green oase along the Rhein. The park landscape strengthens the qualities of the office design and invites for exchange and communications between the UN employees of the different departments.

Out of the more than 75 entrees the jury selected besides the design of the team of BARCODE Architects & West 8 landscape architects the project of Stefan Lippert Architekt & ANNABAU Architektur und Landschaft.

At the end of this year the UN & the City of Bonn will announce which of the two projects will be realized.
BARCODE Architects: "In size and position the building, seemingly naturally, bridges the difference between the other volumes in the context while creating a strong identity and strengthening the feeling of a collective and representative green UN-Campus along the Rhine".

Project: New Headquarters of the United Nations in Bonn
Designed in collaboration with West 8 Landscape architects (Rotterdam), Bollinger und Grohmann Ingenieure (Frankfurt), Hohler + Partner Architekten und Ingenieure (Hamburg/ Aachen), Level Acoustics (Eindhoven)
Designed by BARCODE Architects
Client: United Nations
Size: 12.000 m2
Location: Bonn, Germany
Website: www.barcodearchitects.com