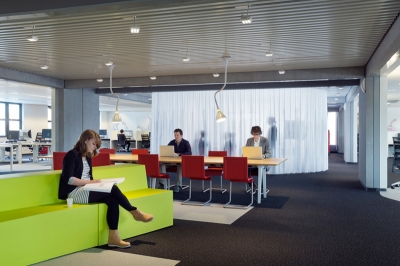 Project: Interior of CZ Insurance
Designed by Barcode Architects
Project Team: Dirk Peters, Caro van de Venne, Bram de Maat, Jeroen Peters, Christiaan Harmse, Philip Vandermey, Clément Périssé, Karin Wolf
Client: CZ-Zorgverzekeringen – Headquarters
Size: 2 000 m2
Location: Tilburg, Netherlands
Website: www.barcodearchitects.com
Photography: Christian van der Kooy
Barcode Architects are in charge of this splendidly shaped interior space created for CZ Insurance in Dutch city of Tilburg.
From the Architects:
CZ approached BARCODE Architects with the question to drastically transform the interior of their headquarters in Tilburg so that new ways of working with more opportunities for communication and knowledge sharing could emerge.
One of the key targets of the design brief was the desire to create a differentiated work environment, more efficiently planned, with flexible workplaces for all employees. The architects divided the 100 meters long and 23 meters wide plan into 3 zones, with in the centre an area for meeting and discussion, flanked on either side by open workplaces and concentration zones.
The materialization of the project is based both, on the collective and the uniqueness of the individual areas. A new suspended ceiling in the central area emphasizes the differentiation into 3 zones, the carpet connects and brings also accents using contrasting colors for the individual spaces of meeting and encounter.
The furniture is chosen in line with the different atmospheres within the space. The perforated acoustic panels are used as a playful backdrop, the oversized bar table reflects the importance of the open communication and the sharing of information and knowledge. Barcode Architects also made a custom for a seating element. The piece of furniture in the form of a cross, is made ​​of foam, is flexible and easy to move, it aims to become the connecting element, the social focal point of the floor.
Barcode Architects: The new office of CZ-insurance is a combination of 'humor' combined with efficiency and pragmatism, the perfect balance between sobriety and optimism, a beautiful reflection of the philosophy of this Dutch insurance company.