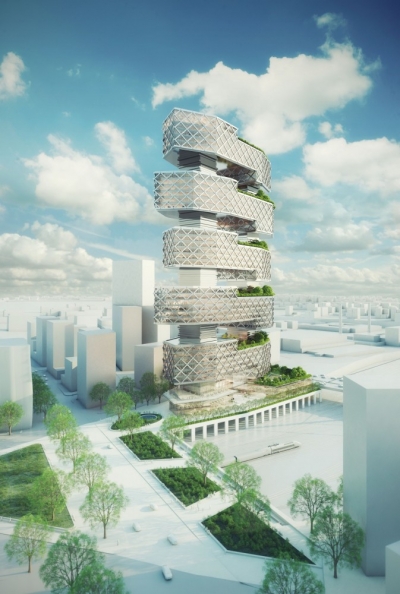 Project: Office Tower "Le Cinq"
Designed by Neutelings Riedijk Architects
Client: Buelens NV, Brussels
Program Area: 130 000 m2
Location: Paris, France
Website: www.neutelings-riedijk.com
Designed to be part of XIII arrondissement's new development, Le Cinq Office Tower with it's green design is designed as true landmark, project is work of Neutelings Riedijk Architects. For more images as well as architects description continue after the jump:
From the Architects:
The 180 meter high office tower serves as the focal point for the east of Paris in the new urban development of the XIII arrondissement. The tower consists of five city blocks of only six stories each, cantilevered from two vertical cores with open space between the volumes. Each block has an open inner court and vast roof gardens. In this way, a new type of green urban skyscraper has been developed that combines the quality of low-rise urban fabric with the potential of high-rise tower. The foot of the tower has a hotel and shopping center, as well as ten underground parking levels.