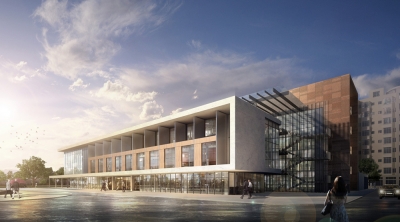 Project: Rastar Research & Design Headquarters
Designed by Nomad Office Architects + Greendwell
Design Team: Larry Tsoi, Justin Law, Carman Hui
Location: Shantou, China
Website: www.n-o-architects.com
Project for Rastar R&D Headquarters in the fast growing Chinese city of Shantou comes our way from Nomad Office Architects who completed the solution in collaboration with Greendwell. For more images as well as the architects' description continue after the jump:
From the Architects:
NOA is commissioned to design the R&D Headquarters for Rastar. In collaboration with Greendwell, the design takes an environmental approach from the beginning to drive building form and envelope design, the objective is to optimize building performance and human comfort in the context. Unlike the conventional large and deep office floor plate in the industrial campus, an atrium is introduced for better daylight penetration and natural ventilation during certain period of the year. A collaborative environment is also create with the circulation loop and functional boxes inside the atrium. The H shape of the massing frame the view towards the south and the interior court is unfolded to form a transparency statement from the approach road. Sustainability and creativity will become the new branding of the campus.