UA Studio 7 creatives share with us their splendid design for the South Nanjing Station City Square Planning located in Nanjing. For closer look, continue after the jump.
From the Architects:
The project site, located close to South Nanjing transportation hub, acts as a gate between the old Nanjing City and the new developing industrial area. The site is equally divided by 2 hectares of public green area, located on the axis that connects the Yangtze River and the railway station central plaza. Although the 8 plots designated for this new mixed use development were clearly delineated by streets, the project manages to fuse them into a continuous walk – able urban space. The central green space spreads throughout the other 8 sites, connecting the public squares on each plot through pedestrian routes designed using pavement, hinting at site interconnectivity.
Also, the urban pedestrian area is spread over 3 layers of roof gardens that share the view to the central park.

The Functional layout includes offices, commerce and hotels and serviced apartments.

Nanjing City is defined by some important natural elements such as springs, rivers, lakes and forest. The Yangzi River crosses the city from west to east. Also, the Xuanwu Lake, Qinhuai River and Jinchuan River contribute to the unique natural landscape of the city. An old Chinese proverb says that 'the best things are like the water: water is softness and water is hardness'. Seeing the importance of this element, the original idea of the scheme comes from water and develops into a unique concept as 'glaring stone and flowing water'- the unique contrasting temperament of the city.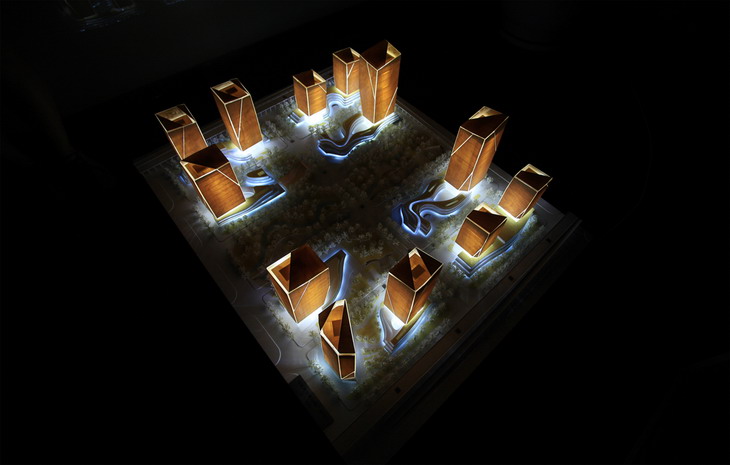 An important design criteria for active and efficient urban communities is to design for transit, biking and pedestrian mobility, not around the car transit – in other words, design using narrower streets and smaller blocks, with active, useful and interesting street fronts. The current pattern of development in China is based on large development blocks, often 500 m by 500 m in size and a network of wide arterial streets. We believe that this type of urban design has a negative impact on retail activity and transit usage.
In order to make this new development more sustainable, flexible and energy efficient we used design tools and practices such as networks of paths and streets that promote walking, mixed-use zoning comprising a mix of different building types, activities and social classes and considering a 24 hour occupation of the urban area, diversity developed around a central 'green' space.
Project: South Nanjing Station City Square Planning
Designed by Studio 7 of Urban Architecture China
Project Directors: Zesong Shi, Sheng Zhang
Project Manager: Jungang Zhou
Architects: Xueqiong Du, Shun Yin, Yanghong Cai, Zhenlong Ma, Mingshang Gao, Yulin Ye, Ke Zhang, Dong Yao, Xuehua Yan, Jose, Yuan Yao
Land Area: 95465.60 m2
Building Area: above 512167.25 m2; underground 259598.0 m2
Location: Nanjing, China
Website: www.uachina.com.cn