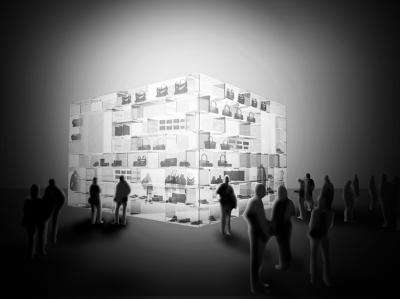 Project: Coach Shop in Shop
Designed by Office for Metropolitan Architecture OMA
Location: New York, Tokyo
Website: oma.eu
Coach is ready to revolutionize your shopping experience, and on their way to achieving such goals they have enlisted the world renowned OMA studio to design the new Coach Shop. Discover more about the design after the jump:
From the Architects:
American fashion brand Coach has commissioned OMA to develop a new merchandizing system that accommodates Coach's wide diversity of products while returning to the clarity of Coach's heritage stores. The collaboration, led by OMA partner Shohei Shigematsu, will begin inside upcoming flagship stores in New York and Tokyo.

Since establishing its first workshop in 1941, Coach has diversified its range and style, while simultaneously broadening the spectrum of its retail environment: from factory stores to outlets, shop-in-shops, boutiques and flagships. Although this expansion transformed Coach from a specialist leather atelier to a global distributor of "democratized luxury goods", it also clouded the clarity of the brand's original, library-like stores which used a rigorous organizational system, categorically sorting products inside minimal wooden shelving at assisted counters.

Shigematsu commented: "We wanted a system that could tell the story of any of Coach's wide repertoire of products, whilst projecting the legibility of its original stores. We created a system of modular display units that can be assembled to respond to the specific needs of each locale. In typical instances they are used for display; in others, they come together as an interior fixture. These units can also enclose spaces for program or curation, and by creating enclosures, they can also act as façades. OMA's intention is to use combinations of this logical system to create magical spatial possibilities for Coach, in line with Coach's motto of 'logic and magic."

Set to open in September 2012, Coach's 1,930 square foot flagship shop-in-shop in New York's newly renovated Macy's Herald Square will mark the first manifestation of OMA's concept for Coach stores. OMA will also implement its concepts in the brand's upcoming new multi-level flagship in Omotesando, Tokyo, with expected completion in 2013.111 Both projects for Coach were designed by OMA's New York office, led by partner-in-charge Shohei Shigematsu with project architect Rami Abou-Khalil.