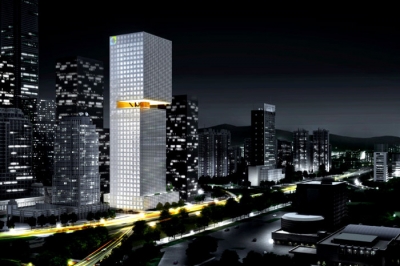 Project: Essence Financial Building
Designed by Office for Metropolitan Architecture (OMA)
Partners in Charge: David Gianotten and Rem Koolhaas (review)
Project Architect: Bauke Albada
Team: Lingxiu Chong, Chee Yuen Choy, Charles Lai, Federico Letizia, Jue Qiu, Takehiko Suzuki, Andreas Viglakis, with Byungchan Ahn, Kevin Chan, Helen Chen, Jocelyn Chiu
Clients: Essence Securities Company Limited; Mintaian Insurance Surveyors & Loss Adjusters Company Limited
Site: 4 813 m2
Program: Offices (64 550 m2), Commercial (5 450 m2)
Building Height: Tower 180 m, Podium 13.5 m
Location: Futian CBD, Shenzhen, China
Website: oma.eu
Architects at 'Office for Metropolitan Architecture' are more than aware that hard work pays off. The prolific ОМА has recently won the first prize in the design competition for the Essence Financial Building in Shenzhen. For more images of this stunning project and architectural description continue after the jump.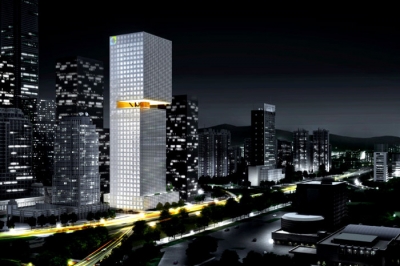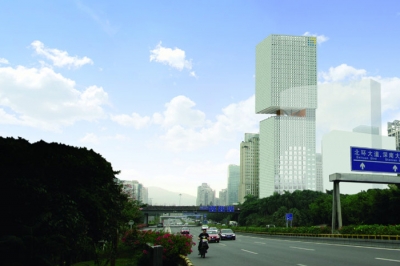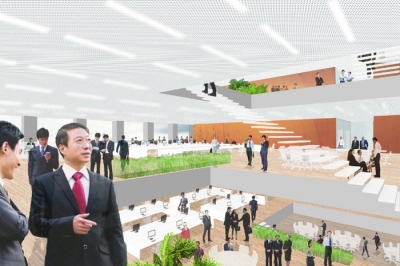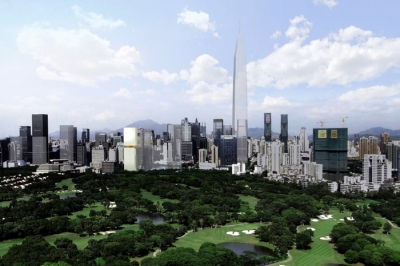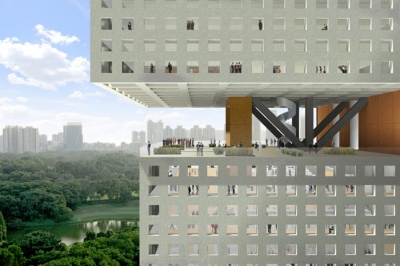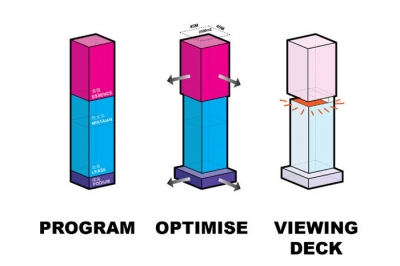 From the Architects:
As one of China's fastest growing services and business centres, Shenzhen is the perfect context to question and challenge the many conventions that govern the design of office towers: is the central core plan prevailing in office design for generations still relevant in an age of social media and mobile workforces? Is the ubiquitous curtain wall (the endless glass surface) the universal solution?

While the core is typically located in the centre of an office tower, the Essence Financial Building has its core shifted to the edge of the floor plate, resulting in large unobstructed plans that allow for a variety of configurations, and thus effective communications in the new services industry and new possibilities in work styles that grow out of contemporary Chinese society, rather than another mimic of the West.

The common practice of simple extrusion produces undifferentiated massings and the ubiquitous curtain wall adds to the homogeneity, detaching the typical tower from context, program and climate. The Essence Financial Building rationalizes programs into unique volumes, which are then manipulated to create the distinct form of the building, as well as a viewing platform that overlooks the Shenzhen Golf Club, and shaded outdoor recreational spaces for staff.

The façade of the building is designed with reference to Shenzhen's climate and urban context. It is an architectural translation of the sun and solar gain diagrams, as well as to the views from each side of the tower. Each face thus takes on a unique pattern. The East and West facades are less penetrable, in response to the low-hitting sun, while the South façade has gradated openings: the size of the windows increases down the building in proportion to the decrease of solar penetration. The North façade opens toward Fuhua First Road.

Located in the existing Financial Development Area, the Essence Financial Building is connected to an extensive public transport network, with proximity to Futian Metro Station and Shopping Park Metro Station. It is a new typology of office building for Shenzhen, one that meets the conventions of responding to context and users' needs by breaking away from conventions in office design.