Gastón Péndola recently completed his latest designed project, a new restaurant immersed in a gallery in the center of Córdoba, Argentina. Take a look at the complete story after the jump. The design proposes the alteration of a gabled wooden building and the use of curve to break the physiognomy, which was based on the original restaurant's straight lines, generating a radically contrasting aesthetic. Take a look at the complete story after the jump.
From the architects: Breaking with the model of the typical neighborhood restaurant/pub, meaning the established and excessive trend towards rustic; and above all things, modifying the aesthetic concept of the existing structure with a new design, including different geometric figures in order to achieve an up-to-date, contemporary and minimalist space", were some of the words chosen by the client to express their wishes during the commissioning of the project.
The starting point for the design was the modification of a gabled wooden structure and breaking the physiognomy, which was based on the straight lines of the existing restaurant, through the use of curve, creating a completely opposite aesthetic.
The main objective was the configuration of a more striking architecture that stands out among its peers, taking into account that the site is located in a gastronomic gallery in which it coexists with different pubs, coffee shops and restaurants.
Thus, by adopting the curve, a formation of "modern, semicircular arches" was chosen, going in both directions, placed both inside and on the sides of the visible perimeter.
Lights are integrated inside the arches to give an avant-garde sensation in the design and provide the desired minimalism through the inclusion of lighting in the spatial configuration. The result is an integral design with no separates pieces. Dynamism and simplicity at the same time.
With regard to materiality, the use of few materials was chosen, resulting in monochrome homogeneity. The interior was completely covered in polished concrete while the exterior was covered in black coating, highlighting the metal arches as the main element.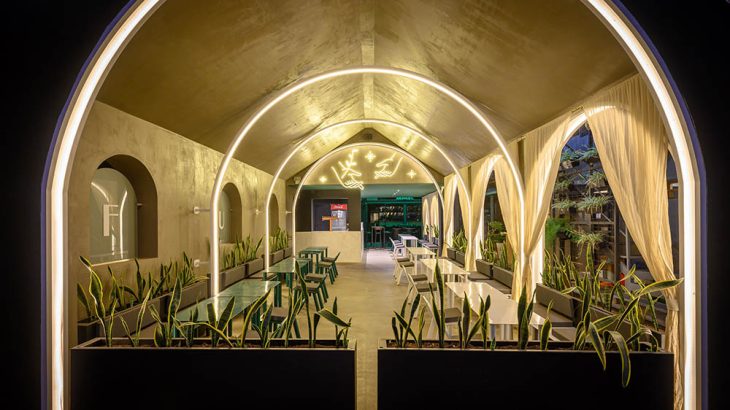 The functional approach is simple, a main space located in the central sector, and a small sector in the back in direct relation to the cocktail bar, which is more relaxed and has less lighting.
Nombre del Project Name: FUÁ by Bottom
Architecture office: Gastón Péndola
Country: Argentina
–
Completion year: 2022
Surface: 88.00 M2
Location: Achával Rodríguez 225, barrio Güemes / Córdoba, Argentina