LDH Design has recently complerted work on SUSHI ZEN, a Japanese banquet restaurant located at No. 33 Wusi Street in Beijing's Dongcheng District. The restaurant was refurbished from a 200-year-old building constructed in the Republic of China, provides Japanese banquets with a history of 200 years., and overlooks towards the Forbidden City, a 600-year-old imperial palace.
When creating the restaurant's interior, LIU Daohua focused mostly on oriental aesthetics and merged eastern and western traditions. When visiting the restaurant, customers can experience many cultures and traditions through every item they eat.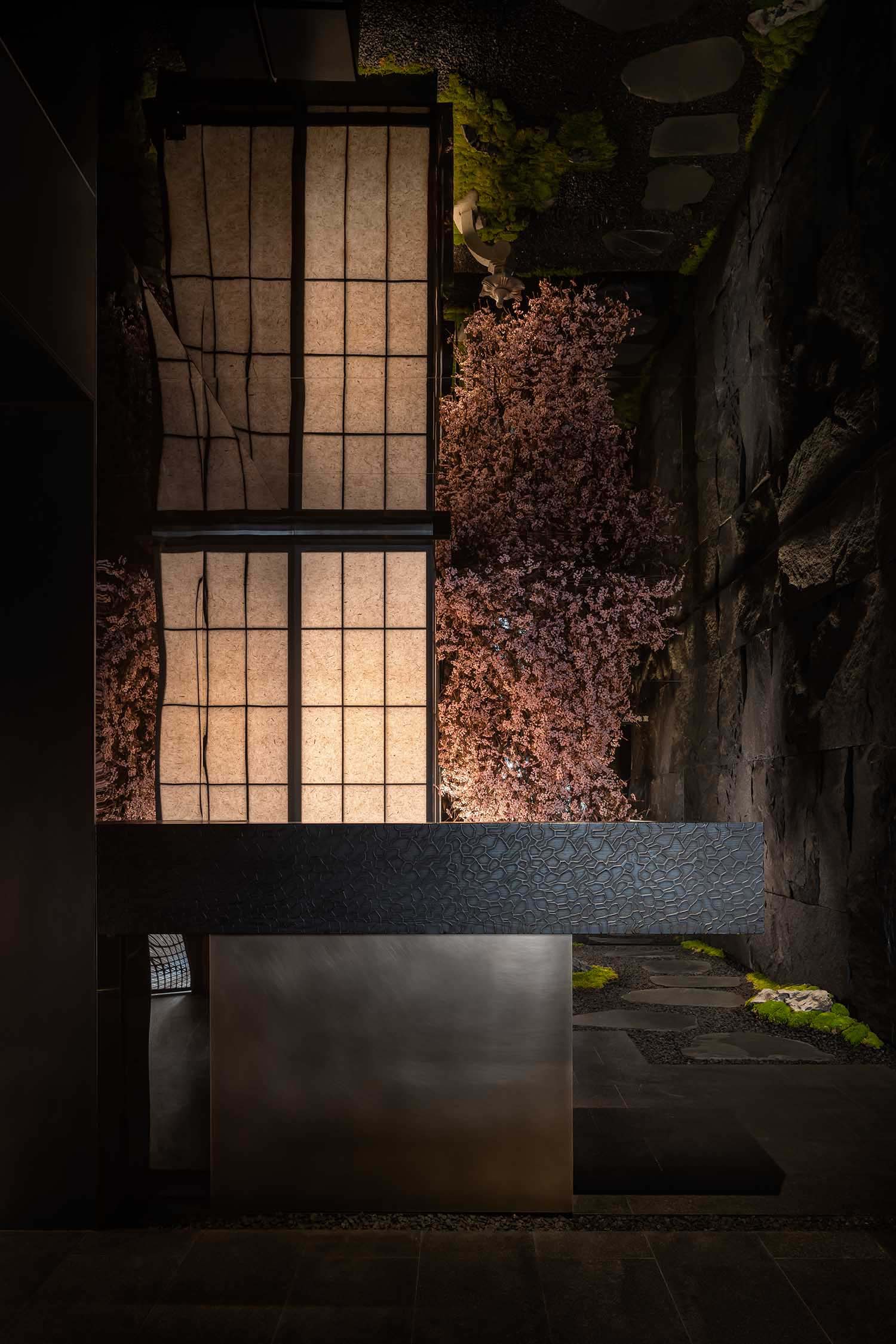 The first-floor Cloud Café of the structure provided a lively setting for the second-floor SUSHI ZEN.
Individuals can have a fusion of their cultural and creative perception.
A vast cigar room with brick grating sills and a blazing fireplace is hidden behind the doors and windows with diamond-shaped latticework. The warm and inviting counter on the second floor was made with natural marble and firelight lines to resemble a fire, giving off a cozy and intoxicating impression.
Welcoming Counter
The wabi-sabi bryophytes in the corner, the rough wall that resembles stone, the low-light molding curved like a paper window, and the small flowing "mountain stream" all work well together. Visitors have the impression that they have climbed to a mountain temple.
Food, Tableware, And Artistic Conception
The space's shifting lines and moldings all come together in front of the table in the middle. Round seats, a big cypress table, fabric drapes, and shadow windows are all present in this room. Here, dishes are prepared by Suzuki Ohki, who was named one of Asia's Top 10 Chefs in 2017.
Central Dining Area
The chef transforms priceless ingredients that have traveled over the sea and mountains into delicacies fit for the spring, summer, autumn, or winter using specialized instruments. Such a ceremonial location allows guests to dine privately while savoring delicate treats.
The mirror and the black steel reflect one another and create the illusion of infinite space. The contrasted dark and light hues give additional visual layers and foster a cozy sense of equilibrium.
Separate Dining Room
There are four distinct, magnificent dining rooms with the names Chuan, Ze, Song, and He that, respectively, stand for mountain, river, green pine, and green cypress. Every window was made using hollow maple and pine designs. A sensation of openness is created by the full moon shape on the wall and the grass-flower pathway at the corner.
As is customary in Beijing, the courtyard is closed up and enclosed. You can enter there and discover a universe that seems to be uniquely yours. You may feel the peace and comfort in its door, house, screen wall, veranda, grass, trees, flowers, birds, fish, and stone scenery.
To link people and nature is design's ultimate purpose. In SUSHI ZEN, the courtyard creates a different universe. Visitors can access the four underground courtyards along the twisting wooden walkways on the roof. They are encircled by maple and bamboo trees, and there are sporadic flagstone pathways between them. Drinks can be heated over fire for visitors.
Terrace
With its Xieshan gable and hip roof, which has horizontal and vertical eaves that may be seen or hidden, as well as tastefully placed eaves corners that can be high or low, the tower of the Forbidden City exemplifies the grandeur of royal architecture.
Every day at noon and nightfall, the Forbidden City and the top courtyard are in direct view of one another. At these periods, man and nature are most closely interwoven. At this time, we have the ability to hear, smell, observe, and feel.
Project Information
Project Name: SUSHI ZEN
Project Location: F2, No. 33 Wusi Street, Dongcheng District, Beijing
Area:260sqm
Completion Time:2022.2
Design Company: LDH Architectural Design Firm
Chief Designers: LIU Daohua, CHENG Qianyuan, GUAN Ji, SHI Naixin, WANG Xiaonuo, XIE Dafeng, LAN Pengzhen, WANG Shang
Lighting Consultant: Beijing Light-House Lighting Design Co. Ltd.
Brand Consultant: Beijing XinYu Brand Consultant Co., Ltd.
Photography: REALSEE – WANG Ting
Find more projects by LDH Design: www.ldhdesign.cn