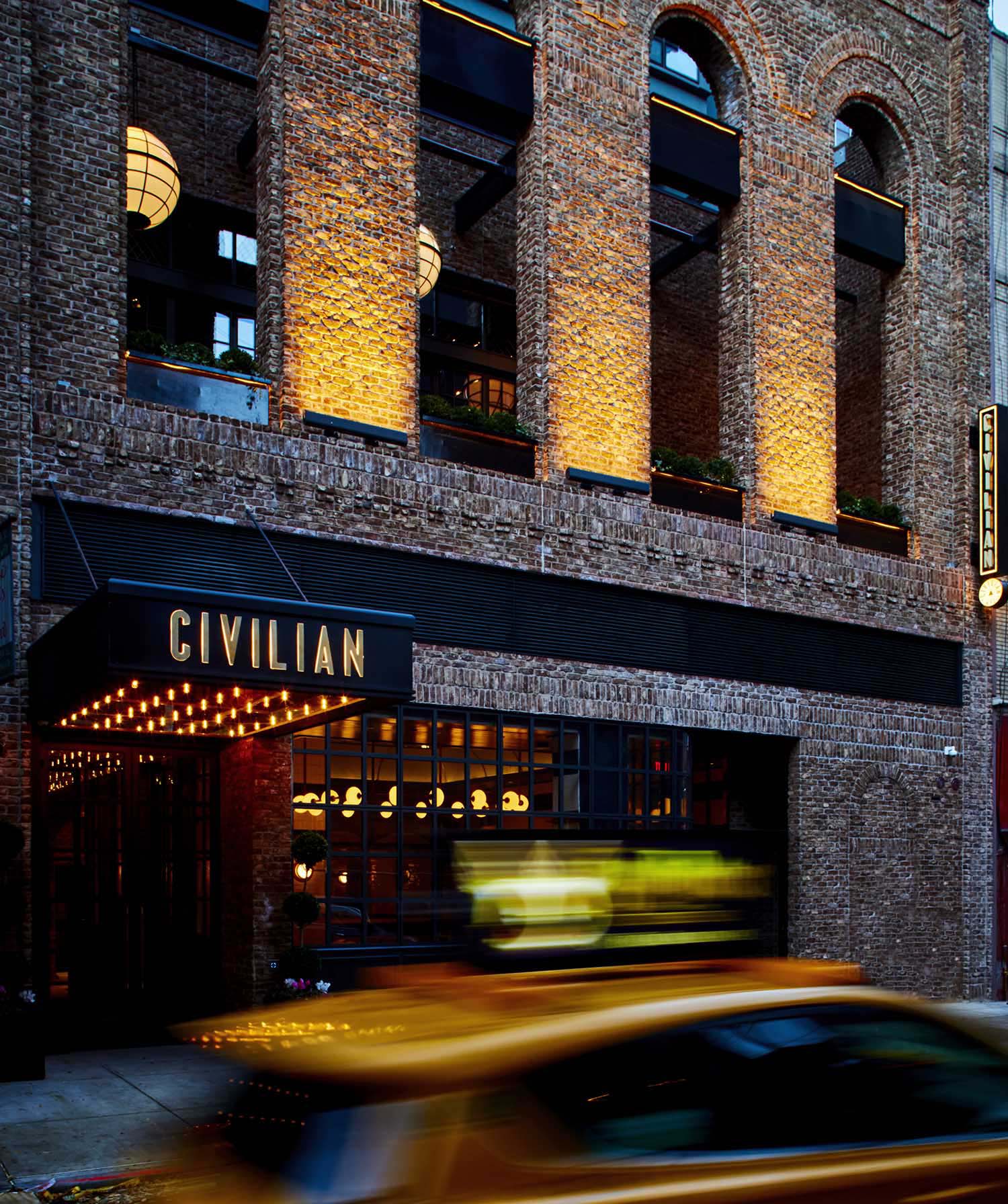 Rockwell Group has unveiled the interiors of CIVILIAN, a new 27-storey, 203 room hotel located between 8th and 9th Avenues in the heart of New York's Theatre District.
The hotel was designed by David Rockwell and his crew to honor the vibrant and long-standing theatrical community of the city and to celebrate its location on Broadway. David Rockwell's work building sets for numerous Broadway productions is a logical extension of his work on CIVILIAN, which has a rooftop lounge, a first-floor bar, and a restaurant on the ground floor.
The Rockwell Group has designed a location where Broadway performers and guests may congregate, interact, and unwind. Rockwell drew inspiration for the design from the illustrious history of theater gathering places in New York, including the famed Stage Door Canteen and the Edison Café on Broadway. These places have an implicit invitation to visitors to drop by at any time to read a script, unwind before an audition, or meet up with friends. The design of CIVILIAN was also influenced by the appearance and atmosphere of vintage theaters. This was done through the use of dramatic curtains, lighting modeled after marquees, changeable set and stage-like features, dressing rooms, and the unfinished industrial materials of backstage life. Rich components used in the FF&E include wood, brass, cement tiles, metal and glass walls, and upholstery in jewel tones.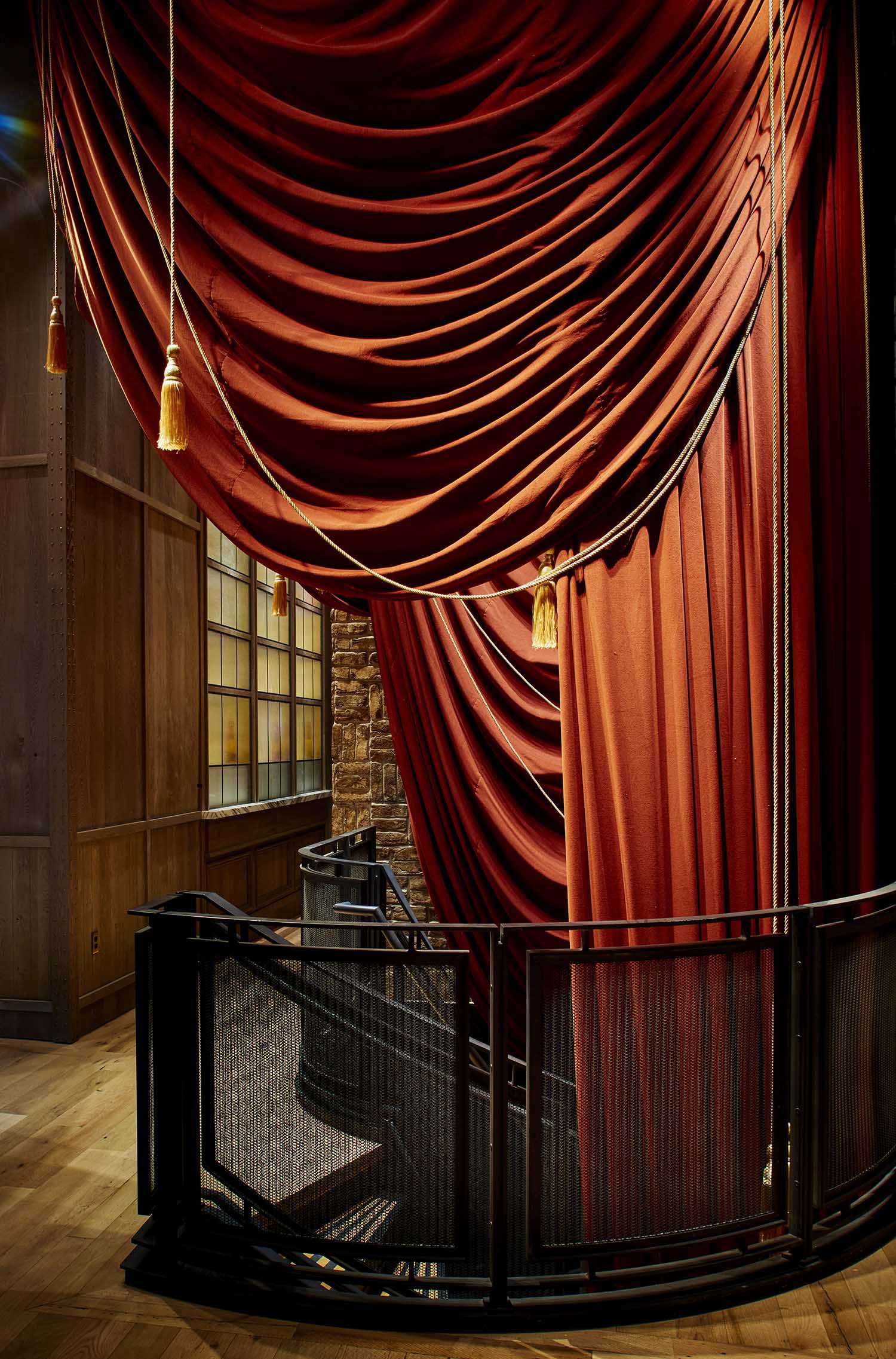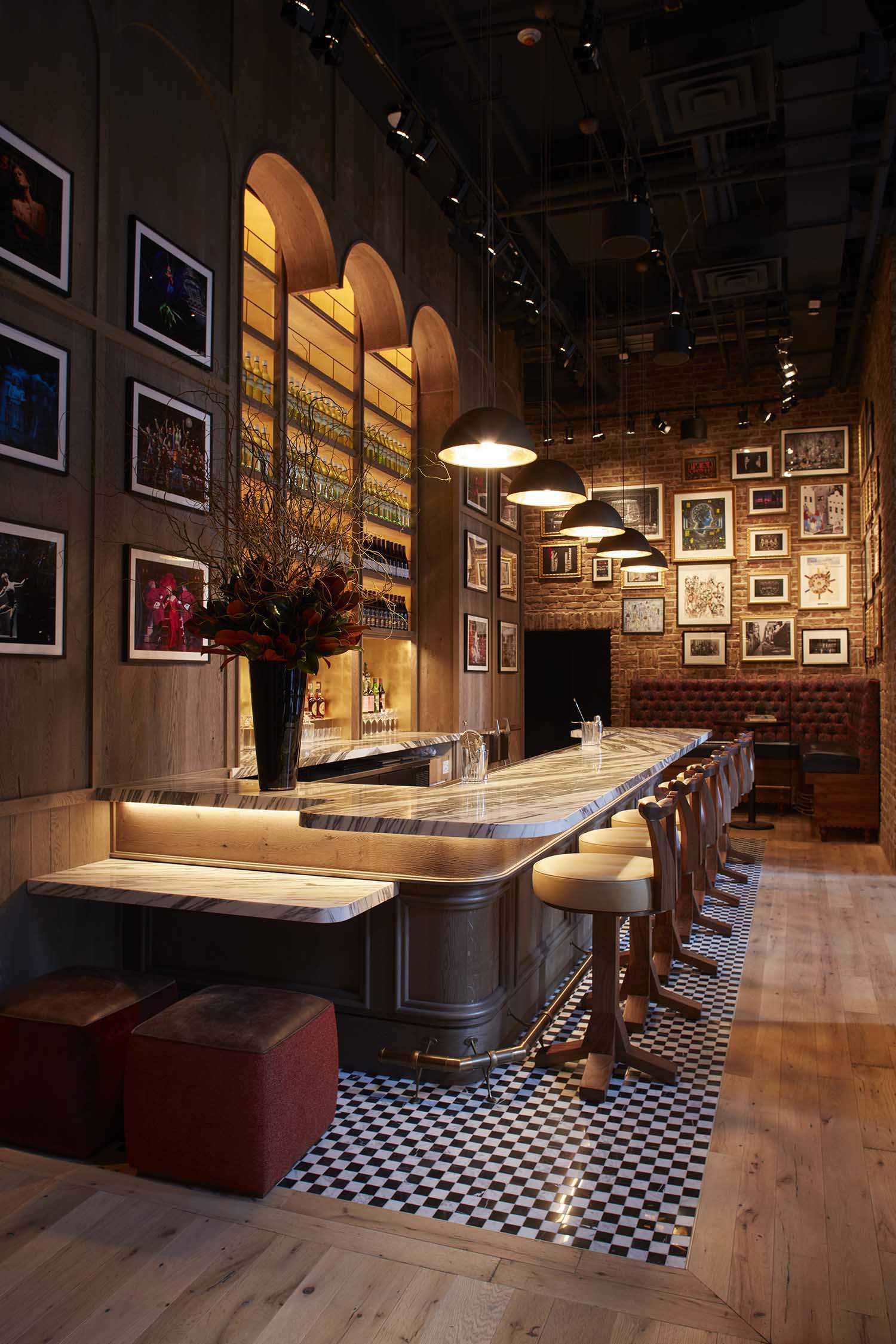 A first-of-its-kind curated art program called the Olio Collection, created by David Rockwell, also makes its debut with CIVILIAN. It features permanent and rotating pieces from upcoming and seasoned theatrical artists as well as modern Broadway photographers. The public areas and guestrooms are decorated with sketches, models, still images, and unique furnishings to promote the theatrical art form.
A runway-like vestibule with an abstract take on marquee lighting greets guests as they enter the hotel through what feels like a covert side stage door. The hallway's end features two layers of mirrors that give the room the appearance of an infinite expanse. By a curtain-draped wall with repurposed theater seating, there is a digital check-in area.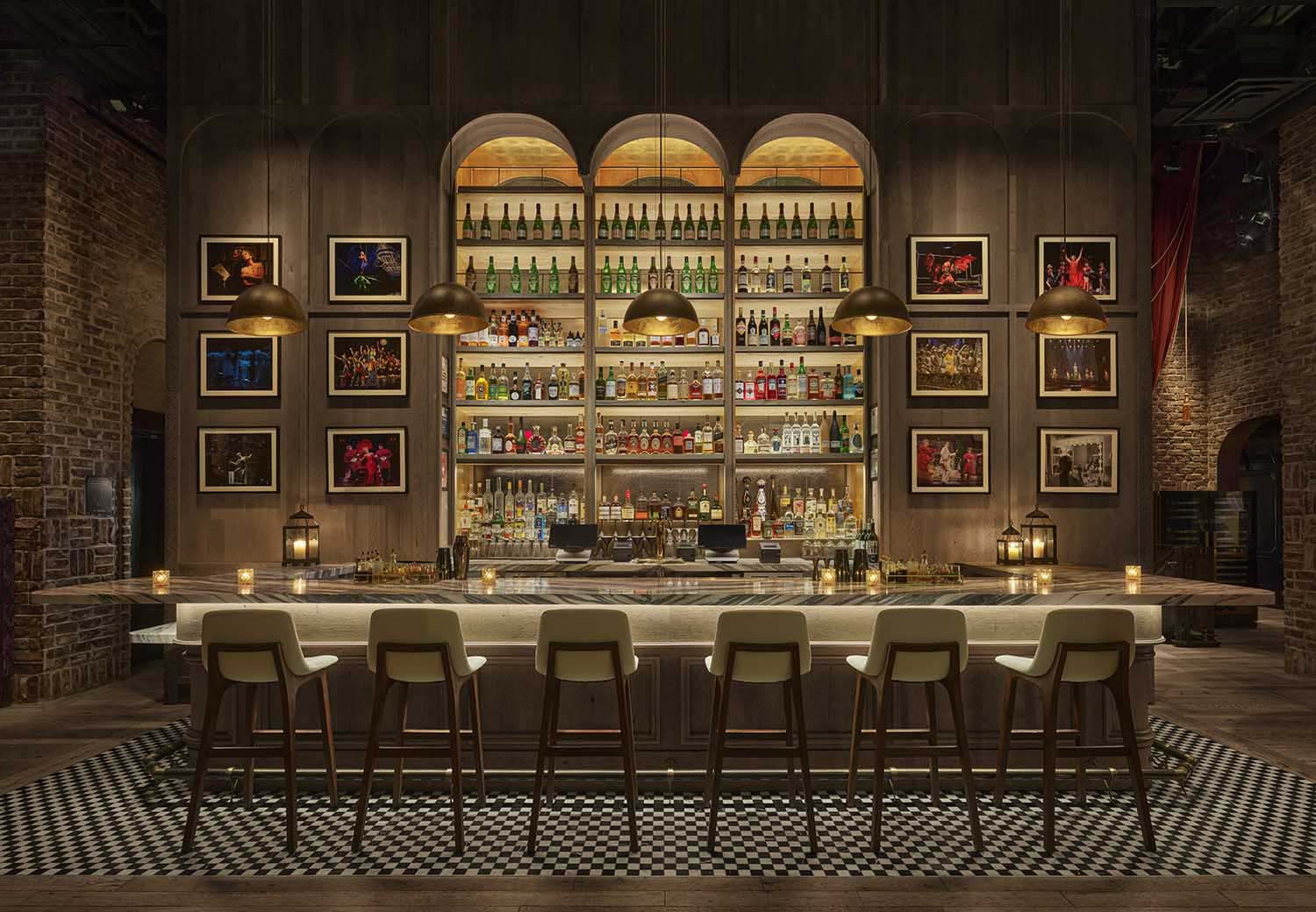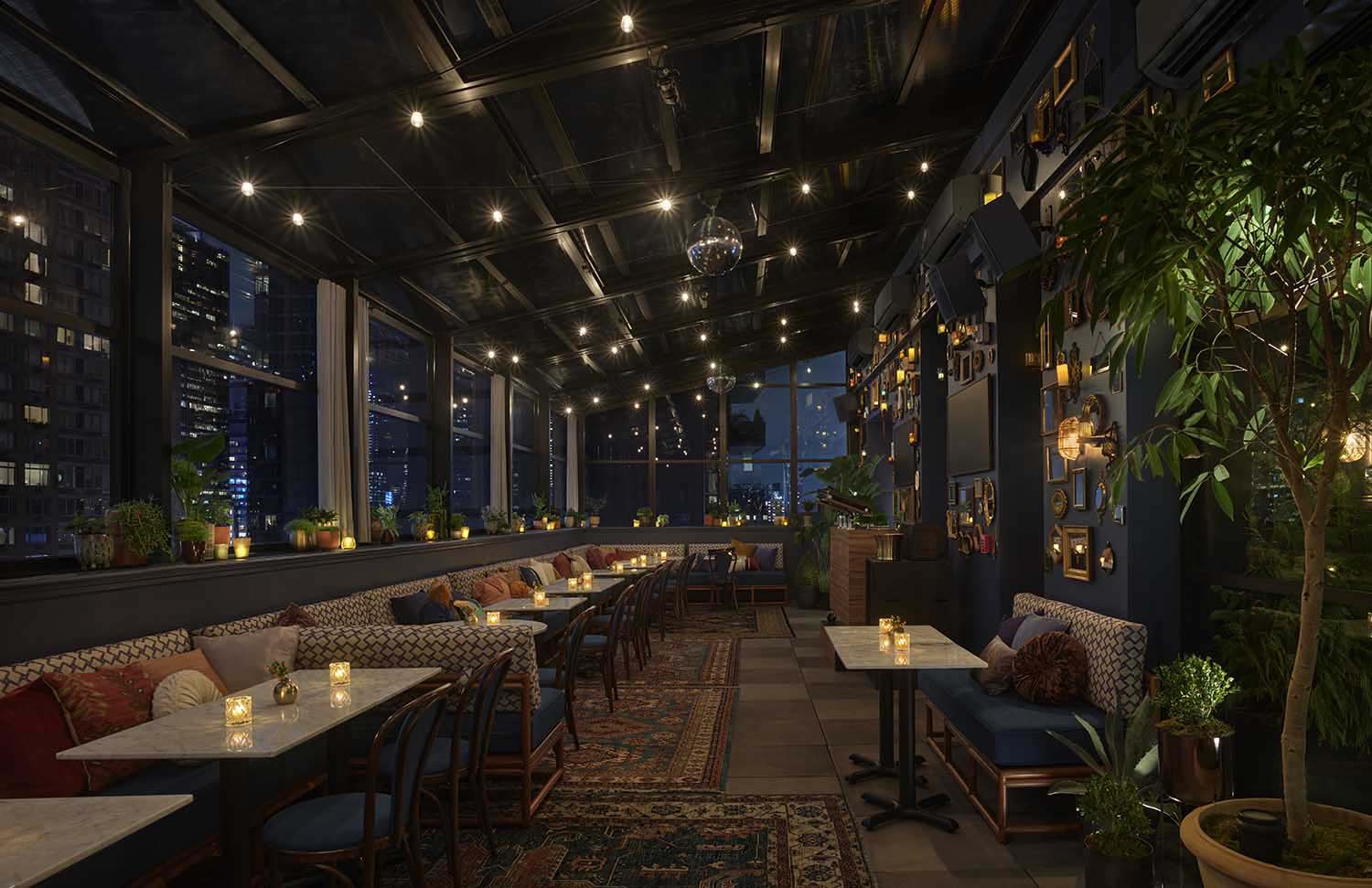 The 150-seat Rosevale Kitchen restaurant is located on the ground floor and is a contemporary take on a traditional Theatre District hangout. It has a curved, ribbed leather ceiling with mirror panels punctuated by red leather banquettes, brass, and glazed subway tile accents, and red leather banquettes. Round sconces in the spectacular dining room are also etched with sketches of theater facades by well-known set designers including Tony Walton, Es Devlin, Clint Ramos, Anna Louizos, and Mimi Lien.
The hotel's main bar and lounge is the Rosevale cocktail bar and lounge on the first floor. With reclaimed brick and changeable stage lighting, this room has a theater-back-of-house vibe. Materials like weathered leather upholstery and a tactile stone bar top with a concrete bar die give the furniture and finishes a worn-in, cozy vibe. Original artwork, models for scenic designs, old posters, and other theater-related memorabilia are shown in the room's permanent and changing exhibits. A subtly seasonal addition to the restaurant is an outdoor lounge. Terracotta tiling and rattan furnishings are part of the secret urban garden design, while clerestory windows that link the lounge and restaurant let in natural light.
The Blue Room, a second, smaller lounge, offers customers a quiet retreat from the busy restaurant and bar. With royal blue paneling, plush velvet banquettes, and custom vitrines housing a vast and varied selection of one-of-a-kind theatre props and costume items, this area exudes a speakeasy vibe.
On the 27th level, Starchild, CIVILIAN's rooftop bar, provides visitors with an elevated lounge experience with unbroken views of the Hudson River and the New York City skyline. The Rockwell Group's design, which celebrates the energy of the nearby Theatre District, is influenced by New York City's nightlife and by rooftops from Broadway's bygone era.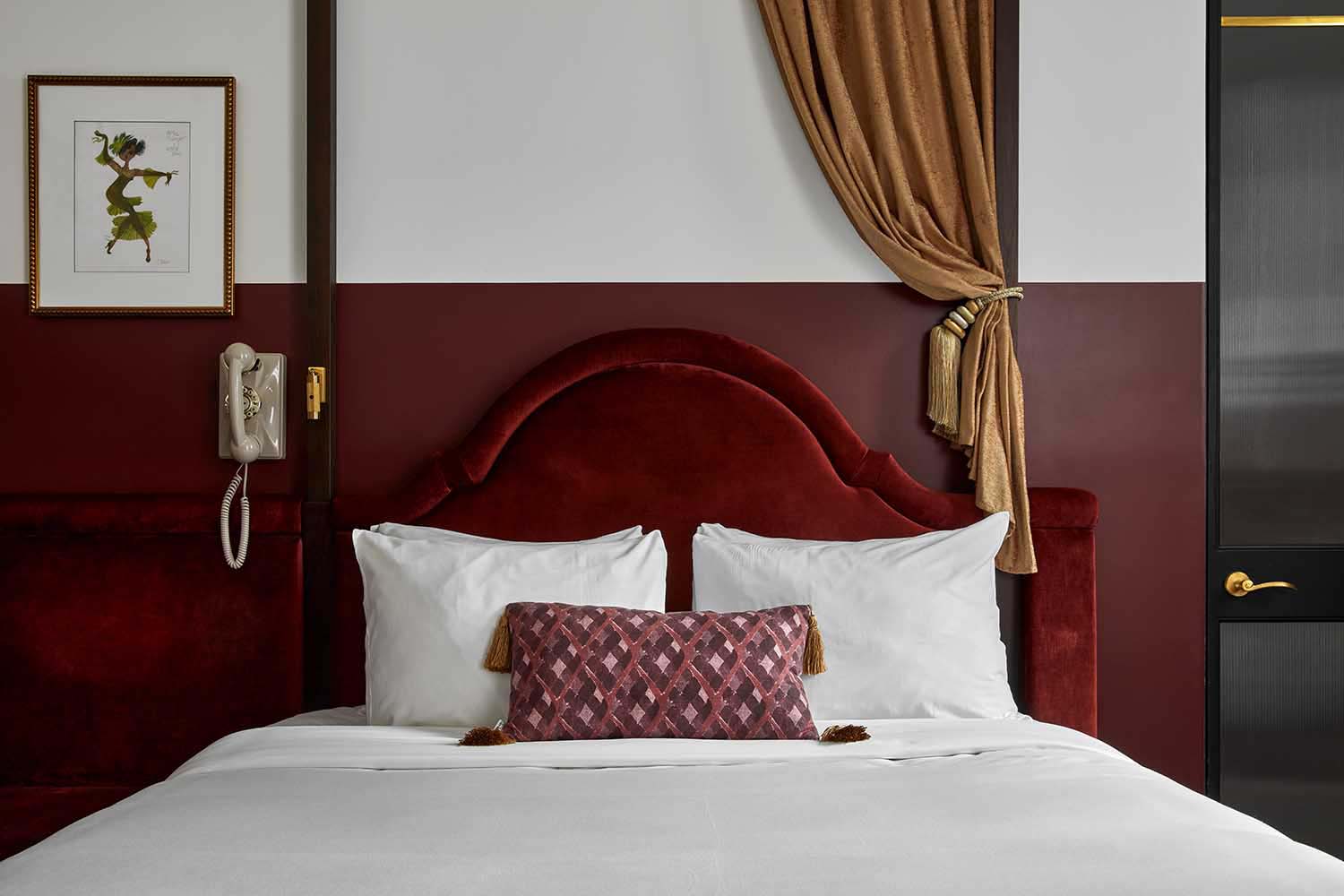 At CIVILIAN, each guestroom entry evokes that of a private box in a theater. Deep crimson and blue hues have also been used to create the impression of a classic dressing room. Platform four-poster beds have curtain panels and Jim Thompson cushions with prominent costume designers' abstract patterns. The beds in the rooms have built-in storage and an upholstered seat, and they are close to the windows. In front of a striking tri-fold mirror is a wardrobe designed to look like a costume trunk. A custom "Do not disturb" door sign and vintage accents like brass toggle switches complete the period-appropriate ambiance.
Custom Maya Romanoff wallcoverings by costume designers Isabel and Ruben Toledo and William Ivey Long can be found in the hallways and elevators. The history of Broadway, both onstage and off, is further shown with framed images taken from archives and modern theatrical photographers.
Commenting on the completion of CIVILIAN, David Rockwell says:
"This project has been the perfect marrying of two personal passions of mine – design and performance. Having the chance to delve deep into this city's rich Broadway history and create a permanent tribute to this ephemeral artform has been a fascinating experience and resulted in a hotel I will continue to visit and enjoy for years to come"
Location
305 West 48th Street
New York City
Size
203 Keys
First Floor (Rosevale Kitchen) – 150 seats
Second Floor (Rosevale Cocktail Room) – 85 seats
Rooftop (Starchild) – 90 seats