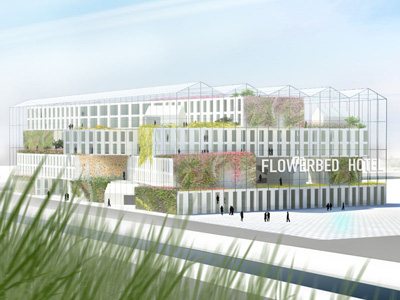 Project: Flowerbed Hotel
Designed by MVRDV
Location: Aalsmeer, Netherlands
Website: www.mvrdv.nl
Design for a flower taken hotel in Dutch city of Aalsmeer, is work of the world renowned practice MVRDV who give the flowery note to 280 rooms in this hotel. For more images and architects description continue after the jump:
From the Architects:
Project developer Kloos2 presents today the MVRDV design of the Flowerbed Hotel in Aalsmeer, Netherlands. The 19.500m2 Hotel and conference centre devoted entirely to flowers will be located next to the future Bloomin' Holland theme park and business centre. The Hotel with 280 rooms will include 2.100m2 flowerbeds and host tourists and business travellers.
Flowerbed Hotel will be located next to the main entrance of the future Bloomin' Holland theme park and business centre in Aalsmeer. The building is composed of a series of stacked volumes inside a greenhouse. The volumes hold the program of 280 rooms with a floral theme, 1.600m2 conference centre, 550m2 fitness centre and spa, 2.100m2 flower beds, 1.100m2 services and 140 parking spaces. The stacking of volumes underneath the greenhouse shell results in a diverse and spacious lobby with a public flower garden.
The lobby is divided into three zones: a public zone for day visitors, a more private zone for hotel guests and a mixed zone. All areas are connected through a semi-public route. The hotel aims for business travellers as well as tourists and offers services from conference centre to souvenir shops and a spa and fitness centre.
Kloos2 presented the design to the director of the regional development corporation Green Park Aalsmeer, Mr. Gregor Heemskerk, who said "The Flowerbed Hotel is a special development which we support warmly. The hotel is in line with the ambitions of Bloomin' Holland and will give a valuable impulse to the entire regional development. We are extremely happy with the result."
The building will feature sun collectors, windmills and underground warm and cool storage resulting in an excellent energy performance despite the glass hood. MVRDV is currently realising the Spijkenisse Public Library with a similar energy concept. Kloos2 will use the design to find investors and tenants.