This 125-room 4-star apartment hotel on Boulevard Indochine, designed by Manuelle Gautrand Architecture  is part of a larger development of offices, a student residence, etc. called Visalto. The hotel forms the "prow" of this ensemble, facing the Philharmonie de Paris.
Its tapering form is the result of the very narrow site, which runs alongside the périphérique ringroad. The facades create a kinetic gradation of colours, from green – the colour of the leaves of the boulevard's trees, to the white of the Parisian sky.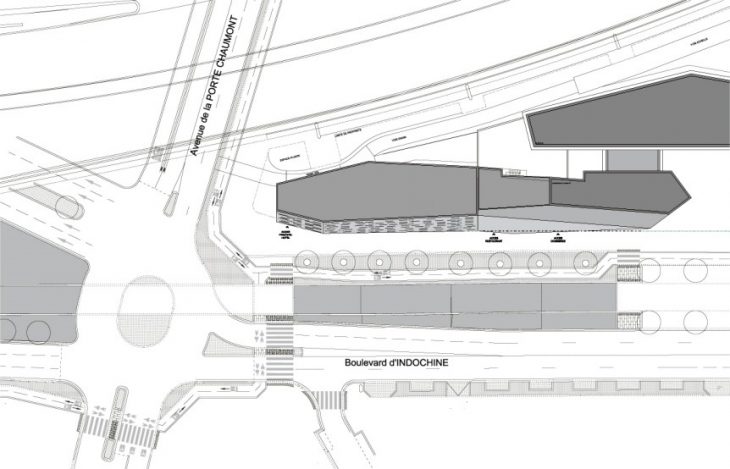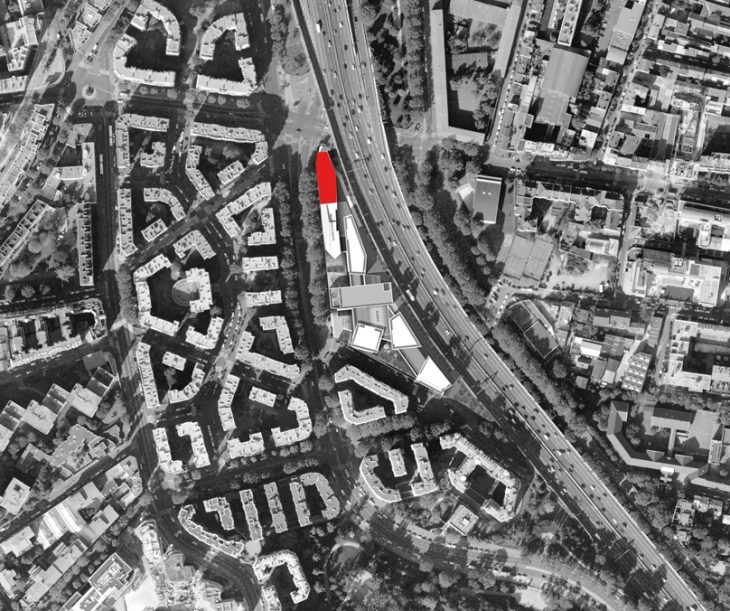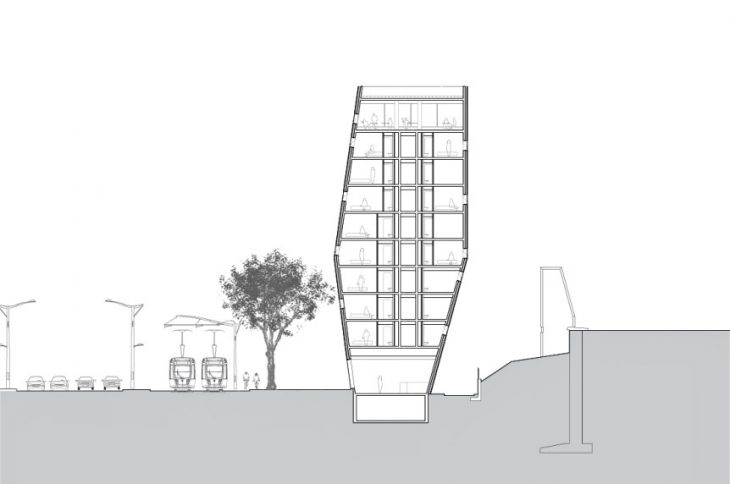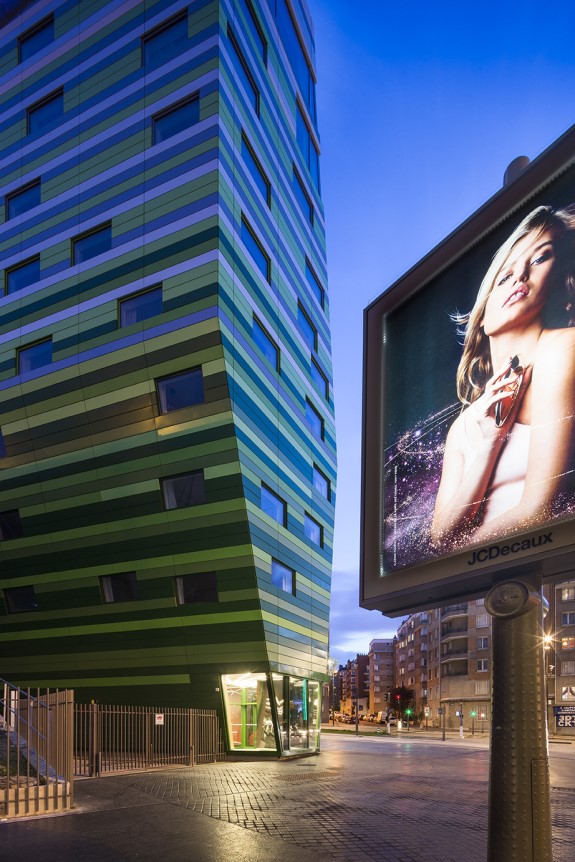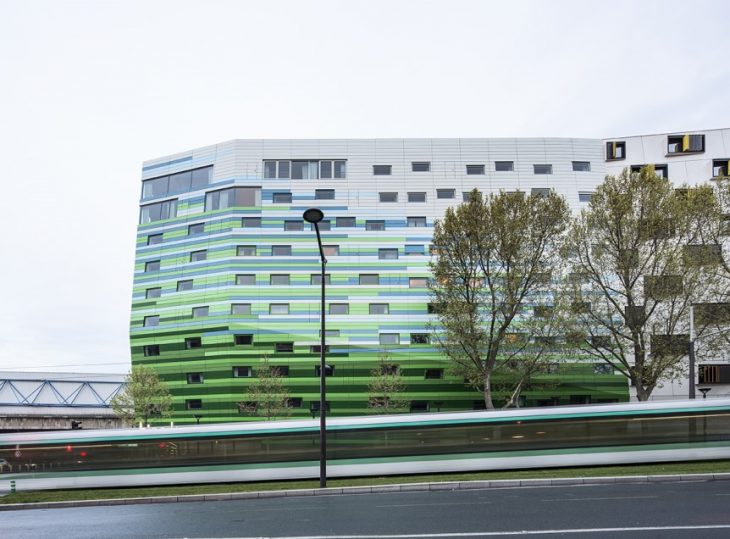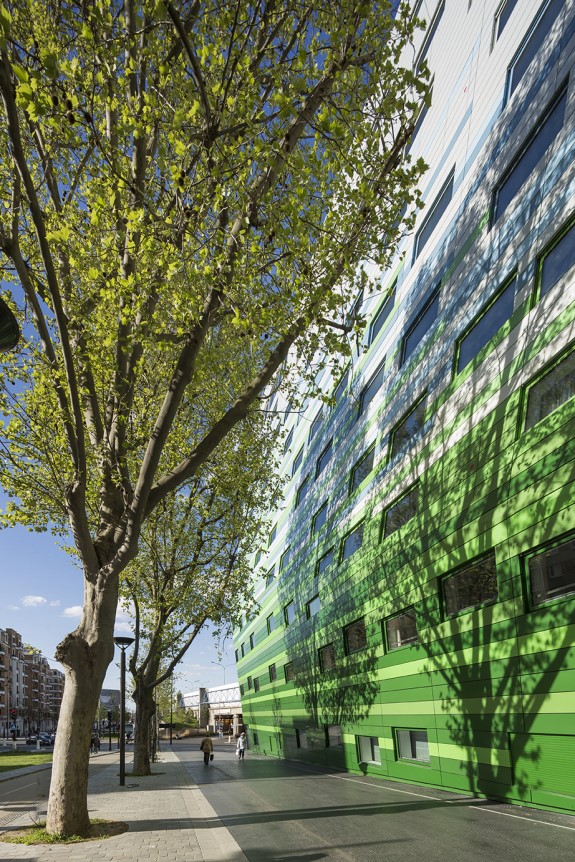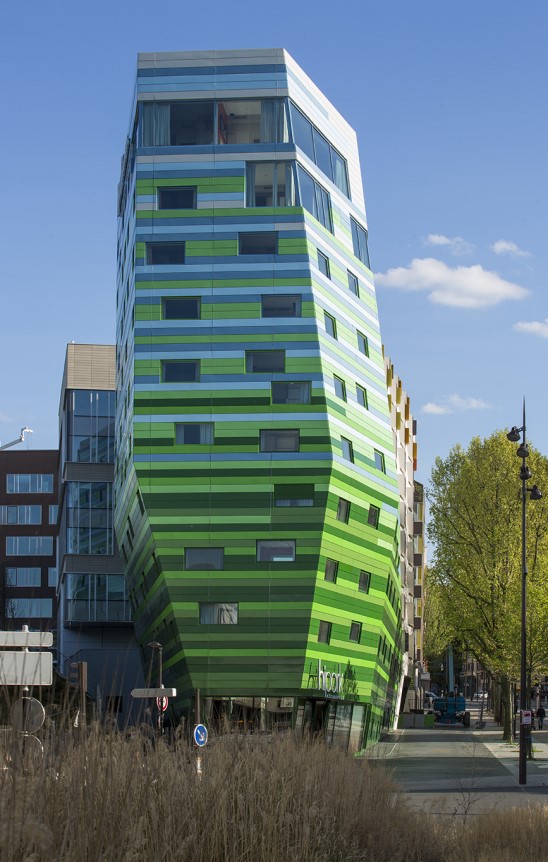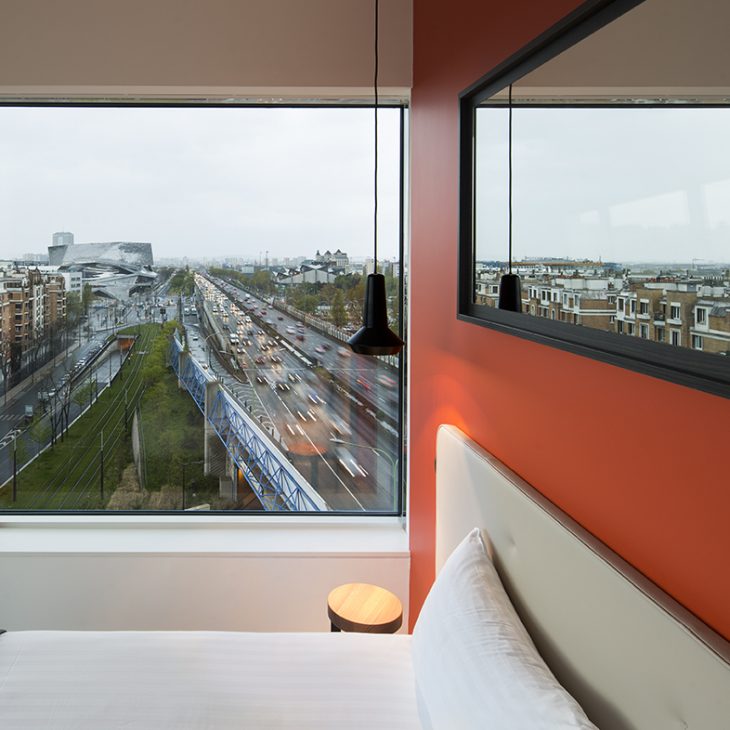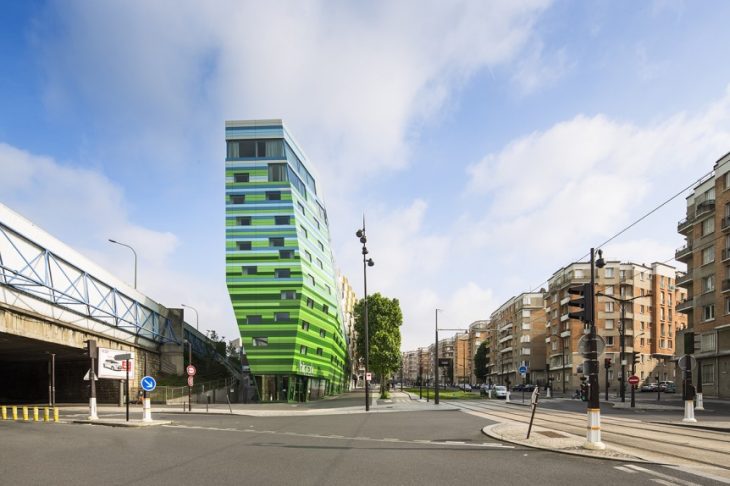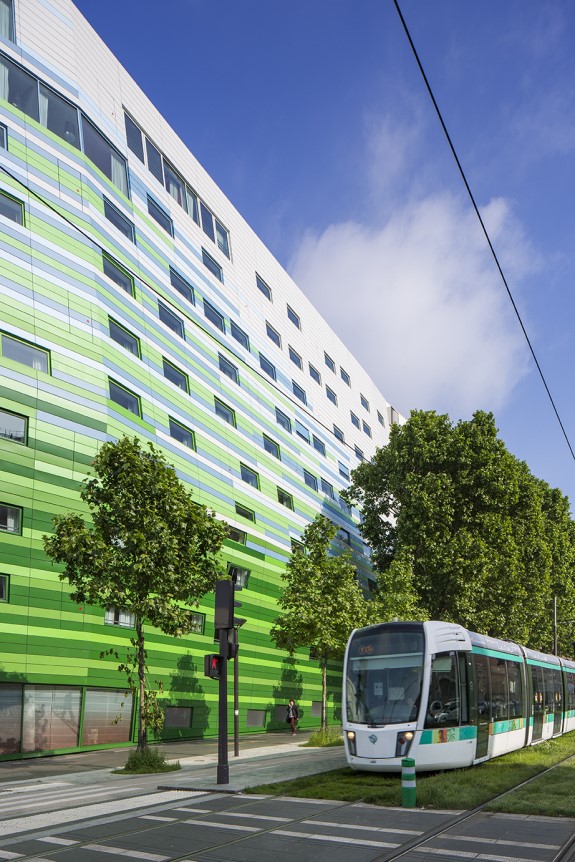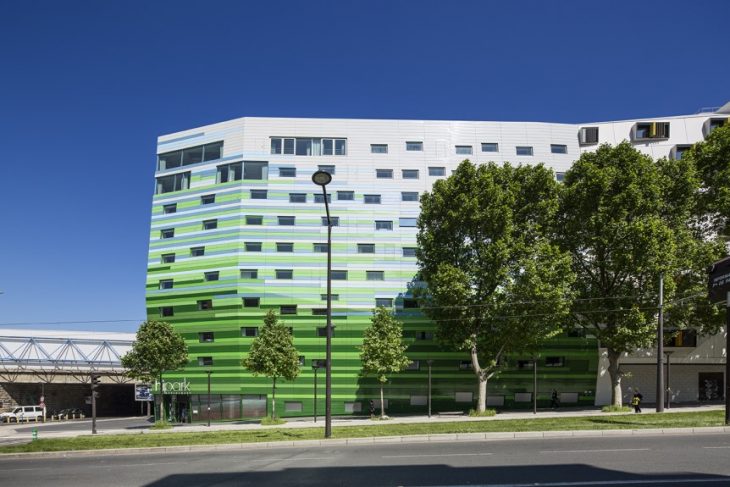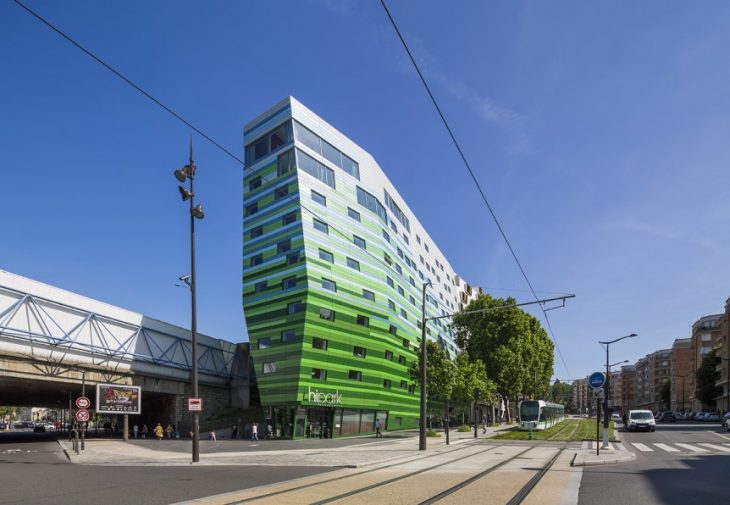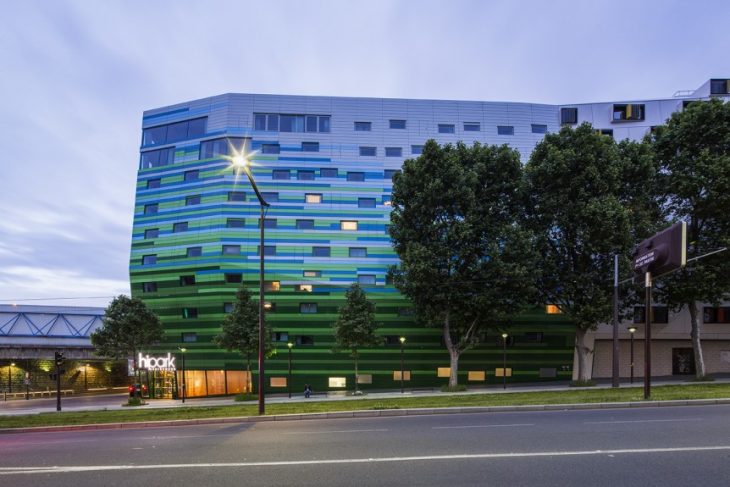 This project is part of a larger development known as VISALTO, which comprises three independent but adjoining buildings, with a total surface area of around 35,000m2:
– a 24,500m2 offi ce building, including parking (architect: 2/3/4),
– a 4,000m2 student residence (architect: Jacques Moussafi r),
– a 5,500m2 Hipark apartment hotel (architect: Manuelle Gautrand Architecture).
This development is in the 19th arrondissement on the northern edge of Paris, within an urban environment characterised by the brick buildings of low-cost housing units developed between the wars. The triangular site, which measures around 10,000m2, is orientated north–south on its
long axis. It is bordered:
– on the east by the Parisian périphérique ringroad,
– on the south by Rue des Marchais,
– on the west by Boulevard d'Indochine, along which runs line T3 of the Paris tramway,
– on the north by the city gate Porte Chaumont.
The site slopes steeply from its southern point at the Porte Brunet down to its northern point at the Porte Chaumont. Alongside the périphérique, a 6m-high acoustic barrier wall runs for some 280m, protecting the site from traffi c noise. Further pressure is put on the site by maintenance access for this barrier.
Our apartment hotel project is on the northern tip of the plot, built as one continued line with Jacques Moussafi r's student residence. The hotel forms a sort of «prow» to the overall development, pointing straight towards Jean Nouvel's Philharmonie de Paris. The building is in dialogue with two different environments:
– to the west, Boulevard d'Indochine, mostly comprised of the brick facades of the blocks
of between-the-wars housing and the landscaping of the T3 tramway,
– to the east, the périphérique, a much less human environment, with streams of traffi c
and all their associated pollutants.
The building, which fi lls every inch of the site right up to its edges, moulds itself around urban constraints, requirements in the programme, and land restrictions, notably the buttresses of the acoustic barrier on the périphérique side and the related access routes.