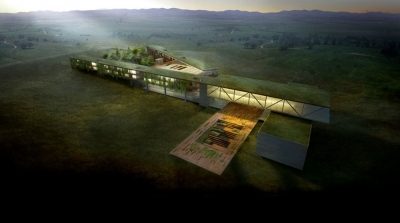 Project: Hotel Aliah
Designed by Hiperstudio + Arkiz
Team Project: Alexandre Hepner, João Paulo Payar, Matheus Marques, Rafael Brych, Ricardo Felipe Gonçalves
Built Area: 66 950 sqf
Site Area: 807 300 sqf
Location: Sao Paulo, Brazil
Website: www.hiperstudio.com.br & www.arkiz.com.br
Designed for a location near Sao Paulo surrounded by a vast green area Hotel Aliah is work of Hiperstudio + Arkiz.
From the Architects:
Developed in partnership between the offices Estúdio ARKIZ and Hiperstudio, this project was selected as the winner of an architecture competition promoted by the company Projeto Aliah, for the construction of a hotel and convention center in the metropolitan region of the city of Campinas. The purpose of the competition was the search for new concepts for hotel projects that would assume the question of sustainability as a central value, considering the importance of the legacy left after the World Cup in 2014 and the Olympic Games in 2016.
The Aliah Project aims not only to be a comfortable and innovative hotel, but also a transcendental space, where guests are encouraged to reevaluate their relation with the natural world in favor of a better, healthier and more balanced lifestyle. The architecture of the hotel seeks to put these concepts into focus, restoring essential and timeless values that underlie the interaction between man and environment, thereby promoting opportunities for contemplation and meditation.
The main body of the hotel is located on the highest point of the site, divided in two longitudinal axis along the central ridge, delicately accommodating itself onto the natural topography. This respectful interaction between the project and the surrounding landscape denotes the dialectical relationship established between both, where architecture acts as the physical support for the contemplation of the natural environment as much as the environment offers a platform for experiencing the architectural spaces.