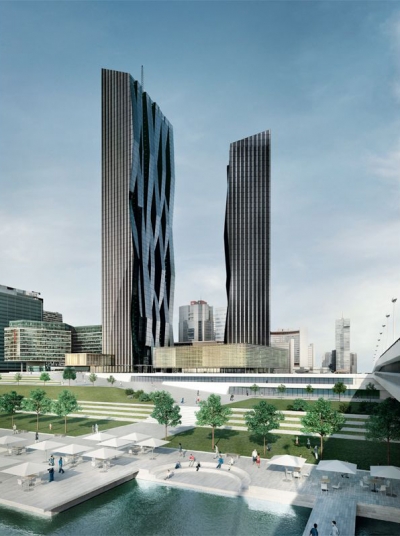 Project: DC Towers I + II
Designed by Dominique Perrault Architecture
Associated Architect: Hoffmann & Janz Architectes
Engineering: Perrault Projets (architectural engineering), Bollinger & Grohmann, Gmeiner Haferl Zivilingenieure ZT GmbH (structure), Werner Sobek Ingenieure (façades), ZFG – Projekt (fluids), Dr Pfeiler GmbH (Bauphysik), TB Eipeldauer & Partner GmbH (electricity), AXIS Ingenieursleistungen ZT GmbH (VRD), Wacker Ingenieure (wind study)
Client: WED (Wiener Entwicklungsgesellschaft für den Donauraum AG)
Site Area: 11 000 m2
Total Built Area: 229 000 m2
Location: Vienna, Austria
Website: www.perraultarchitecte.com
The massive DC Towers shaped for a location in Vienna coming from Dominique Perrault Architecture is Austria's largest real estate development to date.
From the Architects:
The design of the two high-rise towers for the Donau-City in Vienna represents the concluding phase of a development extending over several decades: on what was originally a municipal rubbish tip the UNO-City was erected (1973–1979), tentative plans to hold the 1995 Vienna-Budapest EXPO here were soon abandoned, as a result architects Krischanitz and Neumann (commissioned by WED AG) produced an urban design masterplan for the area in 1992. The outcome is an entirely new urban district with a diverse range of functions. With a total area of some 17.4 hectares and total investment of roughly € 2 billion, the VIENNA DC Donau-City is by far Austria's largest real estate development. A total of approximately 1.7 million cubic metres will be built, which equates to about 500.000 m² of gross space. Not quite two-thirds of the buildings have been completed and let. The international competition that followed in 2002 for the design of the remaining undeveloped third of the Donau-City was won by Dominique Perrault. To ensure that the development would provide the entire Donau-City site with a new kind of urban quality Perrault's urban planning guideline project employs a number of different design measures: firstly his project continues the elevated slab of the Donau-City to the banks of the Neue Donau in the form of a generously dimensioned terrace providing direct access to the river. Secondly rather than interpreting the two high-rise towers as independent buildings Perrault treats them as the corresponding halves of a block that open towards the city and the Neue Donau with a space-defining gesture.