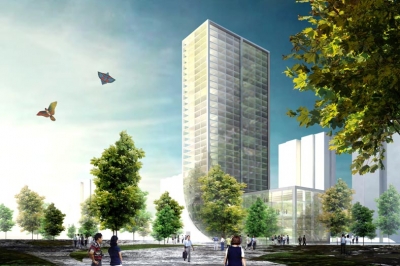 Project: Tianjin Hotel
Designed by Holm Architecture Office HAO
Size: 34 000 m2
Location: Tianjin, China
Website: holmarchitectureoffice.com
Tianjin Hotel project created by Holm Architecture Office is shaped to accommodate 250 guest rooms.
From the Architects:
The Tianjin Hotel project is located in the center of Tianjin in Northern China. The building design incorporates the traditional hotel amenities such as conference rooms, restaurants and fitness areas and combines them with a changing art and exhibition center.
The hotel lobby functions both as check in for the hotel itself as well as a changing gallery space which functions for quests and locals alike and offers direct access to the hotels amenity spaces and gardens.
The hotel has a total of 250 rooms including single and double rooms as well as suites. The hotel experience is designed as an extension of the travelers living room incorporating ideas of art, libraries and lunge areas into both the public areas as well as the private rooms.
The hotel includes landscaped garden areas in its surroundings as well as private terraces for private events and celebrations.