Mark Ashby Design and Furman + Keil Architects have redesigned a traditional ranch house from 1954 with a midcentury design. The house had previously been remodeled in 2001, resulting in fragmented interiors, poor circulation, and oddly sized rooms. The new homeowners tasked the architecture and design team with creating a design that reflected the midcentury esthetic while maintaining a sense of coherence and order. As a consequence, the home is light and open, with warm materials and modern places for daily life and favorite pastimes. Discover more after the jump.
The homeowners intended to maintain the majority of the unique architectural elements that made the home attractive in design and function. The team's design strategy preserved the most of the original structure while adding a second level immediately over the existing garage. The new design reorganizes the circulation around the kitchen, making it the focal point, while improving the overall flow of the house. Separate groupsings for TV viewing, a music area, and entertainment were carefully considered. For year-round outside living, a new screened-in porch was added.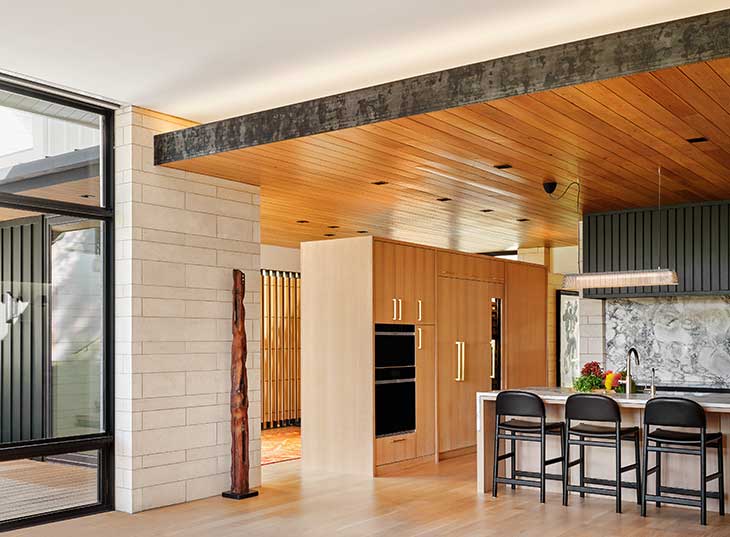 The dining area, kitchen, and living room are all linked, with each flowing into the next. "The design of this home invokes a sense of ease and relaxation, nothing is too staged," says interior designer Michele Lorenz, Mark Ashby Design. Michele chose honed and polished Arabesco marble for the kitchen island and counter tops. She constructed the dining room wall bolsters herself to provide comfortable seating for large groups. Mockingbird Domestic, a local Austin artist, created the dining table, which is built in a whimsical racetrack form with smooth edges. Michele designed the bespoke built-in sofa, which is upholstered in a stunning retro gold velvet and contains an antique coffee table and swivel seats obtained from Round Top. The art wall in the living area is decorated with the homeowner's own collection.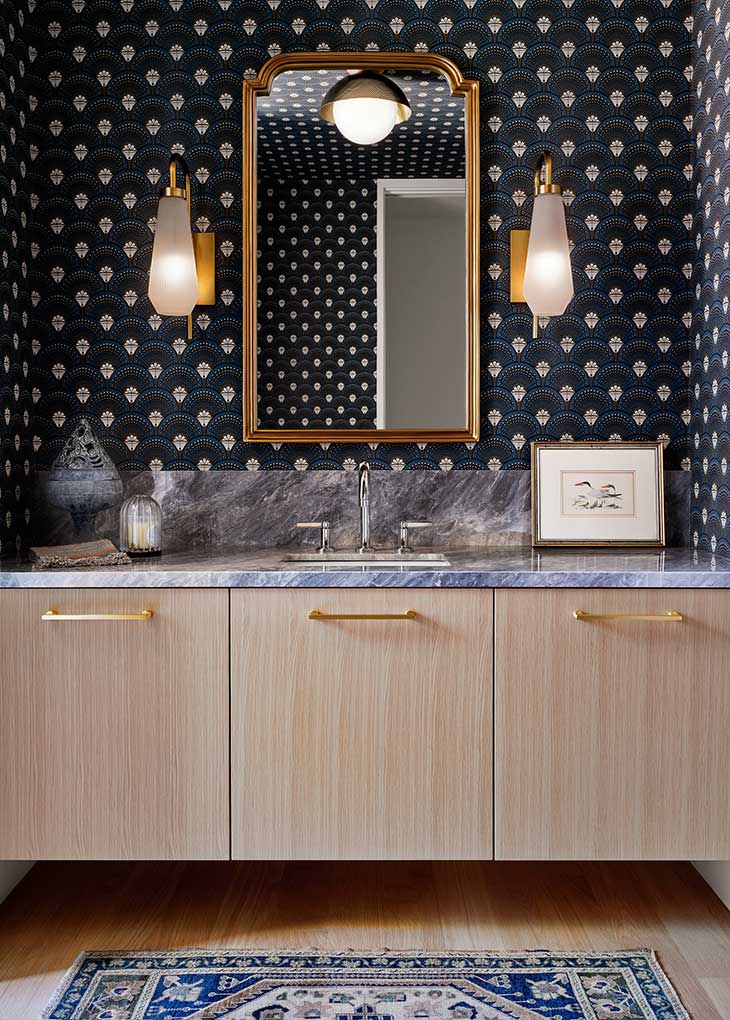 A wood ceiling plane was used as an organizing device in the design, connecting lower ceilings at the front of the house for more intimate gathering areas, and taller ceilings with differentiated materials at the back of the house for a stronger physical connection to the back yard, pool, and views to the south. The majority of the home features simple detailing, while more elaborate detailing was employed to emphasize certain connections. The center of the home is defined by white oak millwork and honed limestone walls, while steel and white wood screens in the dining room, entry, and stairs emphasize movement and filter light into the heart of the house.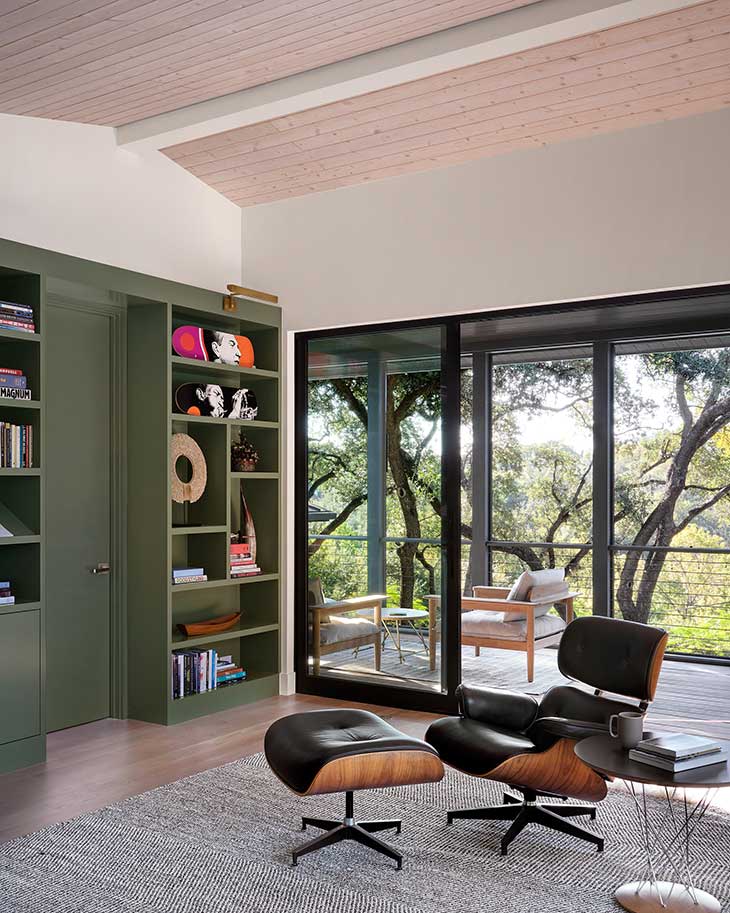 Honed limestone walls and porches anchor the residence to the ground, while the existing tree canopy provides diffused light throughout the day. It was critical to capture and maintain the home's views of Taylor Slough Creek, which conveys the feeling of being immersed in this central west Austin property's natural woodland location.
Project credits:
Interior Design: Mark Ashby Design – markashbydesign.com
Architect: Furman + Keil Architects www.fkarchitects.net
Builder: AR Lucas Construction
Landscaping: Shademaker Studio