2A Design Architecture designed this the Flying Box Villa located in Orgères, France in 2015. The project is a multifunctional home in on a small plot. The residence is characterized by a cantilevered volume that provides covered parking. The angled roof creates a terrace that allows for the residents to overlook the neighborhood. The backyard is accessible via a series of sliding doors. Take a look at the complete story after the jump.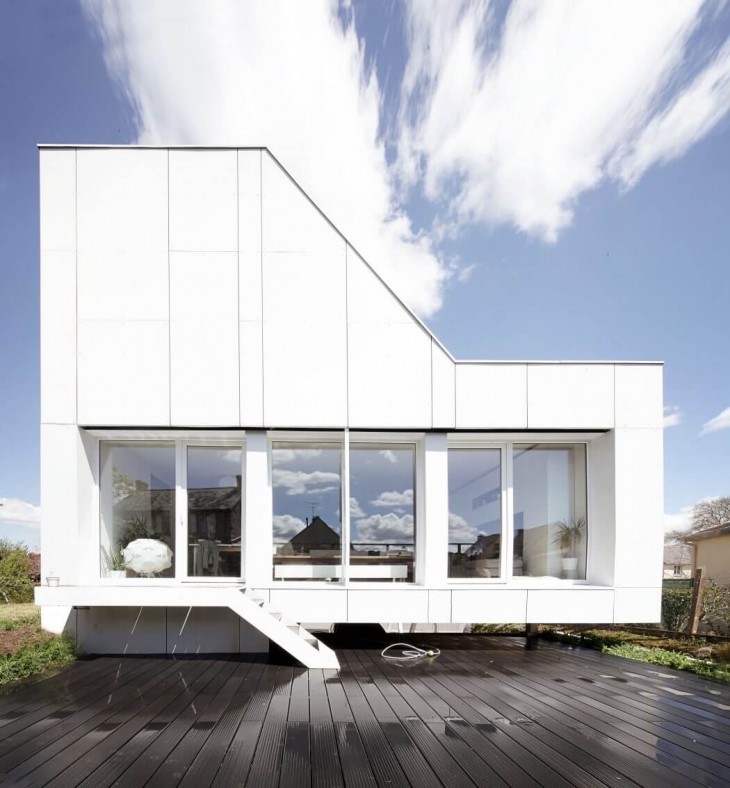 How to organize a multi-functional home with a mini-plot of 150 m² center in the borough? How to use land at 1.50m above the street?
To give the best possible response to its customer, design 2A chose to build this house with maritime containers.
The house was prefabricated in the factory and then assembled on-site and completed in three months.
The project is divided into three layers, three trays of 100m superimposing the sequences forming the house. Thus configured we can consider organizing a comprehensive program of urban villa.
The first layer is technical means: it includes two car parking, entrance and technical parts; a sewing room and a laundry.
The shared life unfolds in R + 1. There is the living room, the main room of common life in the house.
The main volume has two widely glazed sides. The first is over the street. The house then actively participates in the organization of the town.
The other side of the garden, is also glass. The small size of the garden make a patio, a private room in the open. It is hidden from the wind and views of the neighborhood. One can then enjoy an outdoor terrace in an almost urban context.
The R + 2, intimate stratum, open to a garden terrace, facing south and looking over a heavily planted terrace, this living space is one of the most qualitative places the project. This is the top of the master suite. It has a bedroom, dressing room and a bathroom, all opening onto a large terrace.
From here one can enjoy a view from the village center towards the green countryside.
This is a good place to rest, we are enjoying the sun and the view. It was also the best way to enjoy a garden, restoring the roof of the house to its occupants.
Photography by Josué GIllet