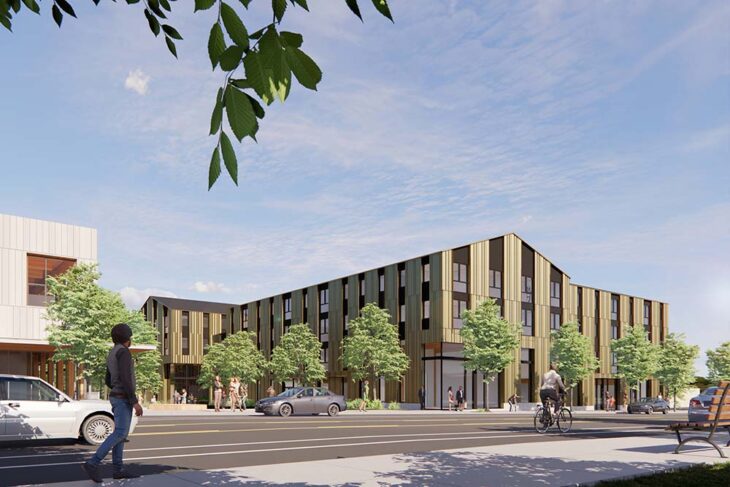 Hacker Architects has recently completed design of a four-story, 87,742-square-foot housing development with 84 family- and economically-friendly apartments in collaboration with Portland Community College and Home Forward. The units prioritize flexibility and comfort and will support a variety of living situations for tenants with different needs, including adequate room for families and single parents as well as bedroom arrangements for multiple adult roommates. They are designed to serve a resident population with a median family income at or below 60%. A variety of three-bedroom (15 units), two-bedroom (45 units), one-bedroom (6 units), and studio apartments are housed in the building (18 units). The project is scheduled to be finished in August 2024.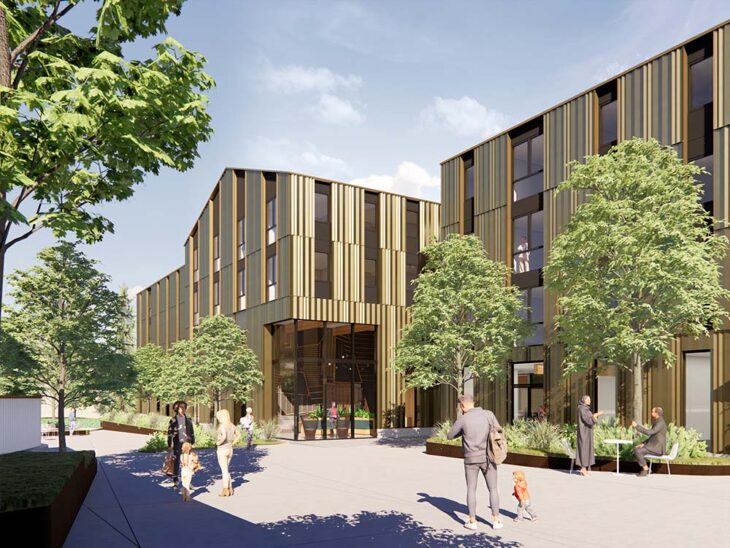 Additionally, the location is home to a childcare facility and PCC's new Opportunity Center, both of which serve as resources for locals. The three-acre site plan aims to maintain a lively public scale, provide a neglected public street frontage a civic permanence, and balance the careful transition of a larger housing project with the adjacent communities.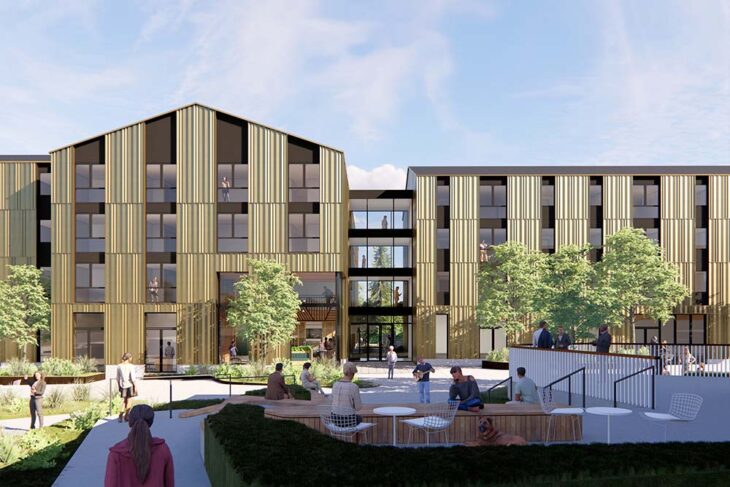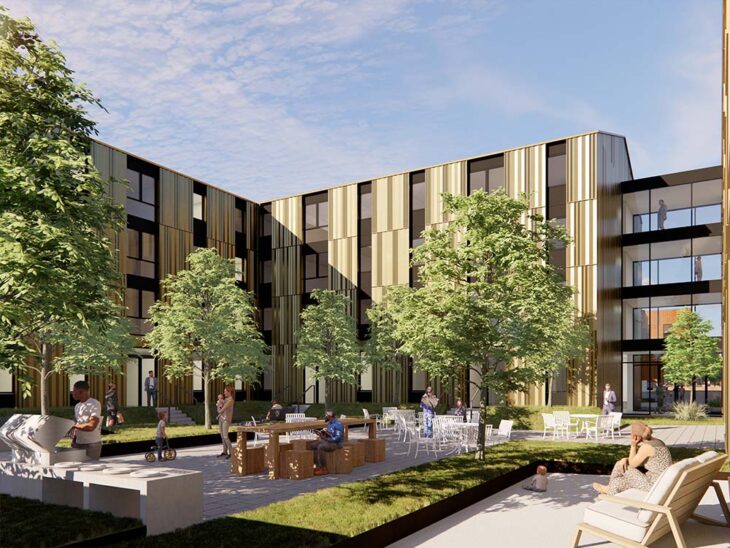 A kids' courtyard, terraced and connected by slides, adjoins the laundry room lounge, and a second courtyard with multiple gathering spaces and outdoor seating connects to a communal first floor family room. These indoor and outdoor community spaces are especially significant because they pay homage to the neighborhood's rich communal history. An open space that can be used for farmer's markets, job fairs, community gardens, and other neighborhood events that benefit locals and PCC students connects the two projects.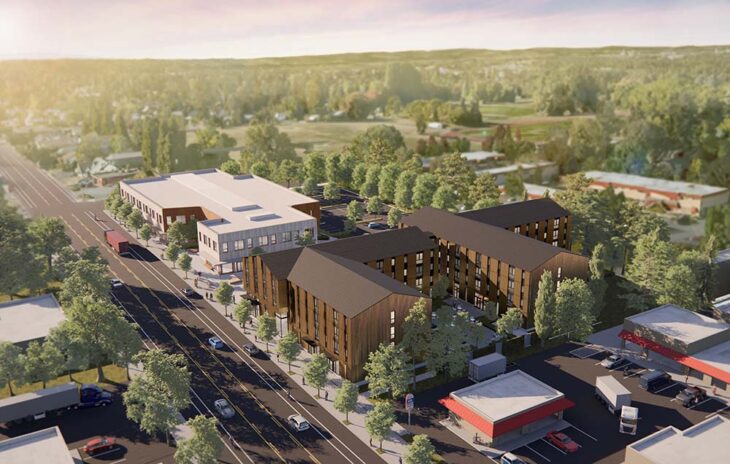 To enliven Killingsworth and a "plaza street" shared with the new Opportunity Center, simple gabled forms are arranged to create two private courtyards. These rural and modest forms deconstruct the overall massing and create visual intrigue that alludes to the distinctive personality of the Cully Neighborhood. They are coupled with a playful pattern of textured metal cladding.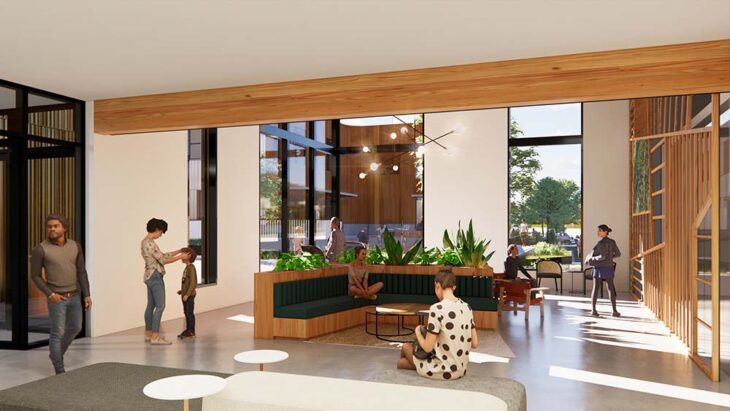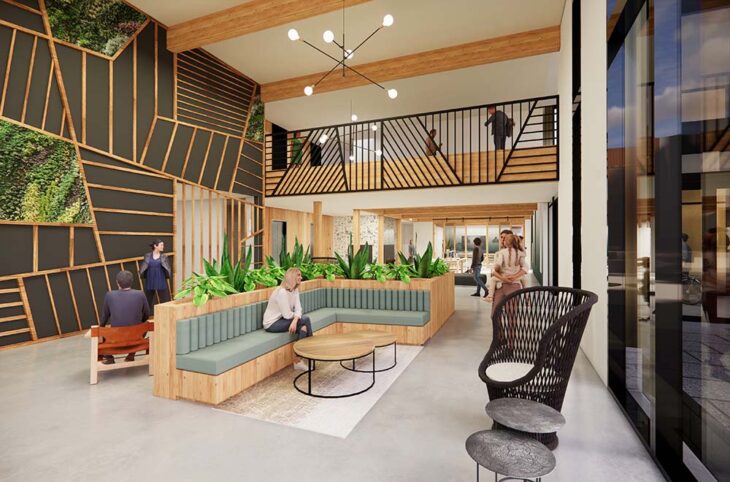 In order to achieve Earth Advantage Platinum certification, Hacker incorporated cost-saving and cost-efficient techniques into the design. These techniques included optimizing the building plan dimensions and floor-to-floor heights to reduce waste from wood-framing and gyp-board, using a structural design that did not require a more expensive post-tensioned concrete slab, and carefully positioning exterior glazing to improve the overall window-to-wall ratio.
Hacker Design Team
David Keltner (Design Principal)
Laura Klinger (Principal-in-Charge/Project Manager)
Caitlin Ranson (Project Architect)
Caleb Couch (Architectural Designer)
Chris Hodney (Architectural Designer)
Matt Sugarbaker (Technical Review QA/QC)
Jennie Fowler (Interior Design Principal)
Katherine Park (Interior Design)
Project Team
Architecture and Interiors: Hacker
Client: Home Forward
Contractor: O'Neill/Walsh Construction
Landscape: PLACE
Civil Engineer: VEGA Civil Engineering LLC
Structural Engineer: ABHT Structural Engineers
Mechanical & Plumbing Engineer: PAE Engineering
Electrical Engineer: PAE Engineering
Lighting: O-LLC
Acoustical Engineer: Listen Acoustics
Signage and Wayfinding: Ambrosini Design
Code & Accessibility Consultant: Code Unlimited
Find more projects by Hacker: www.hackerarchitects.com