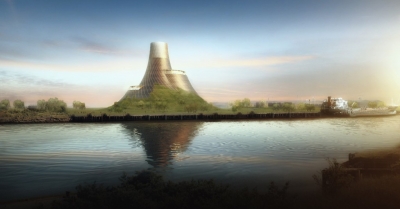 Project: Teesside Power Station
Designed by Heatherwick Studio
Location: Teesside, United Kingdom
Website: www.heatherwick.com
The always innovative Heatherwick Studio has designed the Teesside Power Station, project is designed for a location on the banks of the river Tees.
From the Architecture:
With a rising global population and increasing political focus on the future of power generation, the task of designing a 49 mega-watt, bio-mass fuelled power station in Stockton-On-Tees is an interesting design challenge.
The site at Clarence Works is on the banks of the river Tees and is classified as brownfield, being both post-industrial and ecologically sparse. On the opposite bank is Middlehaven, a major new development of 3000 new homes.
The studio's approach has been to treat the power station as an opportunity to make a positive architectural and cultural contribution to the area. Rather than placing yet another large industrial building onto this flat landscape, the studio's proposal is integrated into it. By reconfiguring the arrangement of the energy generation equipment permitting it to be housed within an efficient single volume, the scheme occupies only a third of the site and provides four hectares of indigenous grasslands, which are literally pulled up the façade.
The scheme includes the creation of a publicly accessible park, education facility and events venue. The riverside site enables the fuel to be delivered by ship, achieving a further reduction in carbon emissions compared to road transport. The parabolic hyperboloid form is clad with a proprietary panelised façade system supported on a steel frame, which is structurally very efficient as it also carries the load of the internal equipment, effectively making it a lean-to.