Great news comes from NYC for Heatherwick Studio architecture practice whose design of the Pier 55 a Floating Park in New York City has gotten it's green light from the city authorities. The initiative for the park which is to serve as a public park and performance space on a pier in Hudson River was headlined by legendary fashion designer Diane von Furstenberg and her husband businessman Barry Diller.
The power-couple is to donate $113 million to the construction, which in fact is the biggest private donation the New York City in history! Construction is set to begin in 2016, the cost is estimated on $130 million in total, with city of New York donating 17 million to the project. The state of New York will also donate $18 million for the construction of the accompanying esplanade designed to lead into the pier.
For more visuals of the project designed by Heatherwick Studio continue after the jump: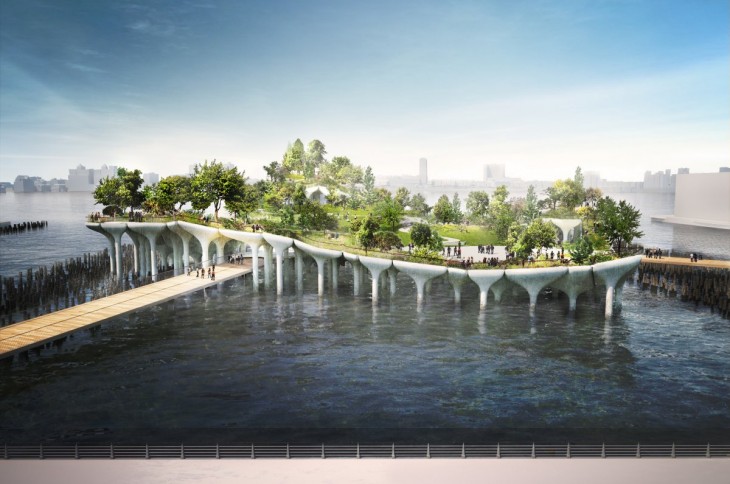 Pier55 is a public park and performance space on Manhattan's lower west side commissioned by a new non-profit organisation, funded primarily by the Diller –von Furstenberg family, which will build and operate the pier in cooperation with the Hudson River Park Trust. The new pier will be will be constructed between the pile fields of Pier 54 and Pier 56, which will remain in order to provide a fish habitat. The pier will be a place of discovery, where visitors can wander and wonder, finding something new around every corner: places to lounge, eat lunch, or just lie in the grass. The park's undulating topography – replete with lush lawns and pathways – will offer sweeping views of the Manhattan and northern New Jersey skylines for all park-goers and provide a natural viewing area for the new performance space, which will be designed to immediately serve as one of New York City's premier venues for music, dance, theatre and public art, along with community events. Construction of the 2.7-acre pier is expected to commence in 2016. – from Heatherwick Studio
More projects by Heatherwick Studio – www.heatherwick.com.