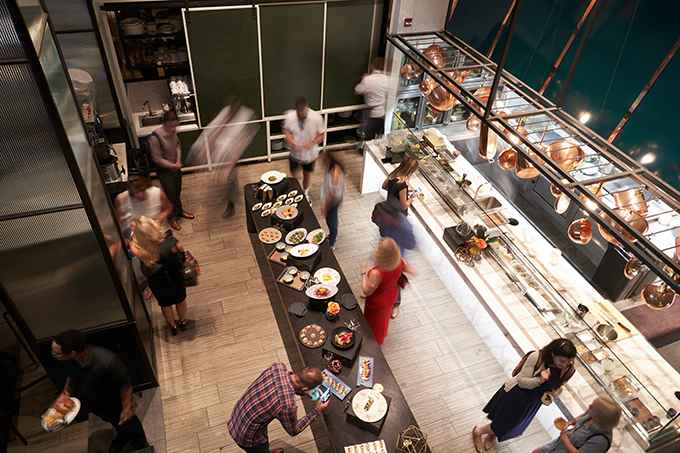 When designing a commercial kitchen, you want to ensure you are considering all the elements that will improve efficiency and safety. Here are some tips to help you design a stylish kitchen that checks off everything you need to remain profitable and successful.
Types of Commercial Kitchen Layouts
A good kitchen begins with a logical, well thought out kitchen layout. Some of the most common commercial kitchen layouts include:
Assembly line layout: The assembly line is based on a long counter space with equipment and counter space aligned along the same wall. It's great for restaurants with quick turn over and limited space. Perfect examples are delis, where you have a short menu and the food is expected fast. However, it can work in small restaurants, where you can prepare the hot food, plate it, and then get it to servers in one smooth streamlined process.
Island layout: This design uses a large island in the center of the kitchen where everything is cooked and then has various prep stations on the outside walls. This works well, as it allows a central cooking area that is contained, wider aisles to move about, and an opportunity to improve efficiencies. This is ideal in square kitchens, but the island shape can also be adapted to suit a room's unalterable layout.
Zone-style layout: Zones can be created in the kitchen based on tasks to help improve efficiencies. All related tools and equipment are kept in the zone, whether they are knives and boards for chopping, plates and garnish for plating, or ingredients for salads. This is a safe arrangement, as it keeps cold foods separated with zones for things like salads or smoothies, and then cooking areas for grilling or sautéing. Zone layouts are ideal for kitchens with diverse menus.
Galley layout: Long narrow kitchens work well for galley layouts. Stations and equipment are placed along both walls, and an aisle for moving about is left in the centre. This is the design used in food trucks, but can also work well in smaller spaces.
Open kitchen layout: This leaves the kitchen open for diners to watch the staff at work. It is excellent for opening up the space, and works well for active kitchens where pizzas might be tossed, or you might do fine work such as decorating pastries. A glass wall can be used with a bar and stool seating to maximize house capacity.

Components of a Commercial Kitchen
Efficient kitchens all share the same components in common, as they are key to improving productivity. Regardless of layout, though, well designed kitchens include:
Storage: This includes proper refrigeration, cupboards for dry goods, an area for cooking tools, and serving items including linens.
Washing station: Food washing areas, dish washing, and drying racks keep the kitchen sanitary and organized.
Food preparation: Adhering to safe food preparation your food prep stations are based on the needs of your menu. Counter space and easy access to prep tools is a must. It should also be a short distance from the fridge for access to food.
Cooking station: Most restaurants require some form of cooking equipment, even if it is just a microwave or panini press.
Service: This area is designated for plating and hand off to servers. Heat lamps keep food warm, and this area should be close to the dining area so wait staff aren't doing too much running around.

Principles of Design
Smooth operation is achieved based on the basics of kitchen efficiencies. Your kitchen design should keep the following principles in mind:
Flexibility and modularity
Simplicity
Flow of materials and personnel
Ease of sanitation
Proper commercial kitchen equipment including:

Ovens and ranges
Food processors and mixers
Deep-fryer
Reach-in cooler or walk-in cooler
Baking pans

Hand soap/sanitizer dispenser for hygiene
Ease of supervision
Space efficiency
Well designed kitchens are all about flow, which can only be achieved using these key principles.

Tips for Restaurant Kitchen Design
Some tips to help you create the perfect kitchen include:
Design a flexible kitchen so it is easy to adapt as you change your business plan to meet client demand and expectations.
Create working zones so that your teams have designated areas to complete each task and avoid getting in each other's way.
Store kitchen tools and appliances with similar functions together to make it easier to complete similar tasks.
Place storage near food prep stations to reduce people running back and forth.
Avoid placing cold storage near cooking equipment.
Consulting with a designer will ensure that you have the ideal kitchen to optimize efficiencies, while creating a more pleasant work environment. You also reduce the risk of accidents, while also ensuring food prep is safe.