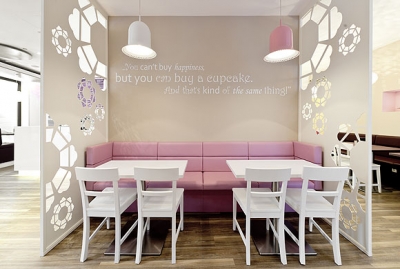 Project: The Cupcake Boutique
Designed by DITTEL | Architekten
The newly designed Cupcake Boutique in Stuttgart is work of DITTEL Architects who have successfully integrated the former inventory into the new design. For more images as well as the architects description continue after the jump:
From the Architects:
The newly designed Cupcake Boutique in Stuttgart City centre reopened. DITTEL | ARCHITEKTEN enlarged the sales area by 80 square meters and wrapped the whole place in a new, exciting design. Cupcakes are fondly designed, fancy little cakes expressing a whole new lifestyle. These special, little cakes are solely created and designed by imagination and fantasy. They stand for playful indulgence and enjoyment. This lifestyle is perfectly represented by the harmonious interior design set, on the Cupcake Boutique's 133 square meters.
The former Cupcake Boutique was opened in 2010 and is now supplemented by new creative and graphical elements. The new shop concept is based on integrating the former inventory into the new design using familiar pieces of furniture and lightning in familiar corporate identity colors. The decoration of the bright spaces shows a great love for detail in design and material. The shape of the lights, for example, evokes associations with little cake pans.
The Cupcake Boutique´s revised concept subdivides the showroom in different areas, where customers are welcome to enjoy their sweet treats. Not only a long bench and an exclusive division were embedded, but also a new area designed, especially for children. Playful bordures, lighting, display cupboards, an ornamental flower wall and a counter for frozen yoghurt perfectly blend in with the café's country style that is completed by wooden floors. Furthermore the color soft-brown was added to the color scheme. The highlight of the café is the huge glass display that allows a glimpse behind the scenes and into the bakery.
Shop windows, decorated with bordures, lights and small glass displays give an idea of the atmosphere on the inside. The subtle face of the building in its new grey coat provides the perfect framing for directing the attention to the shining interior. With a newly designed sheet-metal cover and blackberry colored awnings the facade blends in with the concept design of the new Cupcake Boutique.
The Cupcakes´ theme can be found in the graphics on the walls and in small coltish details in the kitchen, as well as in the kids' space and in the restroom areas. The new sweet lifestyle can be taken home in shape of pretty take away boxes, sweet gift coupons and gorgeous paper bags that all show the Cupcake Boutique´s unique corporate design.