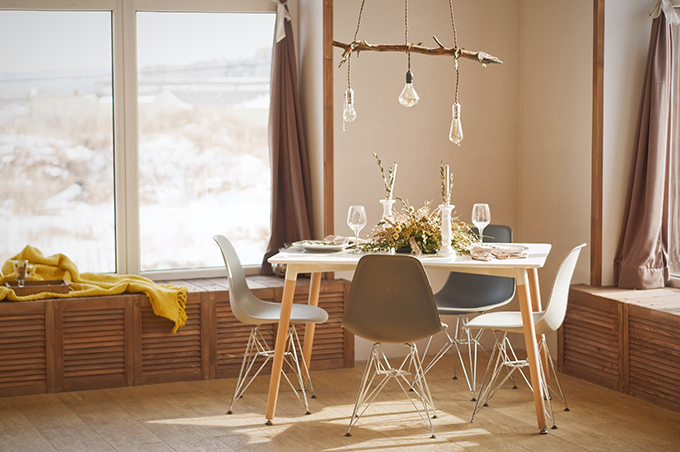 Every room of your home deserves to look good. Still, the majority of people focus on their living room, kitchen, and bedroom, which isn't all that surprising since you spend most of your time in those areas. But that doesn't mean other parts of your home, such as the hallway, dining room, or bathroom should be neglected.
Once you're done decorating the "more important" parts of your house, you need to dedicate some time to those rooms you spend less time in. It doesn't matter if you don't eat in your dining room every day — it should look as good as your living room or any other area.
Your home will never be complete unless you dedicate enough attention to each and every part of it.
If you're just beginning to decorate your dining room, this article is exactly what you need! If, on the other hand, you've already done some work but you feel like something is still missing, you can also benefit from going through our tips.
Without further ado, let's dive into some practical dining room tips every homeowner should know about. Read on!
A Good Table Is a Must
We'll start with the most important component of every dining room — the table. Simply put, there is no dining room without a good table, it's as simple as that. Therefore, before you do anything else, make sure you have secured a solid, good-looking table. This decision is the most important one since your table will dictate how the rest of the room will look like.
Needless to say, you should pick a model you like. There are no rules here — you can get an elegant wooden table, a lavish glass table, an industrious-looking table made of metal, or whatever other kind you find beautiful.
Once you're set on the style you'll go for, it's time to consider the size. Measure your room and determine how big your dining room table should be. Keep in mind that there should be enough space for both the table and the chairs. Ideally, you should be able to walk around the table and get in and out of the chairs effortlessly.
Finally, your dining room table should be made of high-quality materials. Since you won't be buying a new table every couple of years, it's best to avoid flimsy models and instead buy a durable piece that will last for years.
Experiment With Chairs
If you like playing with colors, patterns, and styles, chairs can help you express your creativity to the fullest. Eclectic style has been particularly popular in recent years since it allows people to mix and match, and therefore create a unique environment that catches everyone's eye.
You can go for multiple colors, different chair models, shapes, etc. Once again, there are no rules you need to follow — just let your imagination go wild and create something you'll love looking at every day. Of course, mixing and matching different styles isn't everyone's cup of tea. If you prefer subtle and elegant options, go for chairs in that style.
Regardless of what you choose, you should keep in mind that the chairs you select need to be comfortable. After all, the main purpose of a chair is to provide sufficient support and ensure the person sitting on it isn't uncomfortable.
Consider Maintenance
There's no point in creating a perfect-looking dining room (or any other room) if you don't take functionality into consideration. Above all else, your home should be practical, and that goes for your dining room, too.
Good floors will allow you to easily clean your dining room, as well as help it look its best. If you're looking for a durable, safe, and elegant-looking solution for your floors, rigid core vinyl flooring should be one of your top picks.
This type of floor is:
100% waterproof
Easy to install and maintain
Very solid
Safe for you and your family
On top of that, rigid core vinyl flooring looks super-realistic and resembles real wood, which makes it a perfect addition for your dining room. On top of that, you won't pay a fortune since this type of floor is pretty affordable.
Final Thoughts
Once you've taken care of all the essential things we've discussed in this article, you can start thinking about incorporating details into your dining room. Nice-looking curtains, designer vases, soft rugs, attractive mirrors and other decor elements can all make a difference, so make sure to think about those items as well in the process of decorating your dining room.