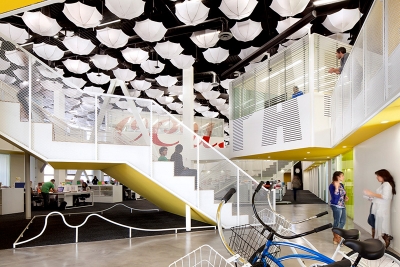 Project: Grupo Gallegos Office
Designed by Lorcan O'Herlihy Architects
Client: Grupo Gallegos
Size: 3 000sqf
Location: Huntington Beach, California, USA
Website: www.loharchitects.com
Grupo Gallegos Office refreshing design concept comes from the drawing boards of Lorcan O'Herlihy Architects. The architects have found a unique way to create a comfortable working environment fit for a creative advertising agency.
From the Architects:
This adaptive re-use project transforms an existing cinema into the signature headquarters for a creative advertising agency. Located adjacent to the Huntington Pier in Huntington Beach, California, the official Surf City of the USA, the client brief asked LOHA to incorporate elements of the beach into the design. The resultant soace infuses the existing structure with a playful intervention of bright colors and materials. Over 300 custom sunbrellas will be used for lighting and to conceal spray-on fire protection. Conference rooms are used as billboards complete with interchangeable graphics on the exterior louvered facade.