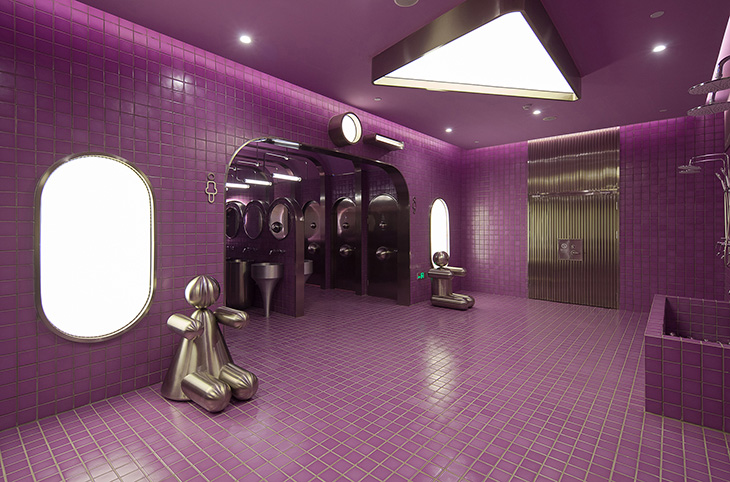 SEIRANRI Public Area is a restroom like no other – the former 80 square metre restroom was turned into a 1450 square metre public space inspired by black hole gravity!
The cinematic space bathing in green and purple is located in SEIRANRI a complex in the CBD of Binjiang District, Hangzhou (China). The design team behind the project got a chance to realize it in a massive space open to public and mainly designed for the young generations. While undoubtedly massive and serving as public space in no way it lacks the function of a working restroom.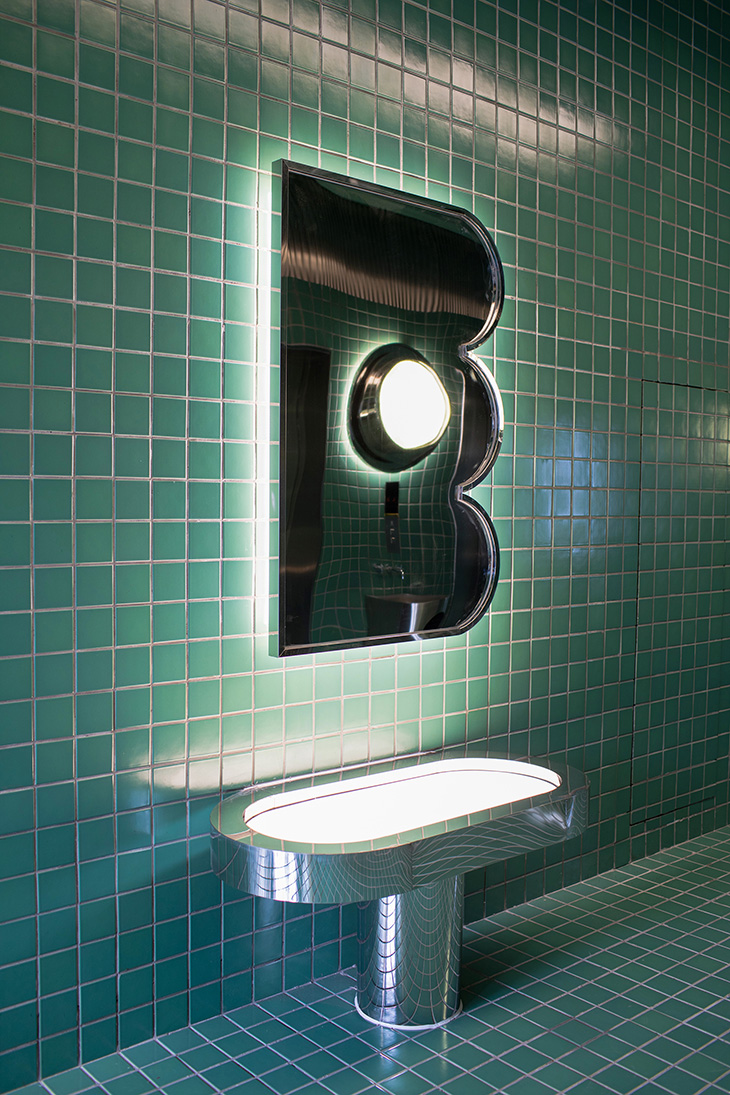 The space also finds a spectacular way to showcase the design evolution of everyday public space.
Scroll down for more images of the project as well as more words from the project team:
Visual impression that breaks with conventions
White, green and purple are respectively the dominate hue of each floor, thereby creating an overall spatial scene that echoes the colorful view produced by friction between planets around the black hole. Tiles, a common material that is cost-saving and easy for cleaning and maintenance, are applied to large areas of the space, to give the visual impression of fragments.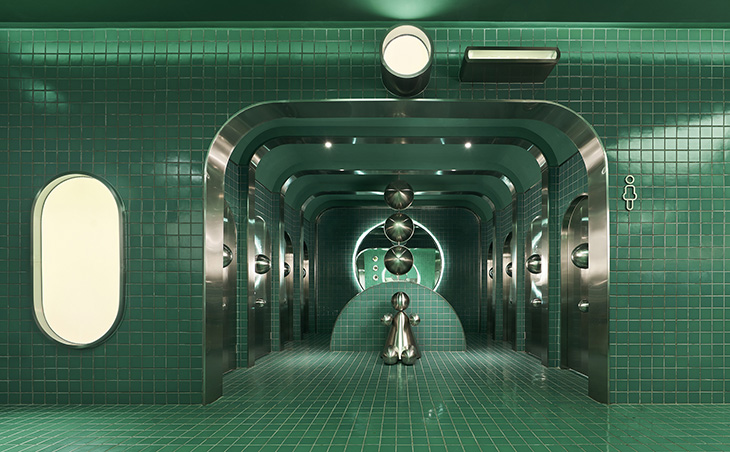 In the conventional sense, washroom is a relatively private space, which is usually not highlighted in spatial design. However, such a space is accentuated by strong color on each floor, producing dramatic visual and sensory experiences. Public passages with single function become extensions of the restroom space, guiding people outside to go deeper into the interior.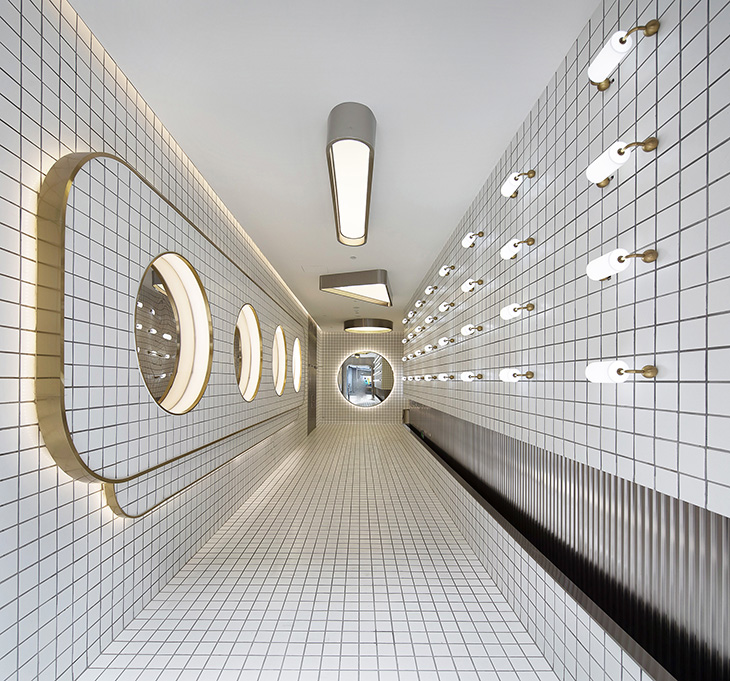 Items originally exist in restrooms such as washing sinks, showers, toilet paper, toilets and mirrors are presented in public passages in a symbolic manner, which showcase familiar scenes in daily life. Those items, although usually not elegant in aesthetic sense, perfectly function as conceptual and visual elements that evoke memory here.
Story-telling spatial scenes
Elements in the space are magnified, interlaced and sorted, like planets that collide with each other due to the gravity of the black hole. The space is continuously growing; time here just starts; and everything seems to return back to the origin. Familiar yet strange scenes seem to present an outlandish stage play here.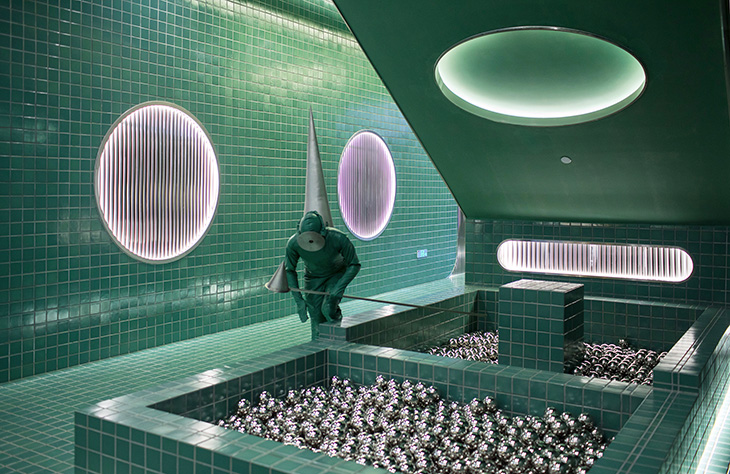 The designers combined fragmented spatial shapes to compose volumes, and then form scenes. The concept that integrates restroom and public space gives birth to a new narrative of space. The holistic use of a single color on each floor makes the flamboyant interior surfaces and hidden spaces more appealing.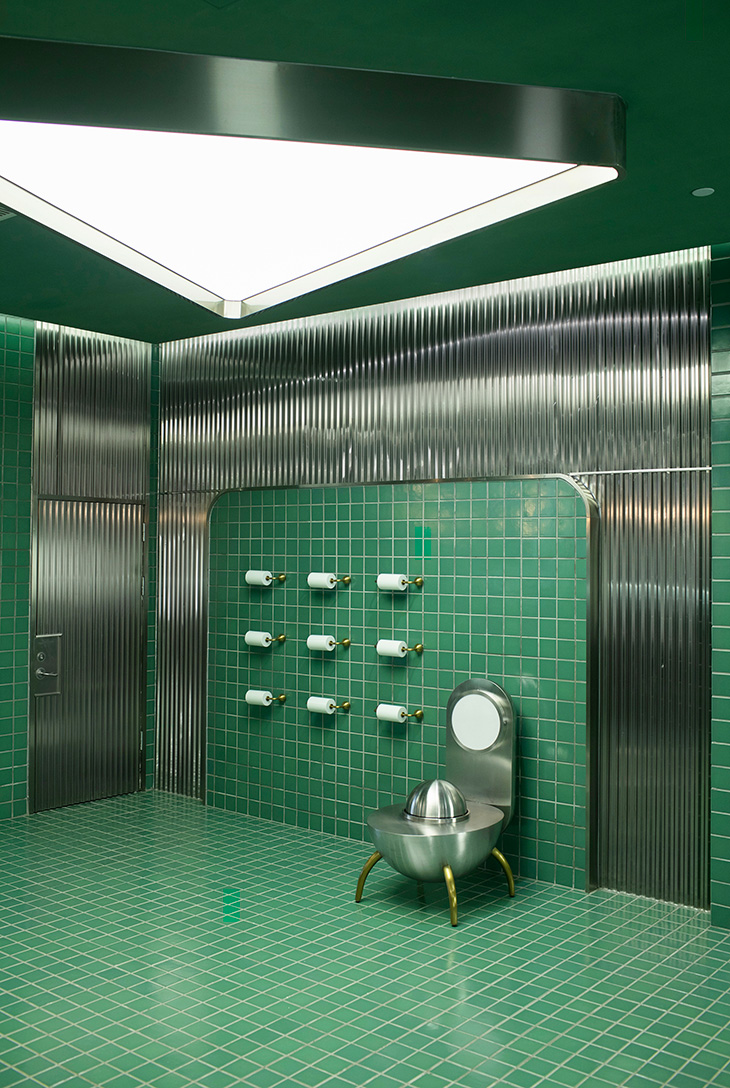 People are the protagonist in the space. In the internet age with excessive visual languages and images, we seem to be in a "virtual" world full of information fragments. This space encourages us to break the "virtual", pay attention to the daily life often ignored by us, discover diversified possibilities and create our own stories.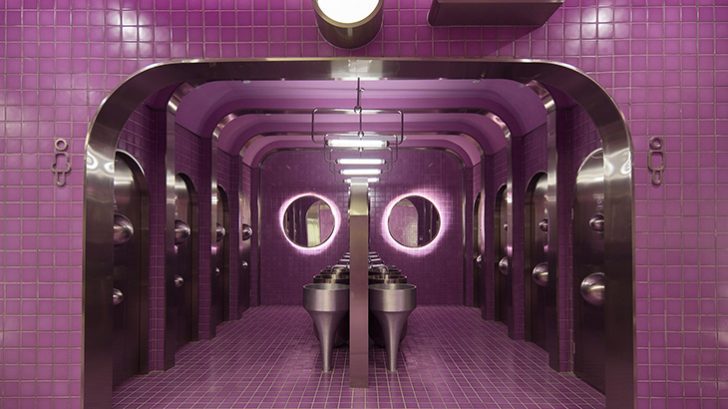 Project name: SEIRANRI Public Area
Area: 1,450 m2
Category: public facility
Chief designer: Li Wenqiang / PIG Design
Design team: Tan Shijie, Cheng Liang, Zhu Yiyun, Chen Yunyun, Liu Ruonan, Deng Huan, Zhou Siyan, Tang Mengjie, Bao Yanjun, Wang Keke
Completion time: April 22, 2020
Photographers: Wang Fei, Shi Zheng, Qi Shuoqian
Construction firm: Zhejiang Zhongtian Jingcheng Decoration Group. Co., Ltd.
Installation production: Zhejiang Deyao Metal Products Co., Ltd.
Garment production: Wen Zi
Lighting fixture design: Li Wen
Location: Intersection of Xixing Road and Danfeng Road, Binjiang District, Hangzhou, Zhejiang, China