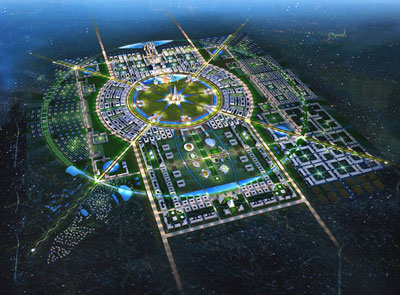 Project: Shams Laisure Park
Designed by Chapman Taylor
Location: Rehaan City, Jordan
Website: www.chapmantaylor.com
Internationally renowned and present Chapman Taylor architecture firm takes on a task of designing the massive masterplan for the Shams Leisure Park in Jordan. For more images and architects description continue after the jump:
From the Architects:
The focus of the city is the Shams leisure park. Axes radiating like rays of light, spreading across the city, determine the underlying urban pattern. Urban sector are created, based on the relationships between the functional zones of the city, whilst maintaining flexibility for future growth. The urban center is defined by two major north-south roads, and contains the municipal, business, residential, sports, healthcare, university and Shams Park sectors. From this centre the light-industrial and villa sectors are located in independent zones, like islands. These areas are connected by roads and a variety of landscaped and water parks.