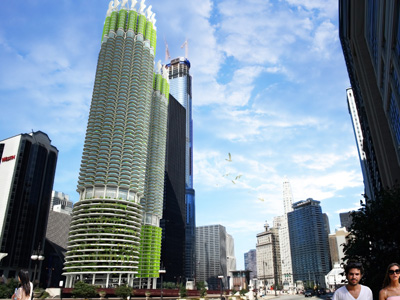 Project: Algae Green Loop
Designed by Influx_Studio
Location: Chicago, Illinois, USA
Website: www.influx-studio.com
Algae Green Loop concept project marks a new step in green-architecture potentially creating buildings capable to leave zero environmental footprint. For more continue after the jump:
About the Project:
Recognizing the growing need for a new sustainable model in the city, the retrofitting design seeks to achieve zero environmental footprint by introducing algae technology on to pre-existing structures. The project is a closed loop system that focuses on three different levels of carbon reduction: direct carbon sequestration from the air, absorption by vegetal photosynthesis, and additional establishments of natural energy harvesting. Staring from the top, two carbon scrubbing plants driven by wind power turbines will capture CO2 from the air, filtering it before releasing oxygen back into the atmosphere. The algae bioreactors will produce enough energy for the building's operational needs.
A modular system of algae tubes running around the top circumference of the towers and one of the parking ramps will absorb solar radiation to produce bio fuel. in addition, the other parking ramp will be transformed into a gravity-driven phytoremediation device to clean water for re-use. The semicircular balconies that revolves around the exterior will serve as the armature for photovoltaic and solar thermal panels, generating a supplementary source for electricity as well as opportunities for vertical farming.
Source Designboom. *