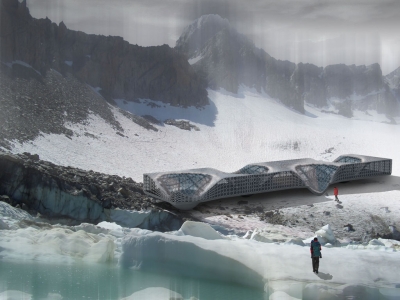 Project: Ecoscape
Designed by Open Source Architecture
Client: University of Berkeley
Size: 5 000 sqf
Location: Sierra Nevada Mountains, California, USA
Website: www.o-s-a.com
Open Source Architecture designs the Ecoscape building as a prototypical mountain cabin, adjusted to extreme weather conditions. The project in its entirety is imagined on principles offered by energy self reliant systems.
From the Architects:
Ecoscape is a prototypical mountain cabin located in the extreme climate conditions of the California Mountains. Ecoscape is based on the principles offered by energy self reliant systems. The building form is responsive to solar conditions, developing a surface area that maximizes exposure to collect energy and heat. Ecoscape is generated out of an algorithm that tracks solar positioning in order to intensify absorption in specifi c locations on the roof surface. The surface consists of ETFE thin membranes that integrate thin fi lm photovoltaic cells to generate energy.