Shanmugam Associates designed the Raga Svara Wellness Center in Rajkot, India. Raga Svara places a strong emphasis on one's own therapeutic, artistic, philosophical, and ecological well-being in relation to their surroundings. The word "Pause" in Raga's logo denotes that everyone who enters this verdant retreat does so with the intention of pausing to think, contemplate, and listen to their bodies in harmony with nature. With such a distinct vision for Raga, it was up to the architects to make the least amount of changes to the natural environment possible while yet allowing nature to reign supreme.
The site's linearity, old trees with enormous canopies, agricultural land, proximity to the Rajkot–Bhavnagar highway, and the site's natural terrain were the main influences on the architects' decision to use a biophilic approach to design. A site's massive banyan and peepal trees were taken into consideration for zoning. The definition of the architectural language involved looking at the fundamental components of walls, floors, and roofs. Interior and exterior floors and outside landscaping are intertwined; walls have maximum transparency to appreciate luxuriant greenery; and the roof is made of plain, horizontally exposed concrete slabs.
One is welcomed by a landscape that stretches to the ceiling at the entrance, enabling them to stroll around and get a view of the entire property. In an effort to create a welcoming atmosphere, the entire roof is concealed by hanging curtain creepers, which literally act as a green curtain as you enter the lobby. The restaurant, library, and pool are all enclosed by enormous trees that provide a gathering area. The Ficus benghalensis banyan, which is named after learning, lies directly below where the library is situated. The development of the swimming pool area, which has symmetrically pierced ceilings and granite stairs, was supported by inspiration from the tiered wells of Gujarat and the need for enough covered areas. The existing mango trees (Mangifera Indica) that provide room for reflection were planned around when the yoga center's chamfered and cut roof slabs were designed.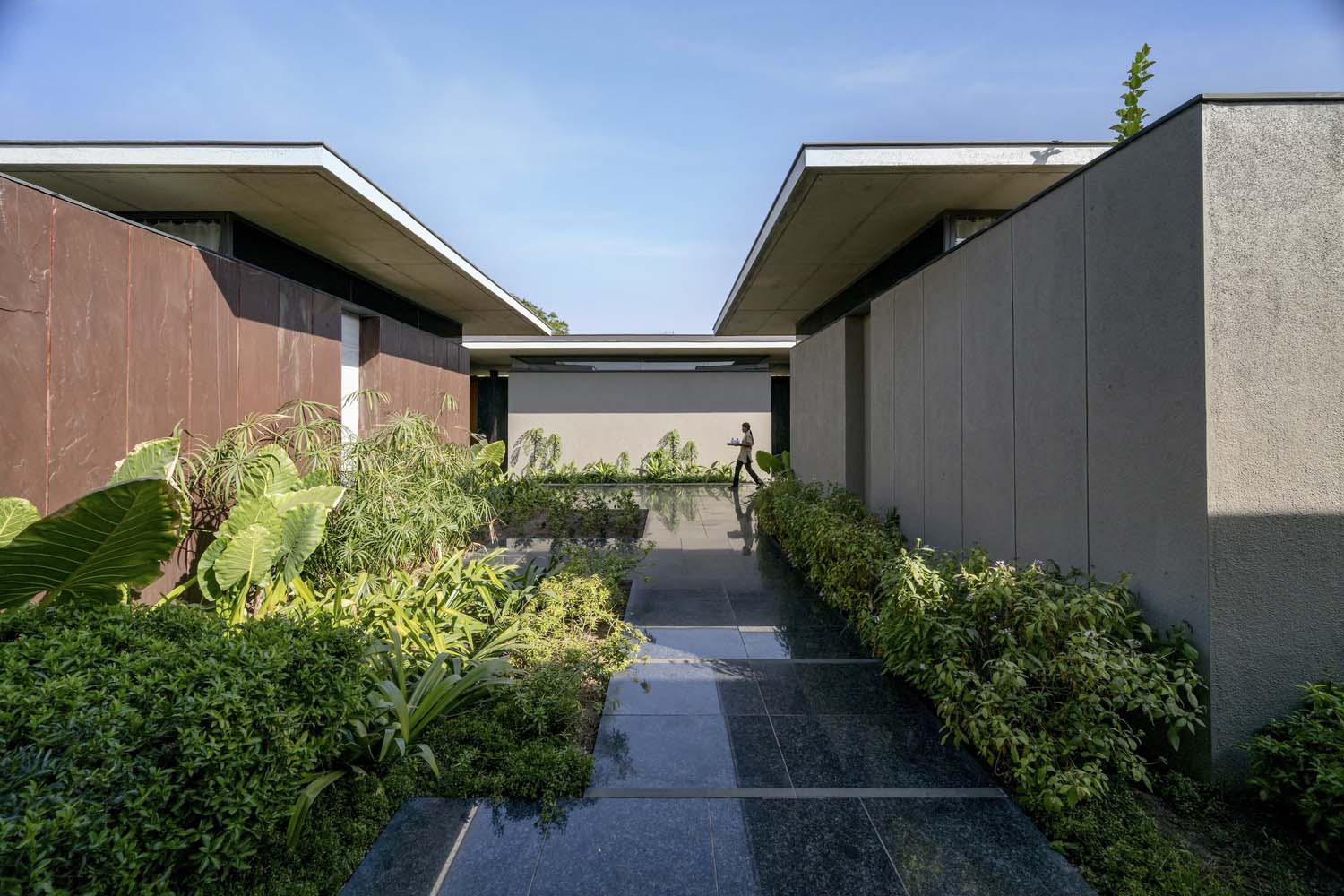 To promote privacy, the treatment rooms have been hidden away in the back of Raga Svara. Customers are greeted by an entrance foyer and boutique with a manila tamarind (Pithecellobium dulce) giving shade, beautiful restrooms filled with landscaping, and floating roofs that let natural light enter spacious therapy rooms at Raga. A community garden and circumambulatory bridge that frames a view of the western sun behind a Moringa cultivation were erected around the opulent 20-key Raga villas. Cottages are hidden behind the zen gardens and have their own private yard with a pool. Large private gardens provide natural ventilation for every restroom.
The lookbook, signs, ceiling patterns made of exposed concrete, wall paintings, and flooring all subtly include an asymmetrical mandala pattern that was developed as a key visual branding identity. Construction for Raga, which experienced three pandemic waves, including issues with execution and the sourcing of indigenous resources. The interior of Raga features a rustic mood board formed from four Indian Ragas, natural stones from the area, and specialized furniture manufactured from real teak and rattan.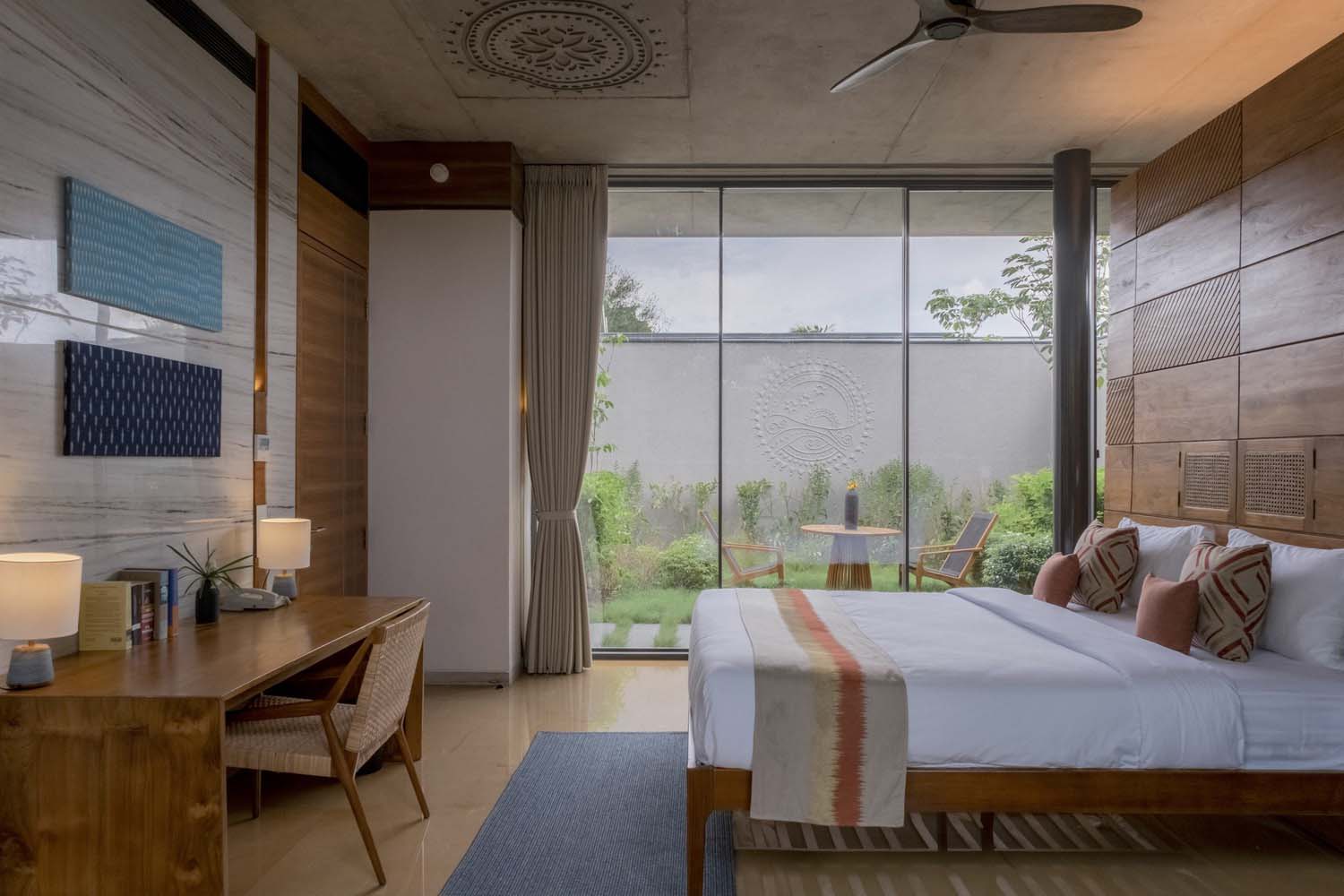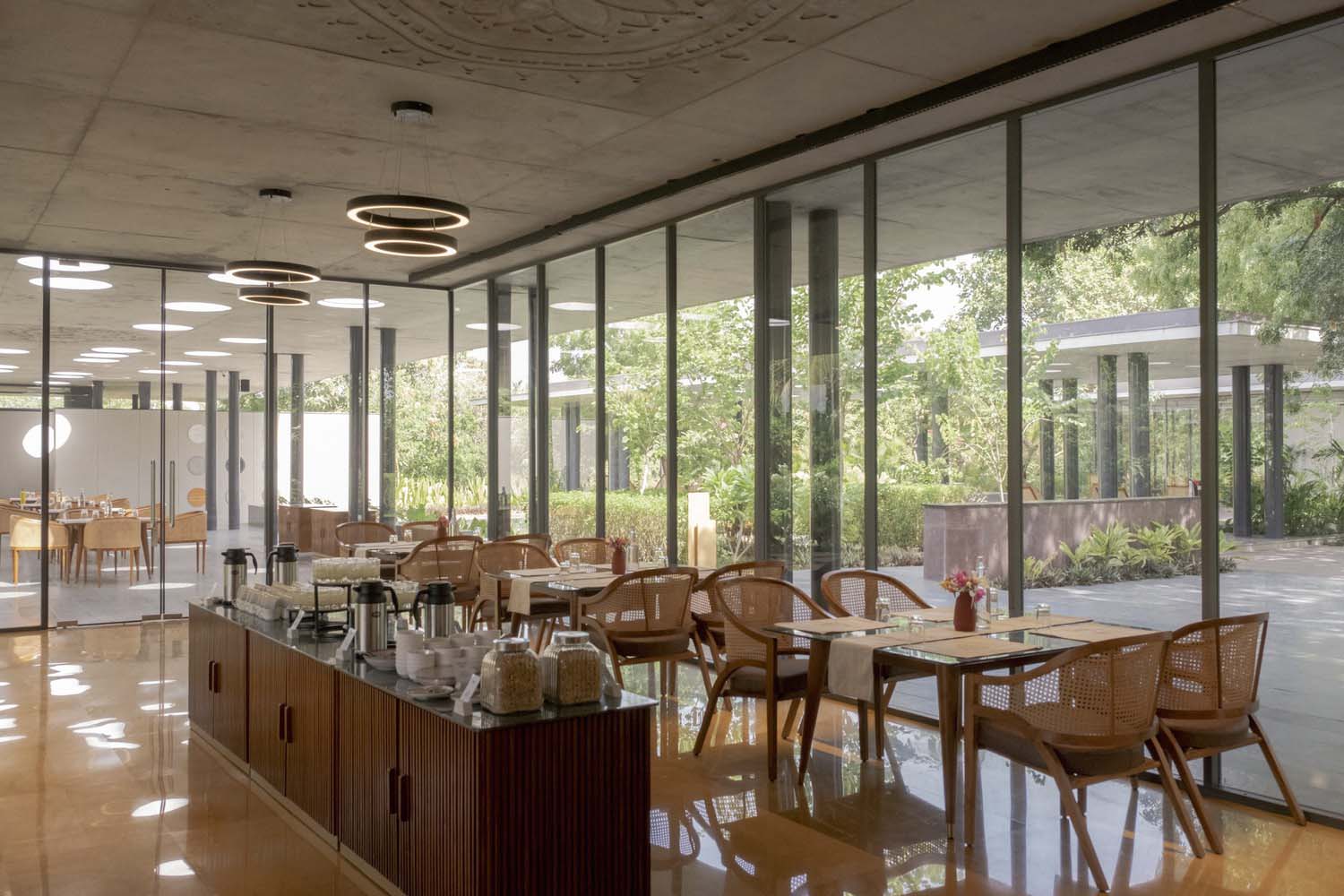 Meandering pathways amidst lush landscapes, delicious Gujarati cuisine with an emphasis on well-being, a blur between the built and green spaces, a plethora of quiet corners to ruminate, and customized meaningful retreats are some of the offerings by Raga Svara. Carefully treading the landscape and existing biodiversity of a 25-acre farm, the entire team worked in tandem to create Raga Svara which is best experienced than read.
Project information
Architects: Shanmugam Associates – shanmugamassociates.com
Area: 75000 ft²
Year: 2022
Photographs: Vinay Panjwani
Manufacturers: Duravit, Asian Paints, Century laminates, Greenply, Hafele, Schneider, TOSHIBA
Lead Architects: Santhosh Shanmugam, Raja Krishnan D, Ramya Raman
Engineering: Water Lilly PHE Consultant
Landscape: Earthscapes Consultancy Private Ltd, Sandip Patil, Tapan Modi
Design Team: Krishnah Priya, Ajith Kumar, Roshni Roy, Ramya Raman, Raja Krishnan, Santhosh Shanmugam
Clients: Denish Patel, Mohit Patel, Nirav Talaviya,
Consultants: Er.Balasubramanian, Structural (Shanmugam Associates)/ Nilesh
Collaborators: Siddharth Kaneria, Art Collaborative
City: Rajkot
Country: India