Office Alex Nicholls has recently completed work on this stunning penthouse apartment in Melbourne, Australia. The project included merging two penthouse apartments, their individual parking garages, rooftops, and outdoor areas to create a single multi-generational family home with a wealth of adaptable living and working spaces, a subterranean rehabilitation spa, and two rooftop sukkah pavilions.
The family's collection of books, artwork, and artifacts is housed in the apartment's "library spine," which is the first in a succession of important ideas. While the joinery is incorporated into the staircase, the library spine is also employed to honor the entrance lobby and define both the horizontal and vertical circulation.
The second core idea is a collection of "magic box" kitchens that can open and close and separate the various areas of the flat. These kitchens are very functional but have minimal volumes. They stand out against a warm and natural material palette because of their abstract colors. The stones in the bathroom, the fireplaces, and the custom furnishings all make use of colored materials.
The final intervention is a set of semi-circular oculus skylights that honor the two main living areas and make reference to the client's love of the nearby Art Deco buildings. The abstract composition created by the colored volumes is enhanced by this pure geometry. Smaller semi-circular and circular oculus are used around the apartment to provide natural light, further referencing the concept.
The apartment's primary social areas, including the kitchen, living room, and dining area, are to the east, while the west side is less formal and more suited to relaxation, with an interior/exterior lounge called the "Evening Garden." The space within the flat is also informally divided along generational lines, with the Western end serving as a place of privacy for the family's younger and more senior members. The apartment is also future-proofed to enable dividing into two units if necessary in the future.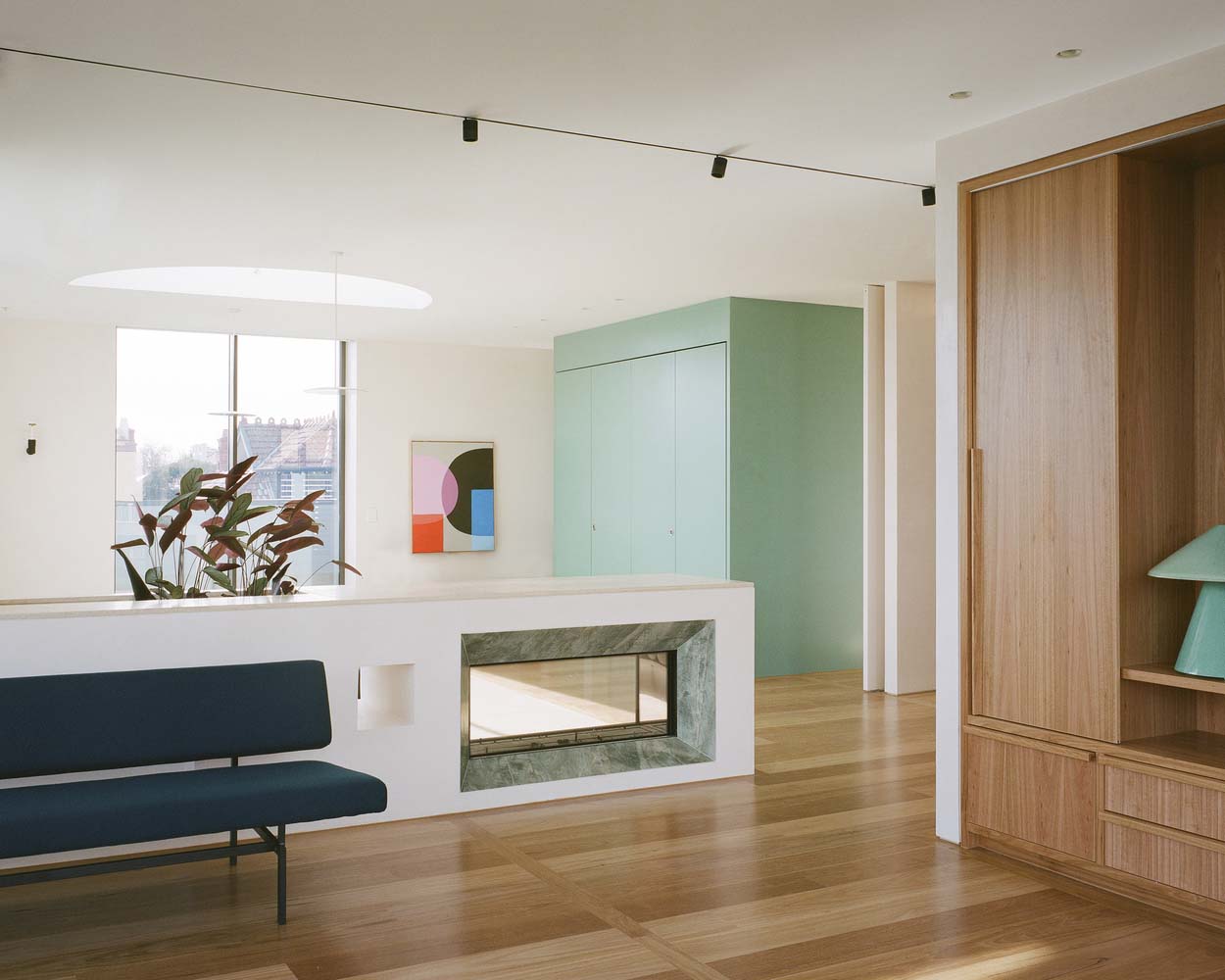 In order to establish a private wellness space with a workout pool, sauna, kitchenette, change rooms, and a flexible rehabilitation area downstairs, the spa made use of what was once a basement parking lot. Despite being a subterranean area with no natural light, the careful use of warm hues, natural materials, and atmospheric indirect lighting creates a holistic therapeutic experience similar to a Finnish sauna or a Japanese onsen.
Two "sukkah" pavilions on the roof serve as year-round outdoor living areas in addition to semi-enclosed cooking, dining, and meeting places during the Sukkot festival. The simple buildings may be easily operated thanks to bamboo canopies and shade walls. The pavilions are located in a large outdoor space with curvilinear planters bordering the edge and greenery that offers views out as well as a sense of solitude and protection from the wind.
Project information
Architects: Office Alex Nicholls – officealexnicholls.com
Area: 700 m²
Year: 2022
Photographs: Rory Gardiner
Manufacturers: Schüco, Viabizzuno, Vitrosca
Project Lead: Alex Nicholls
Build: Cobild
Joinery: Touchwood
City: Melbourne
Country: Australia