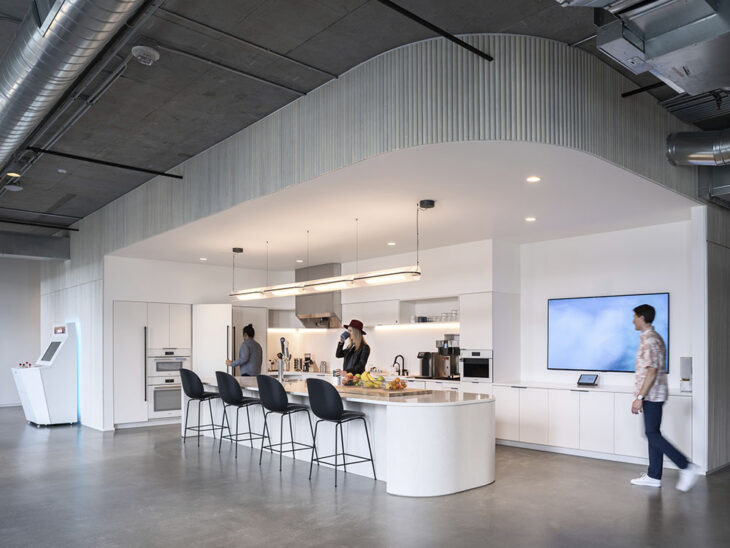 Hacker architects has recently completed works on its latest project in Portland, Oregon – Brainium Studios. Brainium commissioned Hacker to build a workplace that was both welcoming and visually appealing, while also giving room for the unexpected. The desired qualities were not different to the studio's own work: their gaming applications are original, intuitive, and engaging, with exceptional attention to detail, all with the purpose of providing the player with an amazing experience. The palette is simple: white and blue painted walls, white-washed tambour panel, blue upholstery, and concrete flooring provide a blank canvas for Brainium to create some genuinely unique moments in the area with vibrant, interactive digital art that relates to the urban views.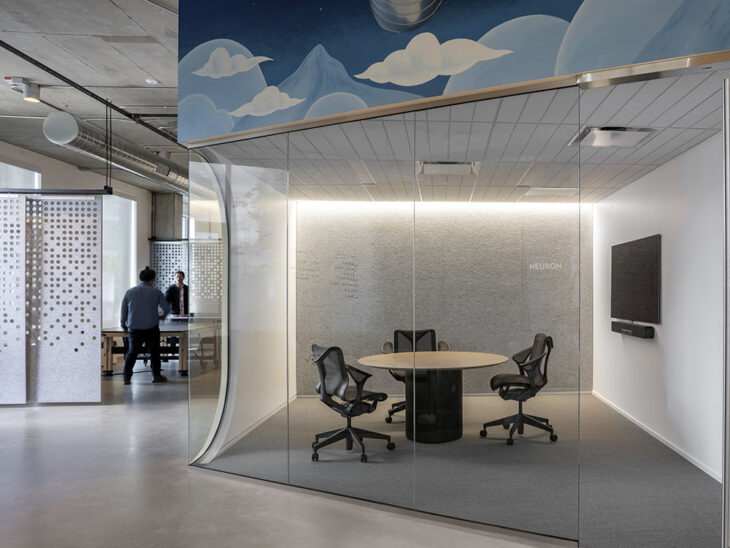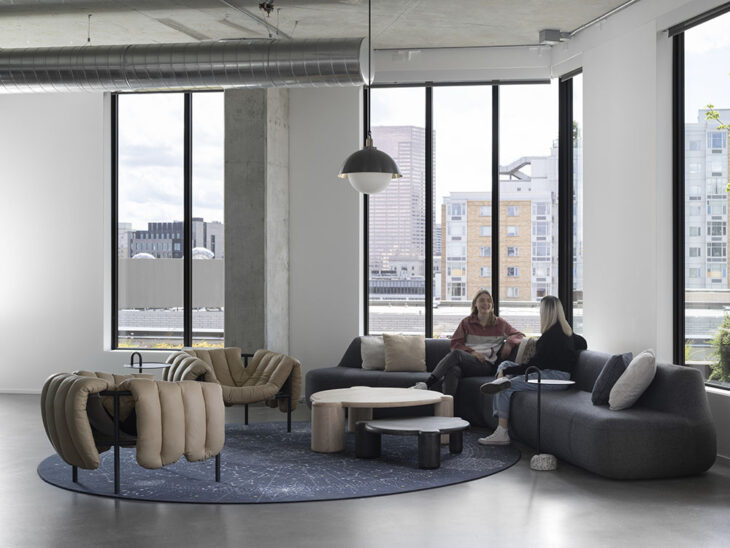 Some of the key directions were to create a space that promotes worker health and well-being through an intuitive, rational flow, a simple material palette, and excellent acoustics and lighting.
The space required a large reception area, defined by built-in seating that lines the perimeter and greets visitors and employees, as well as seating that connects to a desk, both clad in whitewashed tambour panel, providing a visual language that can be found throughout.
White and blue-washed tambour panel, blue upholstery, and concrete flooring provide a canvas for Brainium to create truly special moments in the area with bright, interactive digital art that also relates to the metropolitan views. Matte black lighting and plumbing fittings are utilized sparingly but effectively to offer visual highlights.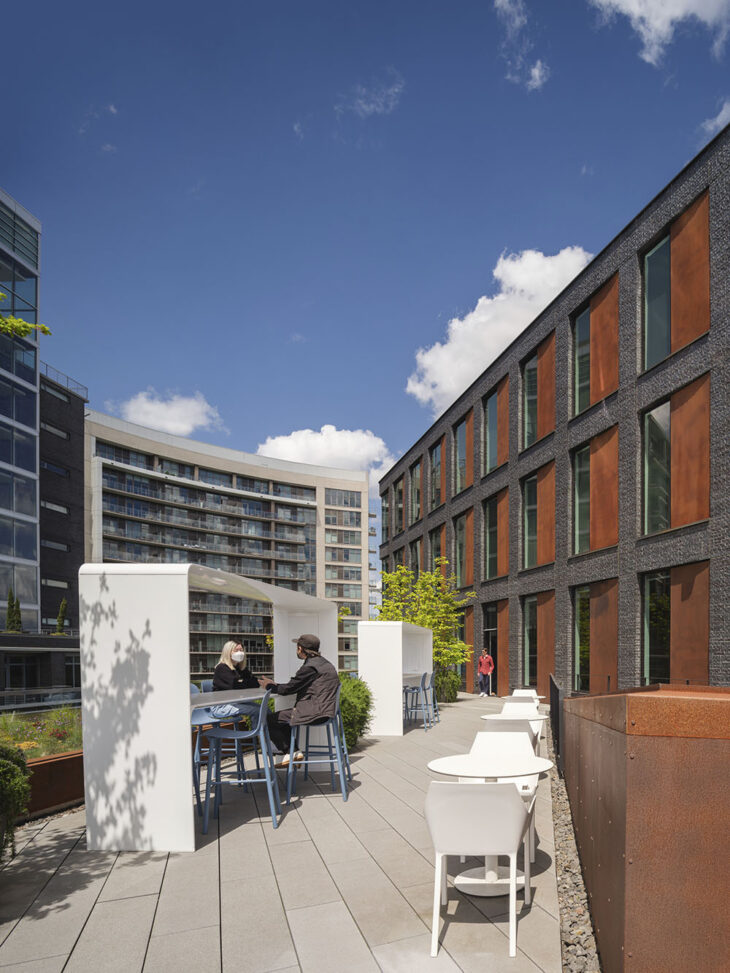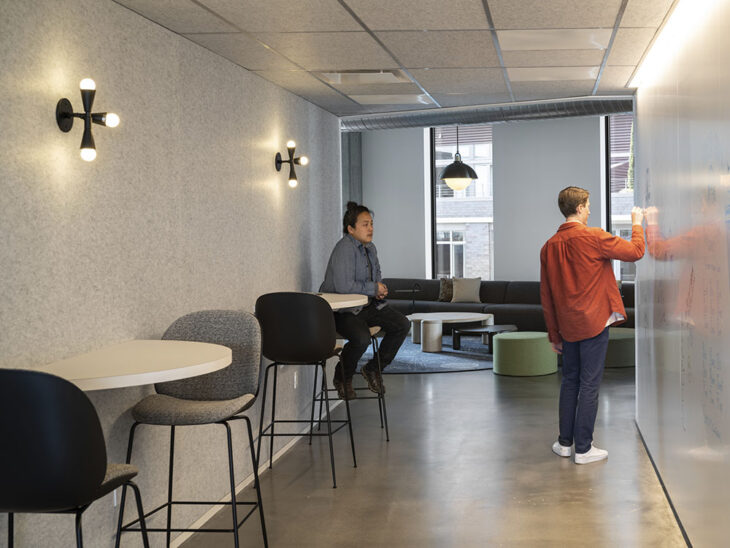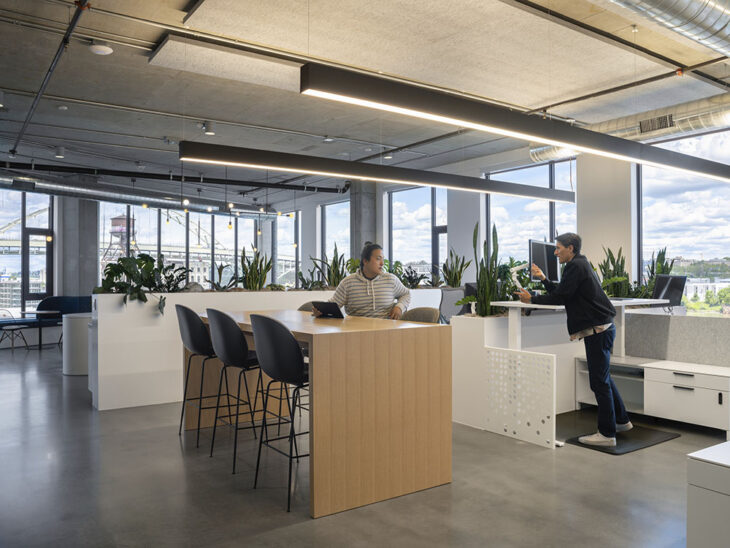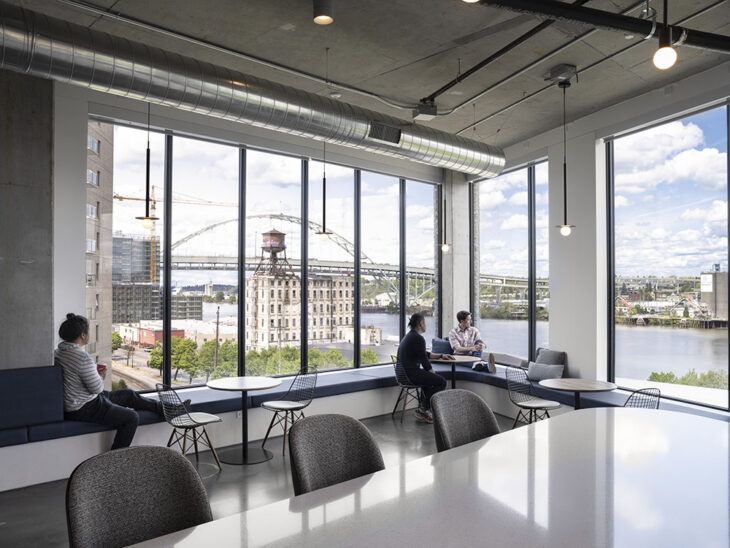 Because daylight and viewpoints were important, vertical expressions that broke down the scale of the area had to be translucent. The workstation pods are captured by a screen intended to sustain vines and plants, establishing a buffer between the desks and the principal circulation channel, guaranteeing a visitor can view out to the Willamette River upon coming from the elevator. Natural light and plants throughout the room contribute to the creation of a biophilic atmosphere that benefits worker well-being.
Conference rooms and enclosed offices are located in the center of the building, allowing daylight to seep into the area. Tambour paneling was used to encase the conference rooms and built-ins, allowing for beautiful, radiused corners. The same radiused expression rotates axes and transforms into a glass-filled "cut-out" at the enclosed offices, allowing one to look through the offices, each painted a different shade of blue, producing a gradient effect when seen together.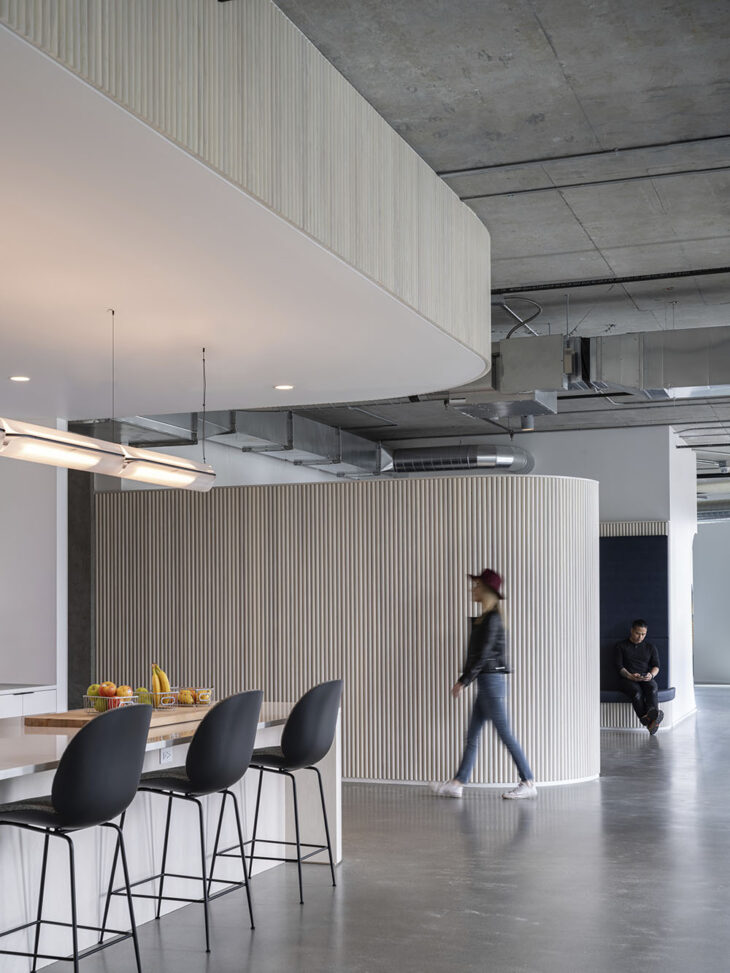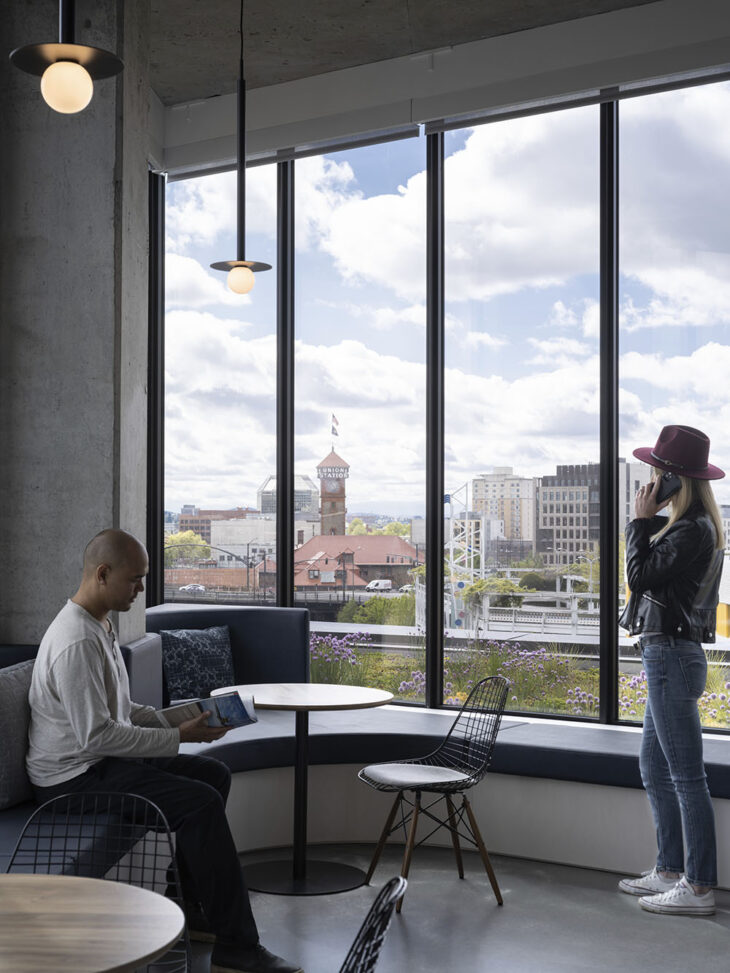 Acoustic panels were added in the open office rooms' ceilings to assist buffer the vast volumes of glass and other hard surfaces, and lighting types were deliberately stacked to give adequate task lighting at workstations as well as dimmable ambient light in lounge areas.
Phone booths are positioned in the center of the building and are completely lined with absorptive fabric panels, creating quiet, acoustically separated places for both delicate work calls and respite from the higher energy workspaces around the perimeter glazing. A mother's room can also be used as a respite room.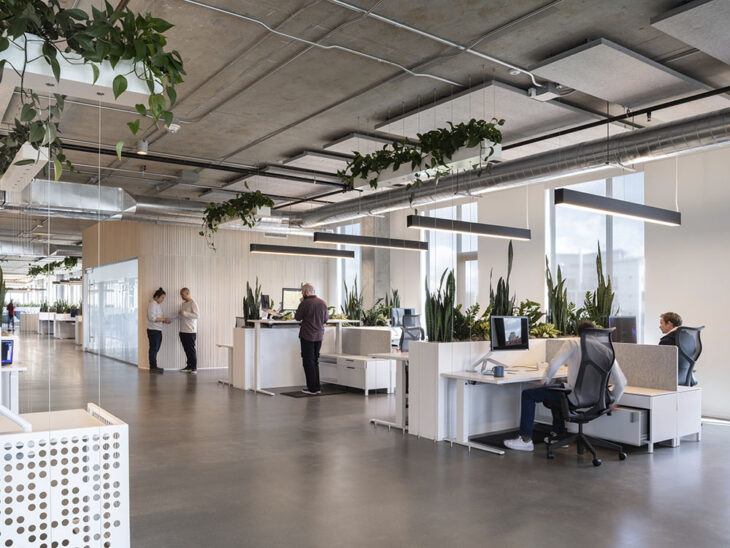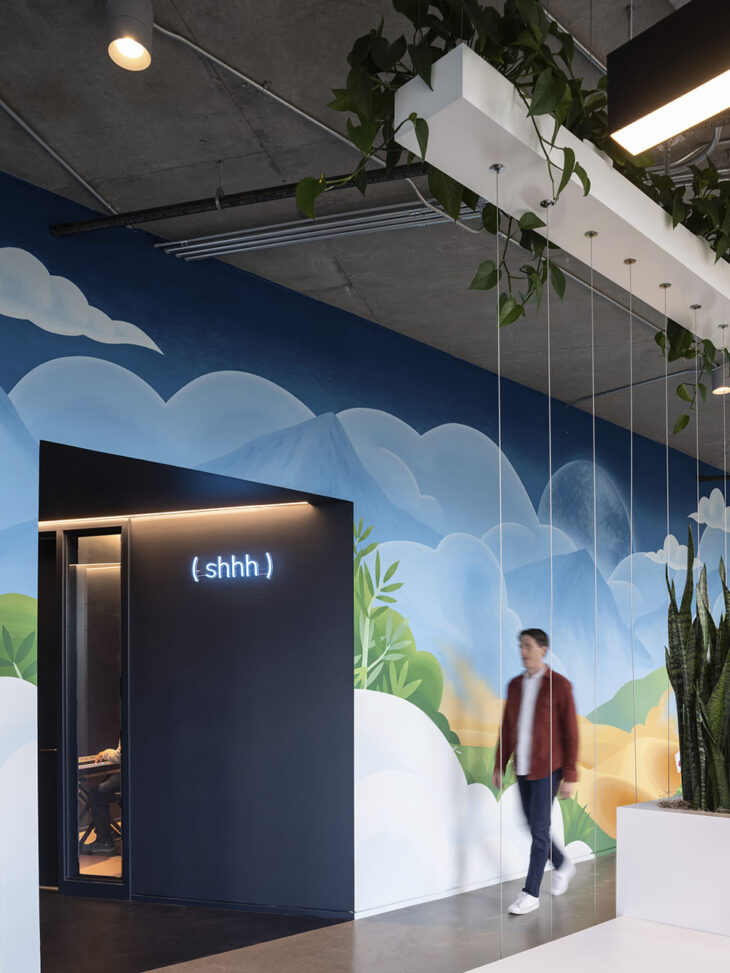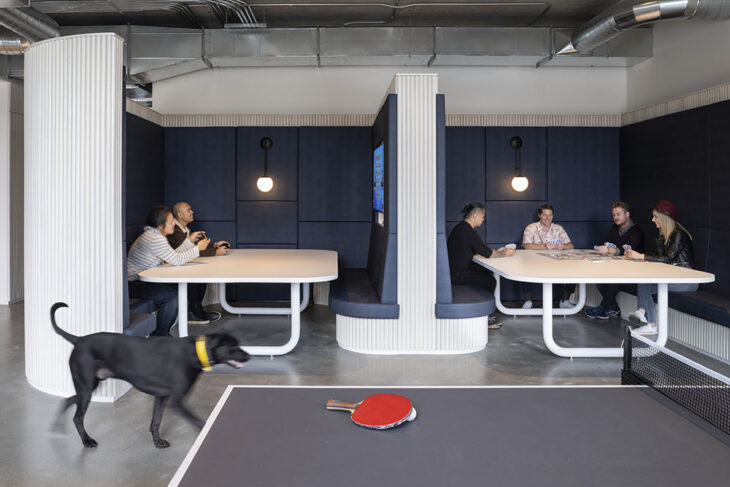 The main kitchen is centrally positioned, with two smaller kitchens on each end of the floor plan to support personnel regardless of where their workstation is located. The larger space can hold the entire team for all-hands meetings, socializing, and games. A ping-pong table and a video game booth are among the latest conveniences, as is a fully equipped deck large enough for meetings and gatherings.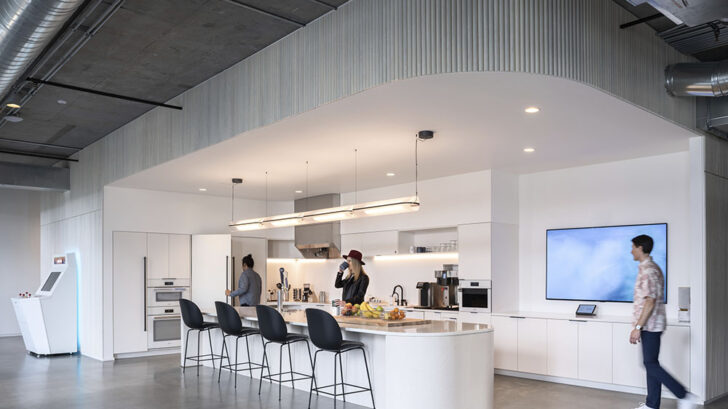 Hacker design team
Interior Design Principal: Jennie Fowler
Project Manager: Jen Dzienis
Project Architect: Keri Woltz
Architectural Design Team: John Dalit
Interior Designer: Katherine Park
Project team
Architecture / Interior Designer: Hacker
Contractor: Lease Crutcher Lewis
Owner's Representative: CBRE
Structural Engineer: KPFF
Mechanical & Plumbing Engineer: Glumac
Electrical Engineer: Glumac
Lighting: Glumac
Acoustical Engineer: Listen
Photography
Christian Columbres
Products/Brands
Flooring – Interface
Office Windows – Smartglass
Lighting – Lambert & Fils, Kelly Wearstler, Pholc
Acoustical Panels – FSORB
Interior Glass – CR Laurence
Find more projects by Hacker: www.hackerarchitects.com