Part 1: Not Just Another Day At The Office
When we all eventually go back to our offices, how will work… work? Once millions of workers start moving back to work, many employers will be forced to reconsider their workspaces to ensure the health and wellbeing of their employees. In fact, with employees having proved their competence and success with working remotely and teleconferencing, they will likely grow less and less tolerant of workplaces that don't seriously consider and cater to their health needs.
It's on this very premise that real estate company Cushman & Wakefield have established their concept of the 6 Feet Office. After helping thousands of organizations move millions of people back to work in China, the firm developed this model within their Amsterdam headquarters to conceptualize the future of office design. After a one-week redesign of their space, this new concept encourages better hygiene and social distancing. The core premise is to ensure that six feet, the recommended measurement for safe social distancing, stays between people at all times. This behavior is encouraged through properly spaced desks, but also visual signals, such as a circle embedded in the carpeting around each desk to ensure people don't get too close.
While much remains unknown during these uncertain times, what is clear is that Covid-19 has dramatically and irrevocably changed our world of work, which includes office design and the design and use of coworking spaces.
Designing The Office Of The Future
Working from home all the time is not for everyone, and many will want to return to the office. As the public health crisis continues, however, office space will probably have to be altered in order for people to feel safe being there. That could mean a reversal of the open office trend.
"Office desks have shrunk over the years, from 1.8-metre to 1.6-metre, to now 1.4-metre and less, but I think we'll see a reversal of that, as people won't want to sit so close together," says Arjun Kaicker, head of analytics and insights at Zaha Hadid Architects to The Guardian.
For years, the amount of privacy allotted to each person working in an office had been steadily decreasing as companies of all stripes adopted the ubiquitous — if often loathed — open office plan. In effect, that meant a very cool-looking office space where you could see many of your coworkers, but where there was little separation between you and your colleagues' germs. Prior to the open office, offices used more commonly used cubicles that divided up the larger space and gave employees a semblance of privacy. This could mean more private spaces or personal offices for individuals, and more distance between desks. Rather than desk setups that face each other or are right next to each other, we might now be positioned to our colleague's backs with more space between us. A conference room that normally fits 10 people might now only hold chairs for five.
Expect greater spacing and fewer seating options in communal areas like kitchens as well. This could also mean the reintroduction of various types of barriers between desks, including much maligned cubicles, in order to block the passage of germs. Cleanliness and mitigating the spread of germs will also be paramount within new office design. For example, in Cushman & Wakefield's 6 Feet Office, employees are asked to grab a paper placemat for their desk. At the end of the day, the paper is thrown away, which could help mitigate Covid-19 spreading on surfaces.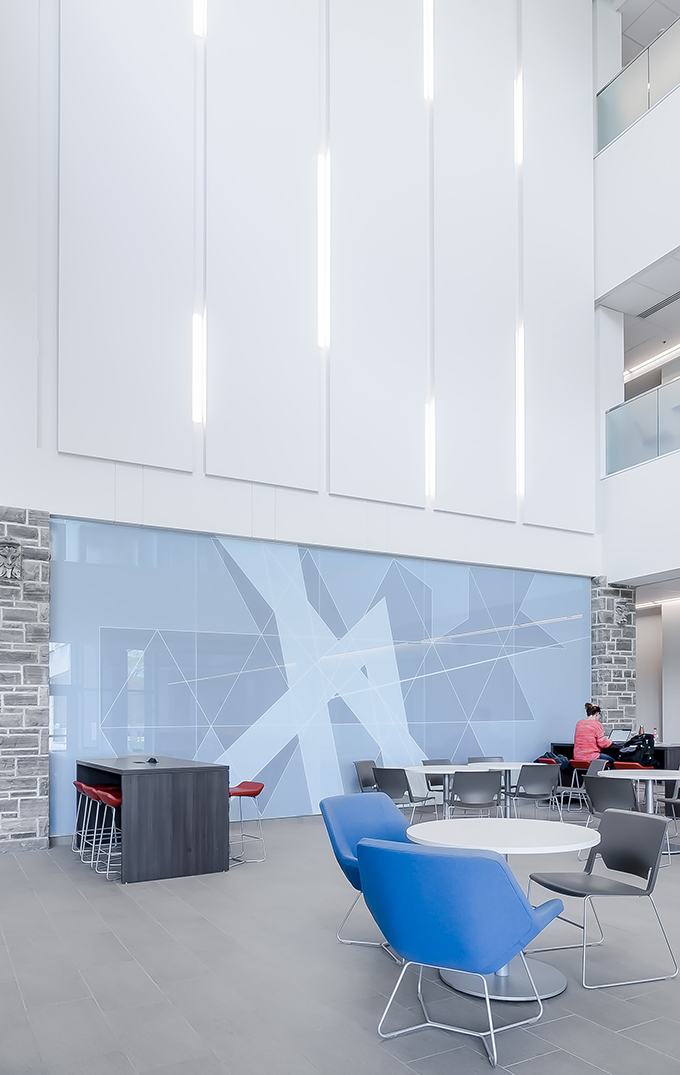 Every surface — including door handles, light switches, countertops, copy machine buttons, AV equipment, coffee makers, and many more — will have to be dealt with. Offices will likely take cues from healthcare design. This shift could include the addition of things like copper fixtures, fabric that retains fewer germs and can more easily be cleaned, more space in kitchens and bathrooms, as well as more attention paid to how far liquids can splash.
Some companies could even use UV lighting to disinfect offices at night or meeting rooms in between uses, a practice that has become increasingly common in hospitals. Companies could follow other infection control practices that hospitals have begun as well, including the use of upholstery materials like vinyls and polyurethanes that are impenetrable to liquids like bodily fluids or spills. Hospitals have also adopted arm caps for chairs made from nonporous materials, like urethane. This could be a possibility for the office as well. Of course, all of these materials will still require thorough cleaning practices.
Increased signage will also find its way into offices. From squash-court-style lines in lobbies to standing spots in lifts, and from circles around desks to lanes in corridors, the floors and walls of offices are likely to be covered in visual instructions. Another possible approach is to encourage employees to walk clockwise, creating one-way flow to minimize transmission, as adopted by many hospitals during the current outbreak.
The Integration Of Technology
Automation and voice technology could also play a role. Technology like Amazon's Alexa for Business, for example, could become a new interface and remove the need for physically pushing a button or touching a surface in an office. Companies may also need to invest in a new suite of contactless technologies to reduce disease transmission. Imagine office doors opening automatically using motion sensors and facial recognition, while lifts – and even a coffee – can be ordered from a smartphone.
Technology could also be used to remind employees of social distancing. Cushman & Wakefield has installed beacons into its office to track employees' movements via their mobile phones, potentially sending alerts when six-feet rules are breached.
Efforts to keep people separated may help for a brief encounter, but they probably don't go far enough in spaces that many human bodies are sharing for eight or more hours at a time—especially spaces that are as notoriously poorly ventilated as office buildings. Most office HVAC systems don't bring in much, if any, fresh air. Instead, they recirculate what's already inside, which is a mix of carbon dioxide from our exhalations, chemicals that are off-gassed from building materials, and, of course, airborne pathogens. Where filtered air is the only option, it could be boom-time for high-end office climate control systems. In fact, China's mass adoption of this technology to address poor air quality is thought to have assisted its office workers to return to their desks more quickly.
Changing Social Norms & Interactions
Social interactions are a huge part of normal, personal life and work. The handshake has become the business go-to for meeting new people and reconnecting with colleagues and friends. In other parts of the world, a cheek kiss, or a nose rub hold similar merit. However, we've already glimpsed the future, as many organizations implemented greetings policy changes before office staff were sent home.
Handshakes are out, and look likely to remain so for some time. But new greetings have emerged. Earlier this year, billboards in Beijing promoted clasping one's own hands.
The UAE and Qatar asked citizens to avoid nose-to-nose greetings, and the French government frowned on greetings with a kiss. Expect more safe-distance greetings to evolve in an office near you soon.
Finally, employers will have to address the elephant in the room: will employees actually want to return to an office? Even though Zoom-dropouts and screaming children have become familiar distractions, McKinsey believes many of the more problematic aspects of homeworking, from low productivity to poor communication, can be addressed with strong oversight, small team working and the right messaging tools for the job.
If employees do find themselves returning to their offices, inevitably, the most consequential way to prevent the spread of germs in an office might just be to limit the number of people allowed inside at once. Rather than having everyone work in the office from nine to five, companies might want to bring in certain teams at specific times to lessen congestion. The initial process of bringing employees back to work, at least, will probably be staggered.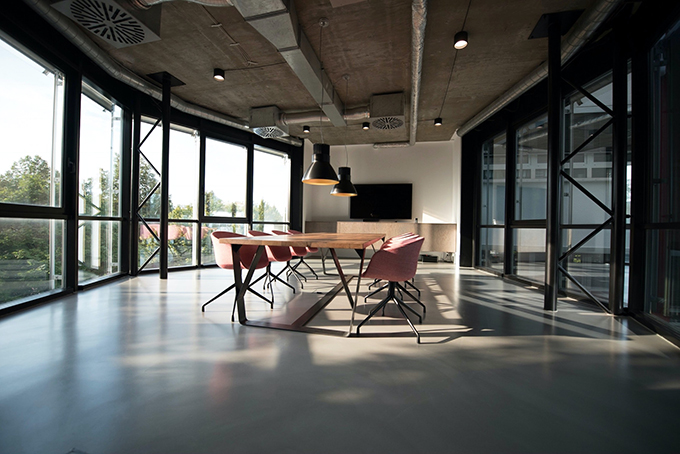 Part 2: The Future Of Office Space Is Uncertain
There are two conflicting trends that will affect whether or not the coronavirus leads to a sizable decrease in demand for office space. First, fewer employees coming into the office, either due to layoffs or to an increase in working from home, could mean less need for office space. Second, safety protocols that require people to be spaced at least six feet apart could cause more demand for office space, so that the people who work there aren't as packed in as they used to be.
It's possible these two trends will cancel each other out. Experts say there will certainly be an acceleration of existing trends in office real estate, including a move away from traditional 10-year leases for shorter ones or for flexible or coworking space. The nature of existing office leases will likely temper upheaval in the office market.
Whatever happens to demand for more or less square footage, the coronavirus will likely affect the type of space people are looking for. Spaces with more private areas that might limit the spread of germs stand to become more popular, for example. While meeting rooms will still be important, companies will likely reconsider the types of meeting rooms they want (and, by extension, question whether an in-person meeting is necessary in the first place). Those new types of meeting rooms will be geared toward group projects and collaboration.
Part 3: The Future Of Coworking Spaces
Proponents of coworking spaces have long argued that companies managing flexible office space would be able to weather a recession. What the coworking space enthusiasts didn't anticipate was a fear — and a legitimate safety hazard — of working in close quarters to others. Coworking companies like WeWork have already seen a rapid decrease in demand as clients with month-to-month commitments have dialled back or terminated their coworking memberships due to shelter-in-place orders during the pandemic. Experts say this setback hardly signals the end of coworking. It's probably temporary, though it may lead to the demise of some struggling coworking companies.
The uncertainty the coronavirus brings could cause more companies to look for flexible space that can accommodate rapid changes in their needs. Coworking spaces can also provide office environments for newly remote workers who choose to work outside the office. However, coworking as we know it will probably have to change to survive.
Coworking spaces are known for their communal areas and shared amenities like hot desks, where anyone can use an open work station — and where it's often unclear how recently the space has been cleaned. These spaces will also have to rethink their vaunted use of communal space. Fitting as many people as possible into one location won't be as acceptable as it used to be. Like with regular offices, keeping coworking spaces safe in a post-coronavirus world will probably lead to more dividers and private offices.
Whatever the future holds, offices, coworking spaces and employee interactions are all likely to experience a long period of evolution and change.