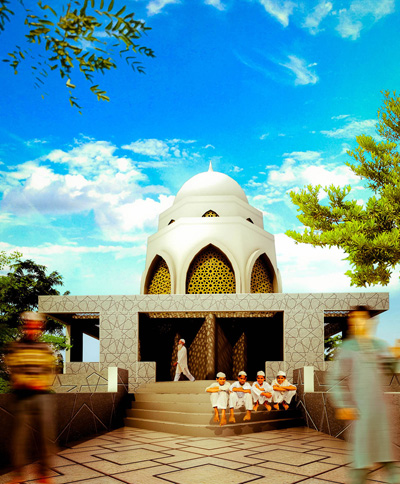 Project: Dargah (Shrine)
Designed by Triple O Studio
Team members: Anupriya, A.G Praveen. Jeevanandam, Tahaer Zoyab
Location: Chennai, Tamil Nadu, India
Website: www.tripleostudio.com
Triple O Studio shares with us another outstanding example of how traditional and contemporary architecture can coexist in religious architecture, talented architects at the studio have created the design for Dargah in Chennai.
From the Architects:
The project is to execute an updated version of an existing Dargah on Mount Road, the most important artery of the city of Chennai, in Tamilnadu. The client's brief was simple – do not change the existing plan. Being on the city's most important route, we envision the finished structure as a landmark for the Muslim community in the city.
The design team's process worked on two major planes:

Simple and tasteful cosmetic treatments, while staying true to Islamic origins of design

Architecturally, introducing a people friendly plane around the Dargah to reduce the sense of monumentality of the building.

For the skin treatments, the design takes inspiration from the iconic Islamic patterns in history. Islamic patterns are a great symbol and source of the religion, culture and architecture. We choose to articulate this in concrete and add value through the use of strip lighting. The patterns glow and create a spiritual ambience that respects the sanctity of the Dargah, and also serves as the lighting for the project. The patterns and the light streaming through them form the architecture of the space.
'The After-Glow', is an apt name for the space – a space that respects the holy-body within the Dargah through design that respects where it all originates from.