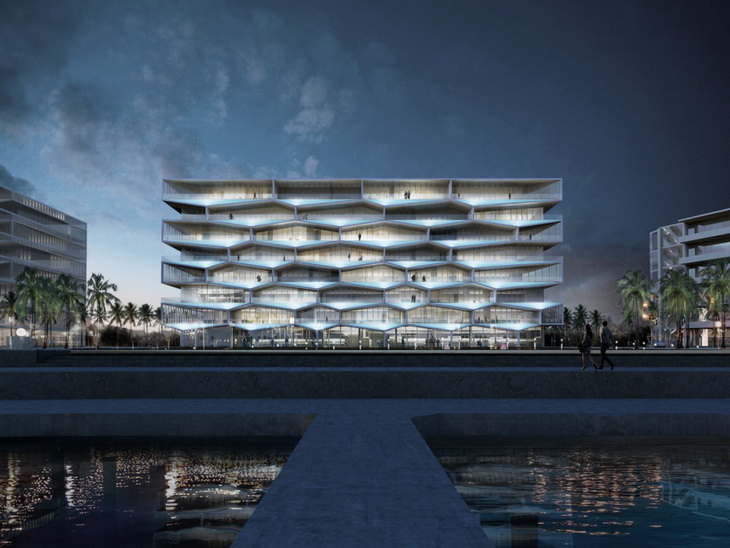 Bjarke Ingels Group BIG + HKS + MDA have unveiled the design for the new Honeycomb building and its adjacent public plaza in The Bahamas – a 175,000 ft² (ca. 16,000 m²) residential building with a private pool on each balcony overlooking the marina.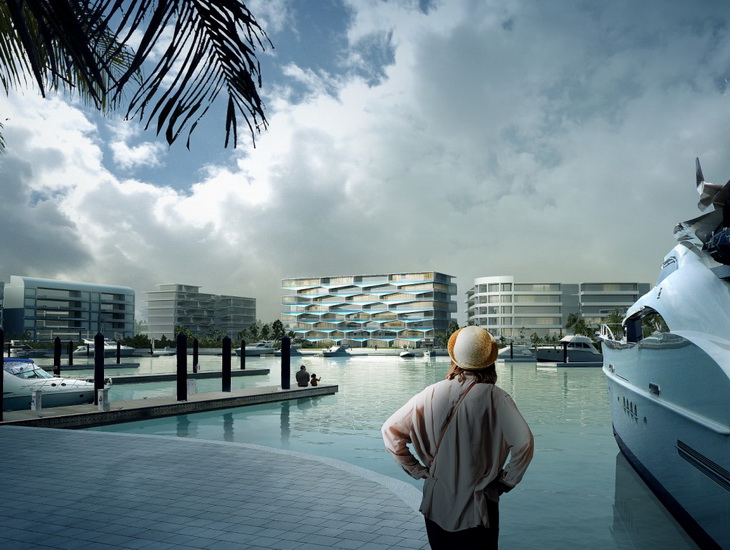 From the Architects:
Albany is a modern paradise-like beach and golf resort community, located on the south coast of New Providence Island. The Honeycomb will be the tallest structure in Albany, making it a landmark in the resort, and a beacon from the ocean.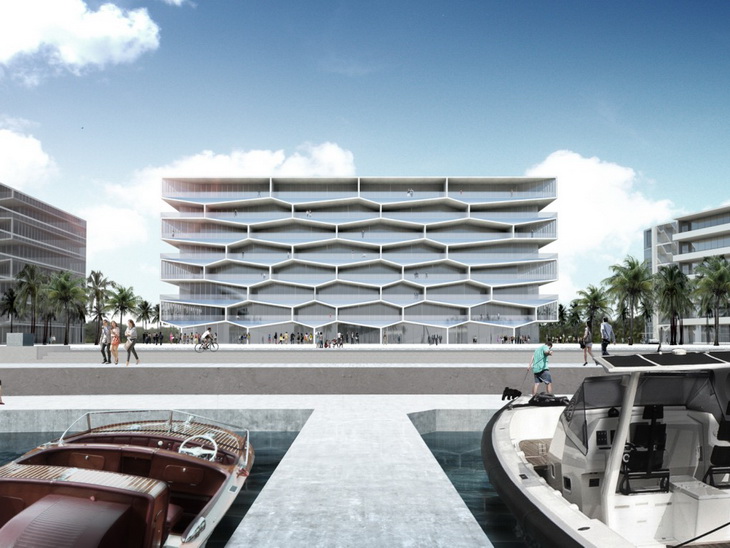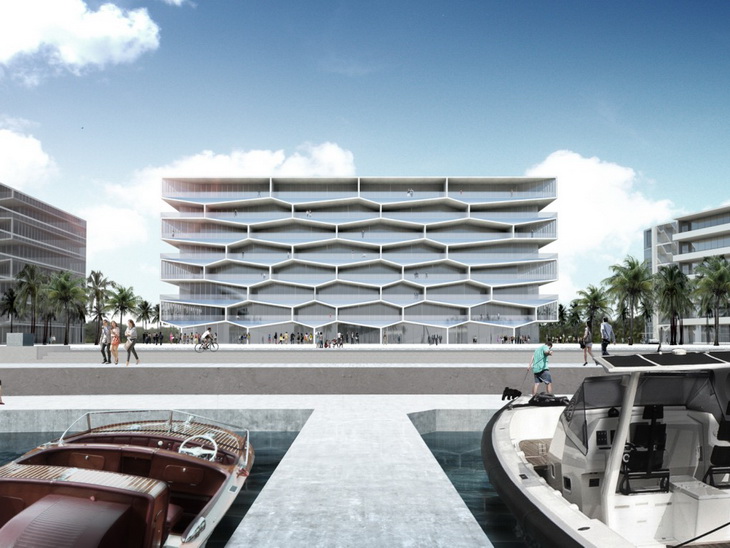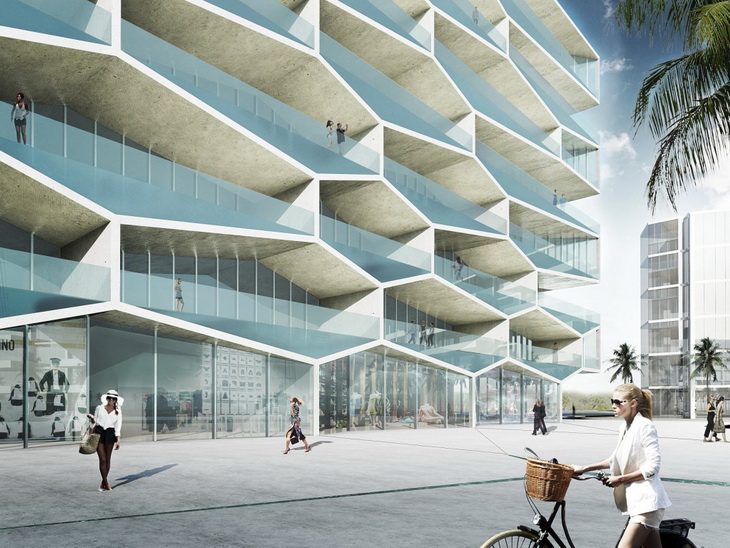 The façade has a hexagonal pattern that uniquely frames the natural beauty of the Island. The balconies are deep enough to not only provide outdoor spaces, but also summer kitchens and a pool sunken into the balcony of each unit. These pools have a transparent edge towards the plaza, eliminating the visual barrier between the pool and the environment. Bathers can be fully immersed in the view of the marina and the ocean beyond.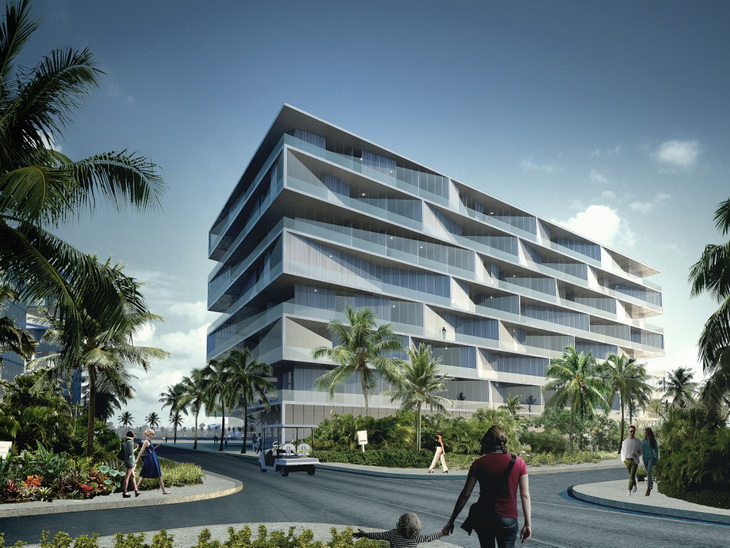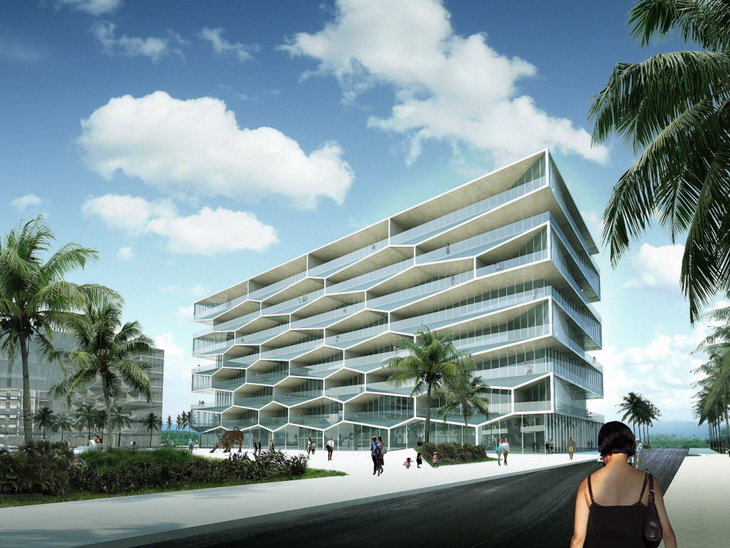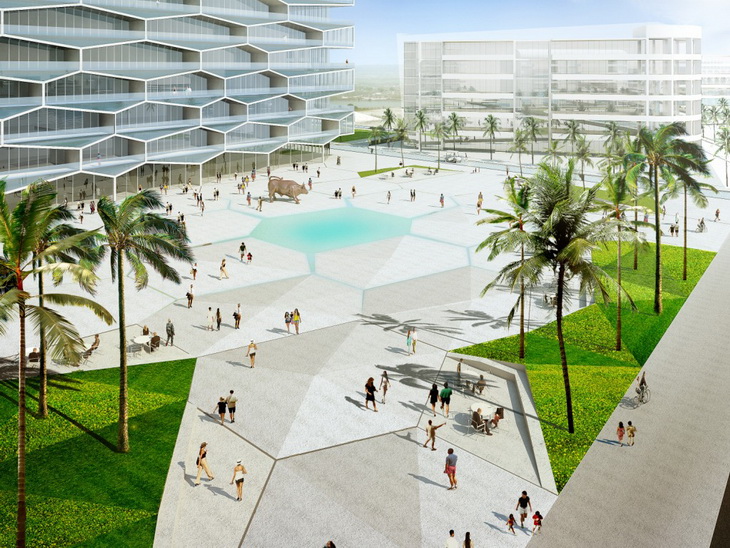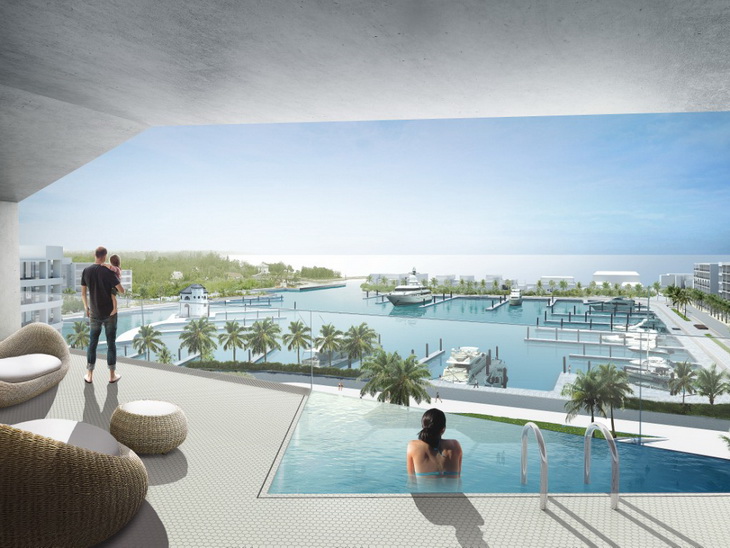 Bjarke Ingels: "Our design is driven by an effort to maximize the enjoyment of the abundant natural qualities of Albany in The Bahamas: the landscape, the sea and the sun. A honeycomb façade functionally supports the pools making them sink into the terrace floor and provides spectacular sight lines while maintaining privacy for each residence. Drawing inspiration from its coastal setting, the hexagonal design evokes the natural geometries you find in certain coral formations or honeycombs."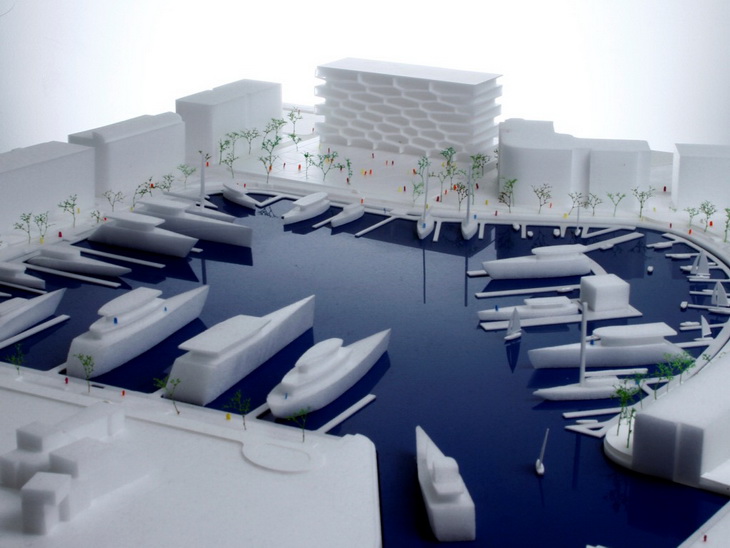 On the ground level, the façade pattern melts into the pavement of the plaza, creating a subtle topography on the square. Along the edge, various hexagons transform into green mounds with plants, palm trees, and integrated seating. The center of the square is formed by a shallow pond, which is fed by fountains scattered around the plaza, and a network of small creeks between the hexagonal pavers.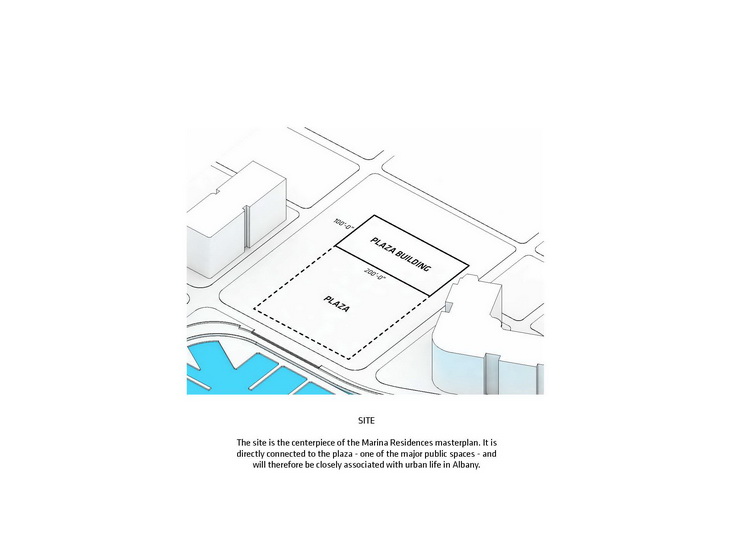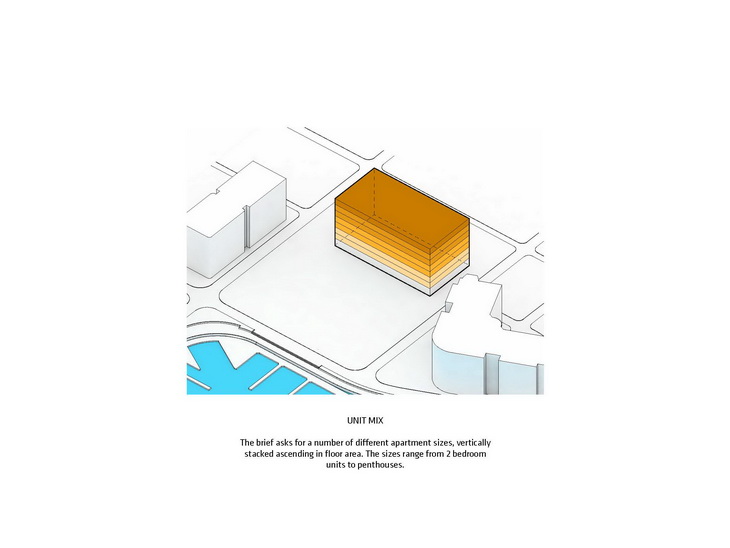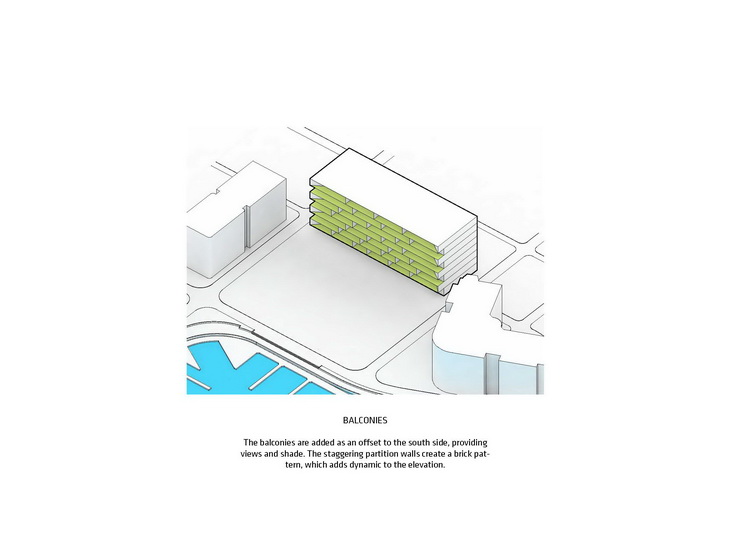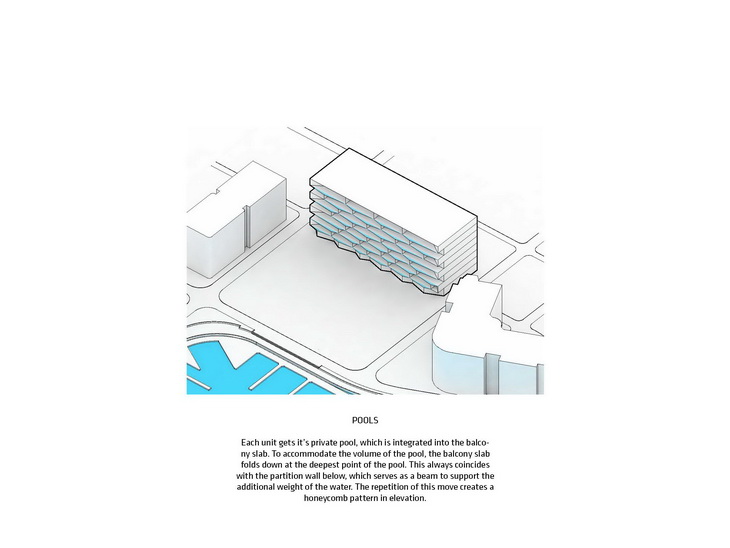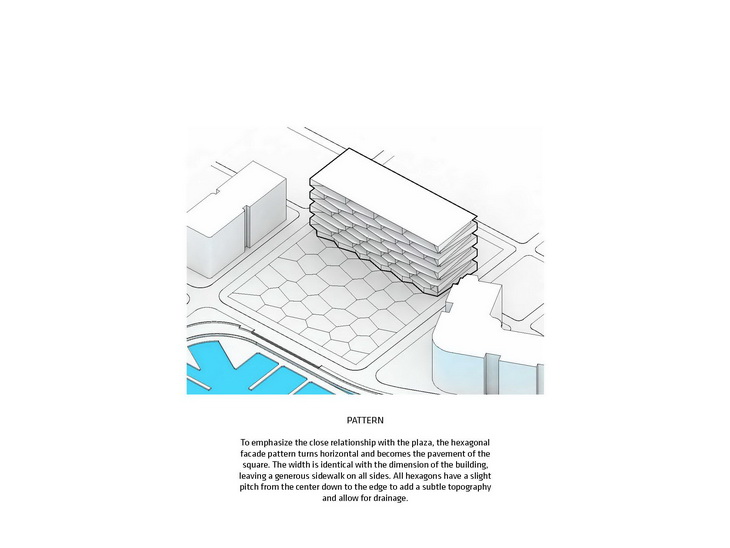 The residences in the building offer a variety of floor plans that will suit the diverse lifestyles of its tenants. The residential lobby and high-end retail will activate the public plaza. A golf cart parking and storage units are oriented towards the parking lot on the north, in close proximity to Albany's championship golf course.

The Honeycomb will be the centerpiece of Albany's masterplan for a live, work, play environment unlike any other in The Bahamas.
Project: Centerpiece for a New Resort in the Bahamas – Honeycomb Building
Designed by Bjarke Ingels Group (BIG)
Partner in Charge: Bjarke Ingels, Thomas Christoffersen
Project Leader: Sören Grünert
Team: Benzi Rodman, David Spittler, Jenny Shen, Karen Shiue, Lujac Desautel, Romea Muryn, Brian Foster
Client: Tavistock Group / New Valley LLC
Collaborators: HKS architects (local architect), Michael Diggiss Architects (executive architect)
Location: Nassau, Bahamas
Website: www.big.dk