Creating the perfect patio doesn't have to be difficult – with a little planning and some creativity, you can design a space that's both functional and stylish. In this post, we'll share our top tips for designing your patio, from choosing the right furniture and lighting to adding finishing touches. So whether you're starting from scratch or looking to refresh your existing space, read on for everything you need to create the perfect patio.
Choose furniture that is comfortable and stylish – wicker or rattan furniture is perfect for patios
When considering new furniture for your patio, it is important to find pieces that are both stylish and comfortable. Wicker or rattan furniture is perfect for patios, as it offers a traditional look with superior comfort and support. The sleek design of wicker or rattan furniture adds a timeless touch of elegance to any outdoor area, while its woven construction makes it incredibly durable and long-lasting. Moreover, this type of high-end patio furniture comes in a wide range of styles – from classic to modern – ensuring you'll be able to find the piece that best suits your needs. With its sophisticated look and remarkable strength and stability, wicker or rattan furniture takes your patio aesthetics to the next level.
Design your patio with lighting in mind – string lights, lanterns, or solar lights can create a warm and inviting space
When it comes to designing your patio with lighting in mind, the options are practically limitless. Whether you're looking for a cozy ambiance in the evenings or just a subtle splash of light here and there, string lights, lanterns, and solar lights will provide a beautiful, inviting atmosphere. String lights evoke nostalgia and charm as they twinkle against tree branches and adorn any outdoor area. Lanterns come in various styles and emit a gentle glow that creates a fantastic atmosphere during warm summer nights. Solar lighting takes design flexibility to the next level – providing a convenient ambiance without the need for wires, electricity, or batteries. Whichever type of lighting you choose for your patio design, you won't be disappointed in the result –everything from small clusters to large displays will create an eye-catching environment that is sure to enhance any outdoor space.
Add greenery to your patio with potted plants or hanging baskets
Give your patio an extra splash of color and life by adding greenery! Beautiful potted plants or hanging baskets will make any outdoor space more inviting. Not only will you have a bright visual effect, but sprucing up your patio with plants can also help filter out pollutants and add fresh oxygen to the air, so you'll be enjoying the great outdoors even more. A few carefully chosen plants can also bring unique textures to your outdoor living area and give a rustic feel to the atmosphere. Shop for plants that suit your climate so all you have to do is sit back, relax, and enjoy all the benefits of the natural world in your own backyard!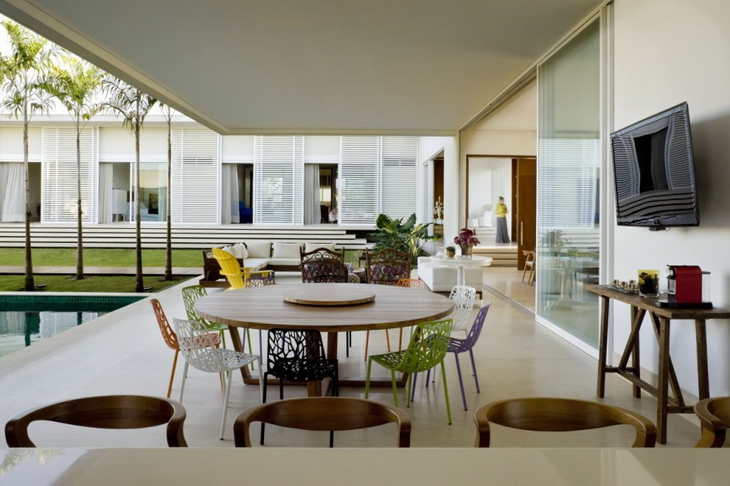 Create more privacy on your patio with screens or curtains
Creating a bit more privacy on your patio is easy and cost-effective with screens or curtains. Imagine yourself tranquilizing as you sit in the shade or lay out in the sunshine without anyone knowing you are there. Screens are lightweight and flexible, perfect for encircling an open space and creating the much-appreciated air of mystery that adds to the allure of your outdoor paradise. You can hang simple nylon curtains for an inexpensive solution too, making a real statement of style with patterned fabric, or just hanging them all around for complete coverage.
Accessorize your patio with cushions, throws, and rugs to make it feel like home
Adding cushions, throws, and rugs to your patio can completely change its look and feel of it—transforming the area from an al fresco dining spot to a cozy outdoor living space. Soft, comfy cushions allow you to linger during evenings spent with family and friends, while throws can provide additional warmth on those chillier nights. Richly colored rugs help pull the look together and give the area something extra—a pop of pattern or playful texture. Add in some potted plants to complete your personal oasis in the backyard!
All in all, there are so many ways you can create a beautiful patio tailored to your taste. Designing your patio with lighting in mind is the perfect place to start, but make sure you choose comfortable and stylish furniture too. Add some greenery with potted plants or hanging baskets for extra pops of color, and add more privacy with screens or curtains. Lastly, accessorize your patio with cushions, throws, and rugs to really bring it all together and make it feel like home. With these tips, you will be well on your way to achieving the perfect outdoor paradise to fit your needs!
Images from Casa do Patio by Leo Romano – See the full story here