AP arquitectos designed this stunning private residence in Alta Gracia, Cordoba, Argentina. This project is designed on the basis of building a house on a single story for better functioning and usage by the clients, which is accomplished through a rectangular floor plan with the major rooms to the north, coinciding with the greatest views, and the services and entrance to the south.Discover more after the jump.
From the architects: Inspired by a mountain landscape, the house is set among native trees in a simple way and dialogues with the vegetation and topography of the place. Facing north, with its golf course views, this residence follows the premise of developing a house on a single floor for better functioning and use of the clients which is achieved from a rectangular floor plan with the main rooms to the north, coinciding with the best views, leaving the services and accesses to the south.
The plot of land is located at the highest area of the neighborhood which allows excellent views of the golf course and the Sierras Chicas. The site slopes in a south-north direction descending from the street towards the golf course, therefore the house is subtly placed at a medium level allowing the best use of the topography.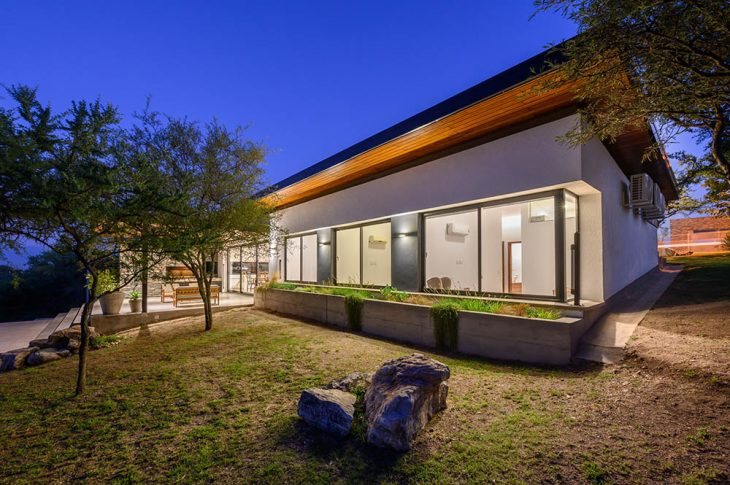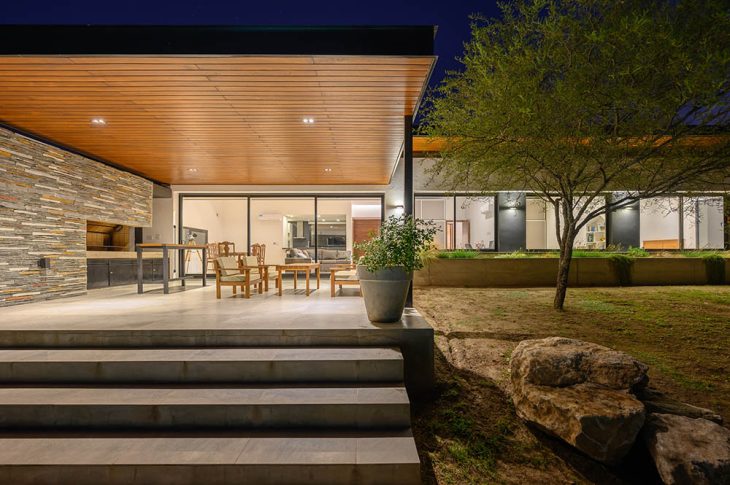 A single, light, and sloping plane resolves the roof of the main functions. Perpendicularly, the gallery and pool are located to the north and the garage to the south, forming a T-shaped floor plan. Simple materials were used, such as metal, concrete, stone, and wood in neutral colors that allow vegetation to stand out.
Project Information
Project name: S House
Studio: AP arquitectos
Architects: Ar. Aldo Paschetta – Ar. M.L.Arch. María Laura Altamira
Country: Argentina
Year completed: 2019
Size: 219 sq. m
Land area: 1056 sq. m
Location: Alta Gracia Country Golf Club
Landscapng: Altamira – Paschetta arquitectos
Collaborator: Sol Cruz
Providers
MOLLA Wood Carpentry
HAMSA Aluminum Carpentry
ByS Metal Structures
ILVA Porcelain tile
FV Faucet Manufacturer
FERRUM
CEIBA kitchen & bathroom equipment
PEUSSO – Illumination