Studio Hagen Hall architecture team went into an extensive renovation of a North London townhouse with a 1970 sentiment on their mind. After working on floor plans allowing the home to use all the potential of the space, the Hagen Hall team went into extensive interior planning. Today the finished home masterfully evokes the sentiment of a mid 70s California abode.
"Much work was needed to enliven the house; poorly built, awkward partitioning covered two staircases that split the house into a bedsit with three separate spaces. The house was stripped back to make way for a new open floor plan featuring a bespoke elm kitchen and a custom-made, modular raised conversation platform with velvet seating," share the Studio Hagen Hall architects talking about the project.
RELATED: How To Prepare For A Long Distance Move: 7 Tips By Experts
The architects also had in mind who they are renovating and designing this home for. The house owner are a young couple of musicians. Thus the home is also featuring its own recording studio space.
"Upstairs, two bedrooms enjoy views to the trees outside through large new windows, creating relaxing spaces for the family to enjoy. A professional recording studio occupies the lower ground floor, acoustically tuned, and isolated from the rest of the house and neighbours," studio Hagen Hall notes.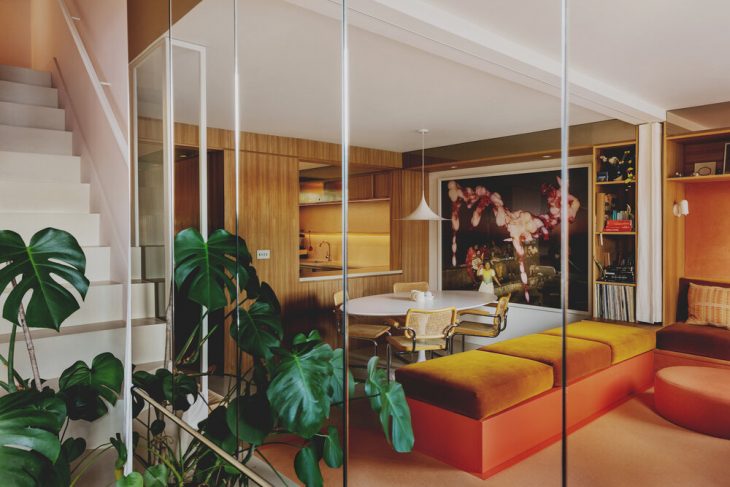 Discover more of the impressive project in our gallery beautifully photographed by Mariell Lind Hansen for Studio Hagen Hall:
About the architects: Studio Hagen Hall is a multidisciplinary architectural and interior design practice that focuses on shaping exceptional spaces. Founder of the studio is Louis Hagen Hall, the architecture practice is known for taking a holistic and immersive approach to each project. Hagen Hall is working with clients from the outset to source, design, and execute renovations and new build projects. Their spatial planning expertise and interior design nous ensures each brief exceeds and surpasses expectations. Studio Hagen Hall's portfolio works on residential, hospitality and commercial projects at varying scales, all connected by their pragmatic design and beautifully shaped interiors.
Discover more projects of Studio Hagen Hall on their official web page: studiohagenhall.com.