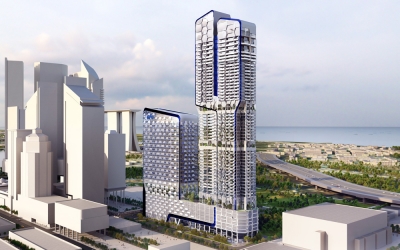 Project: New UIC Building
Designed by UNstudio
Project Team: Ben van Berkel, Astrid Piber and Nuno Almeida with Ariane Stracke, Cristina Bolis; Derrick Diporedjo, Florian Licht, Gustav Fagerström, Hal Wuertz, Jaap Baselmans, Jaap-Willem Kleijwegt, Rob Henderson, Patrick Kohl, Juliane Maier, René Rijkers, Martin Zangerl, Zhongyuan Dai, Jeong Eun Choi, Wing Tang, Stefano Rocchetti, Sander Versluis, Jay Williams, Jae Young Lee
Client: UIC Investments (Properties) Pte Ltd
Building Surface: 85 507 m2
Building Site: 6 778 m2
Location: No. 5 Shenton Way, UIC Building, Singapore
Website: www.unstudio.com
UNStudio shapes the eye-catching design for New UIC Building in Singapore, comprised of two massive towers. One housing offices will reach the height of 123 meters, while the residential one will go up to 237 meters.
From the Architects:
The UIC building has been part of the Singapore skyline since 1973 and, for a time, held the title of the tallest building in Singapore. Located along Shenton Way in the heart of Singapore's Central Business District, the new UIC redevelopment, V on Shenton, will remain as a signifier of the business and architectural strength of Singapore. The dual programming of office and residential is a unique situation in this area and the massing of the towers is designed to reflect this. The office tower corresponds to the scale of the area opposite the residential tower, which rises up to distinguish itself from the surrounding buildings. The office and residential facades originate from the same family of patterns. The basic shape of the hexagon is used to create patterns which increase the performance of the facades, with angles and shading devices that are responsive to the climatic conditions of Singapore.

Each tower is framed by "chamfers", forming a line that brings together the composition of the residential tower, the office tower and the plinth. During the day the chamfers appear smooth, in contrast to the textured surfaces of the facades. At night the chamfers are lit as a continuous line. Along with the facades, a series of sky gardens play an integral part in developing the sustainable lifestyle of the 'V on Shenton'. These lush green spaces provide a refuge from the city and the climate and vegetation naturally provide fresher, cleaner air.