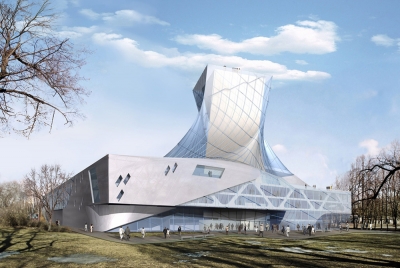 Project: Czech National Library
Designed by NAU Architecture + Holzer+Kobler Architekturen
Location: Prague, Czech Republic
Website: arch.nau.coop
The massive project for Czech National Library created in NAU Architecture's collaboration with Holzer+Kobler Architekturen.
From the Architects:
The National Library of the Czech Republic embodies the written heritage of the Czech culture, standing for its past, present and future. The architectural and spatial concept of the new library is generated through the interaction between the two main container of the books – the National Archive and the Universal Collection – and the exterior membrane wrapping the two elements and housing all public spaces.
The National Archive stands at the center of the library. Growing from the bedrock, the monolithic tower turns in an ascending movement toward the city of Prague. As a counterweight, the Universal Collection is housed in a two-storey horizontal volume, organized like a letter case, floating above the ground. The public facilities of the library are located below and above the bar. These areas are designed as a continuous space modulated by the external skin of the building.
The external envelope functions as a climatic and acoustic skin. Its permeability and transparency reacts to the different programmatic conditions: completely transparent at the top, punctuated with skylights over the reading rooms, open-able windows in the office and permeable at the ground floor.
This extraordinary space formed by the merging of the two volumes can be experienced by ascending the stair leading to the exhibition and viewing platform on the top of the National Archive. The dynamic skyline of the National Library engages, the distinct gothic and baroque spires of this World Heritage Site, conforming its importance as an attractive destination of national and international significance.