K-Studio designed these stunning private villas carved into cliffs located on the Greek island of Santorini. Take a look at the complete story after the jump.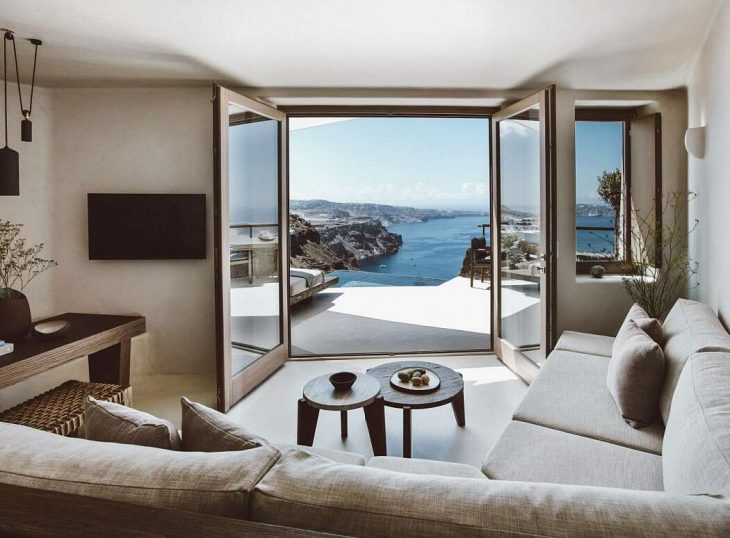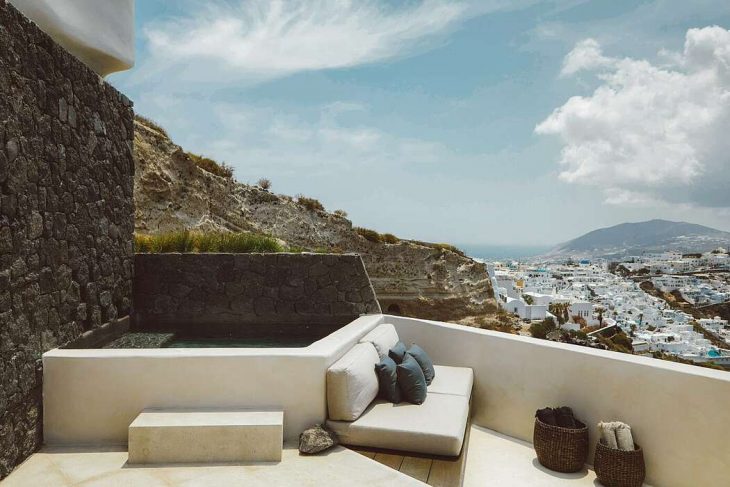 From the architects: Overlooking the volcano with stunning views of the island's celebrated sunsets, Vora is a handcrafted new property of private villas carved into caves, cliffs and suspended high above the sea. Here, in one of the most beautiful spots on Earth sublimely private villas accommodations inspired by the volcanic environment and boasting minimalistic Cycladic design with custom-made furniture and a soothing palette of beiges and grays augmented by dark brown wood. A private infinitive spa tub with each villa completes a picture that seems as impossible to create as it is perfect to experience.
A sharp-edged channel of grey volcanic rock paves the way down from the entrance and reception point at the top of the site, twisting you and ricocheting you from angled wall to angled wall, slicing a soft white mass into 3 separate and unique villas. The villas are neat, compact and dynamic, taking on a sculpted form when juxtaposed against the straight edge of the volcanic rock path and retaining walls.
The driving forces behind Vora concept were the volcanic rock and the traditional local vernacular. The wish to reveal and control the drama and thrill of this unique site, whilst securing guests with comfort, privacy and a relaxed lifestyle. The natural volcanic rock cut routes go through the site and retain its boundaries.. charred wood and blackened gun-metal highlight the power of nature within the villas.
In Vora you will experience a series of carefully choreographed contrasts – the wide open exposure to the sun and view against the cool darkness of the cave rock; black volcanic rock and burned finishes against cool white curves and calming pale textures – dark with light, sharp with soft, drama with total relaxation.
Vora Villas follows the local architecture with charming details such as arches while including all the luxuries of a contemporary lifestyle.
Known for inspired designs that produce unique and fully immersive experiences, the Athens-based K-Studio took a stunning but seemingly inhospitable vertical landscape and carved luxurious one-and two-story dwellings into its steep cliff face.
White cement and a dappling of dark stone lead you to heaven. Hard angles, strategic stairwells, and private terraces with equally sequestered spa tub set the scene, while the showstopper is the deep blue colors of the glorious Aegean Sea.
Vora Villas follows the local architecture with charming details such as arches while including all the luxuries of a contemporary lifestyle. A mix of custom-made furniture by local craftspeople and K-Studio as well as local materials such as black volcanic rocks and Vasaltis marble, give the spaces its unique character. The luxurious bathrooms feature blue Gascoigne double sinks with Pierre Boon faucets and generous walk-in showers. No detail here has been overlooked, including Tempur superior mattresses for a great night's rest.
Photography courtesy of Design Hotels
Find more projects by K-Studio: www.k-studio.gr