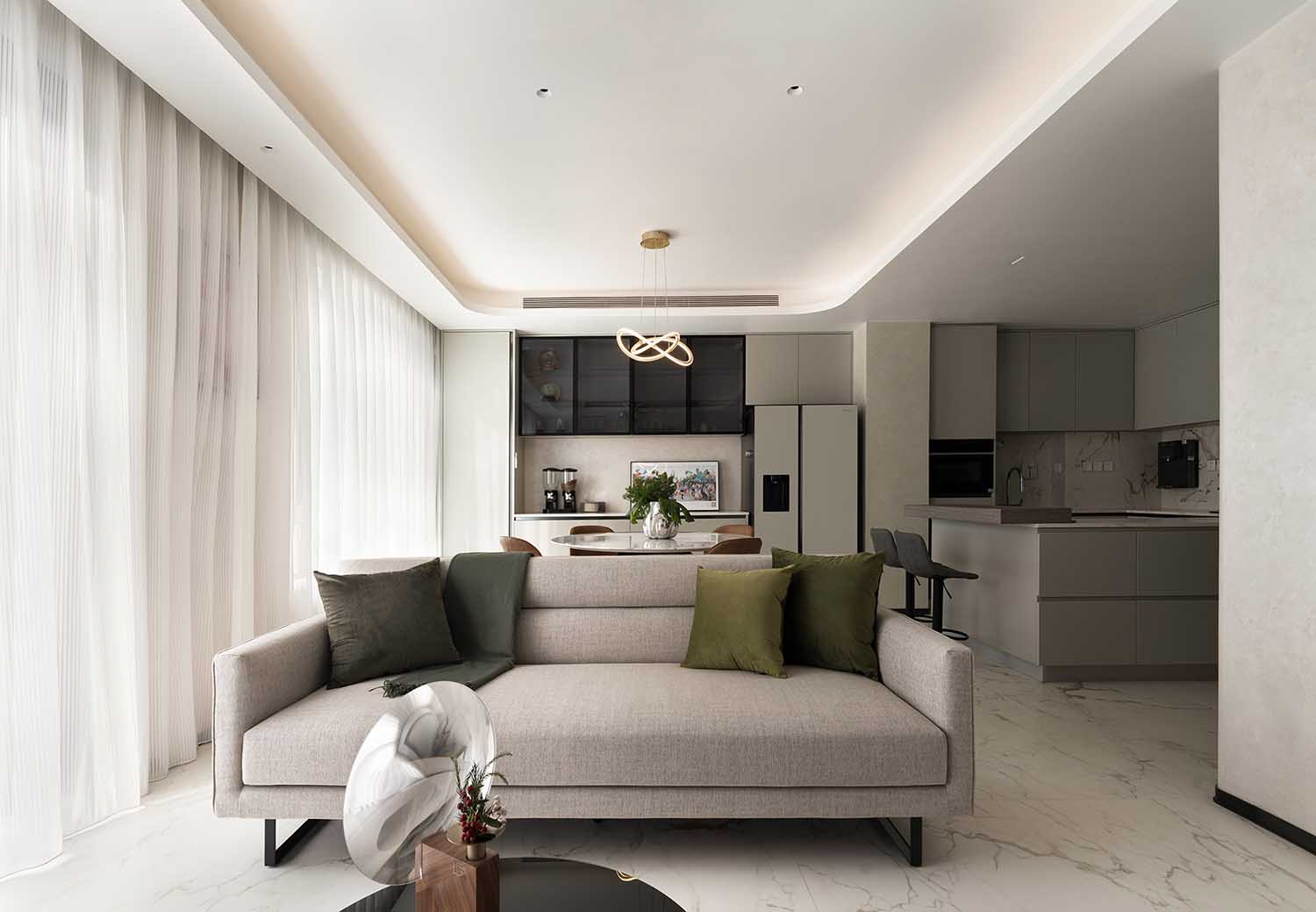 Designer Wang Rui of Rui Design has recently completed work on Xirui Chunqiu, an elegant and minimalist residential interior located in Beijing, China.
A subtle material palette, clean lines, and the generous modulation of natural light help the design to convey a serene, elegant sense of place. With the central, double-height area, which also lets light to enter the apartment's lower floor, the 300 square meter project achieves an astounding impression of spaciousness. By permitting visual contact between the apartment's many rooms and regions, the designer has also used this vertical space to give the home a sense of fluidity and connection.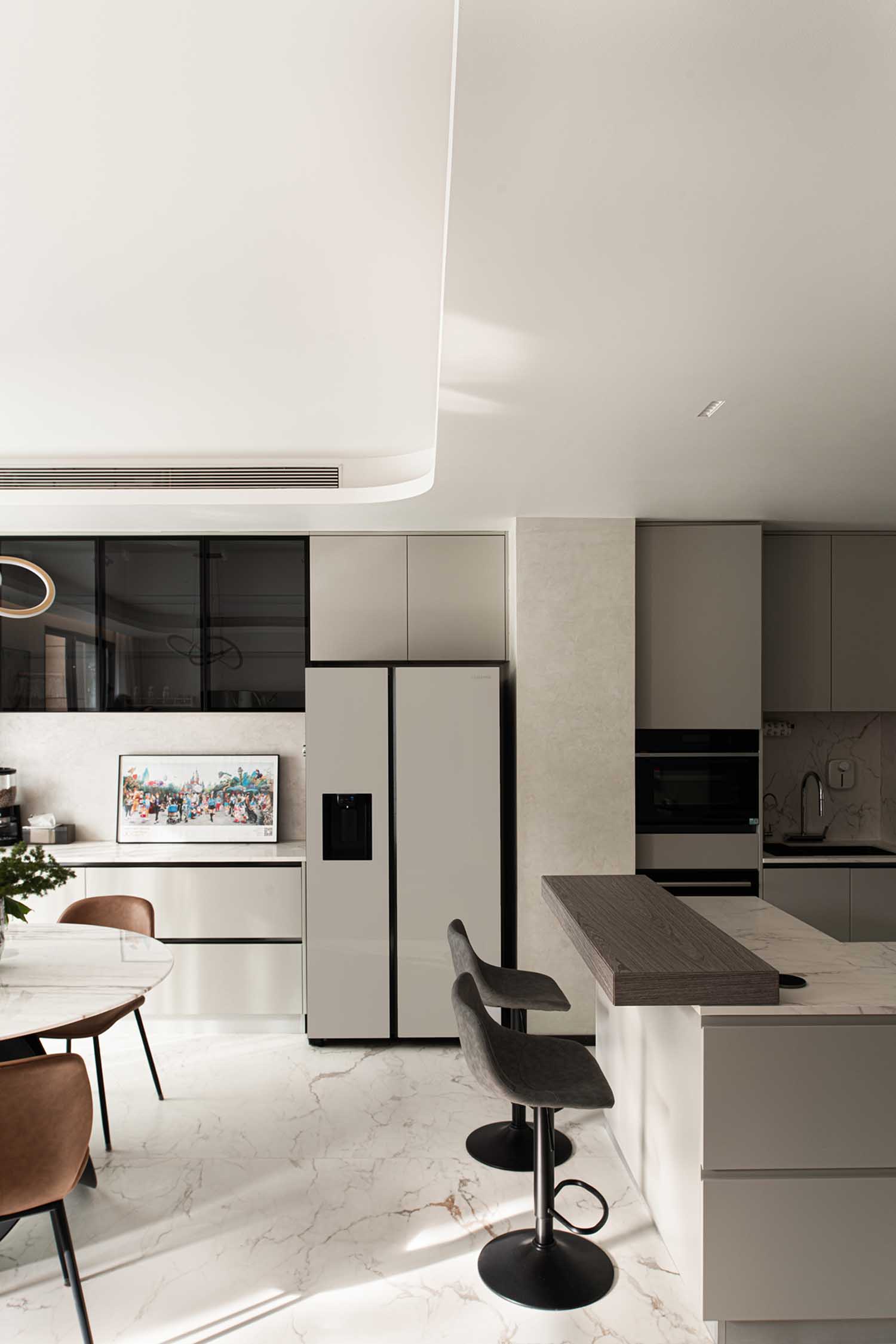 We talked with Wang Rui about the inspiration behind the project, the biggest challenges in the design process, the importance of lighting in interiors, material palette and the project's main design features.
Can you briefly introduce the concept of the Xirui Chunqiu Project?
Xirui Chunqiu villa sets in an important location of the Sun River Villa compound. The compound is composed of townhouses and courtyard houses.I believe that "less is more." My design concept aims to remove complex elements, advocates simple concepts, and focuses on the fairest qualities. Thus, I created this space that accommodate, accept, and cultivate what matters most: to enjoy life.
How is the client involved in the design process and how much freedom did you get in shaping the project?
The client came to us one year ago, and during the initial process, in order to let the client have a deeper understanding of interior design, including the current fashion trends, we spent more than half a year visiting some outstanding properties in Beijing, and also managed to find great building materials.
This aimed at letting the customer have a preliminary understanding of interior design, and to define his own needs and preferences in terms of decoration materials and style.
Secondly, while communicating with the client we can also understand his preferences and needs, which will be fundamental for an ad-hoc design.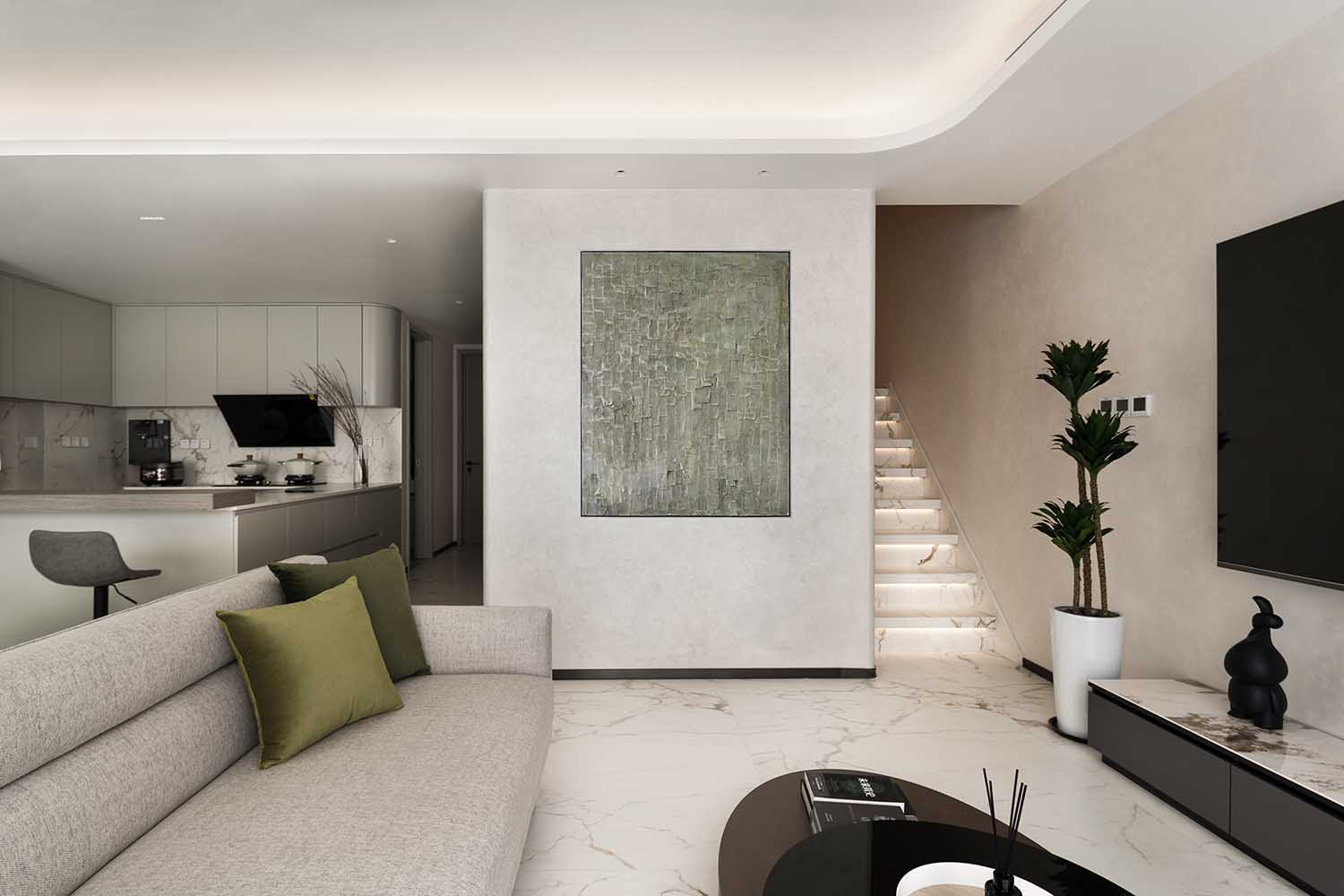 What was your design inspiration for this project?
The design inspiration was directly influenced by the particular space of the property, which is divided into two floors above ground and two floors underground. The first problem that we addressed was that of ventilation and light of B1 and B2, which required an in-depth study.
This was done in order to optimize ventilation and light, which was also deemed fundamental by the client himself.
What were your top priorities when starting a project? Is there something fundamental about your practice – your philosophy and your process?
At the beginning of each project, we need to have a comprehensive meeting with the whole team. Moreover, different material suppliers' intervention is needed on site at different intervals to ensure a smooth development.
Therefore, we make sure that our material supplier is professional and reliable. The most important steps are making a clear planning and budgeting in the initial stage.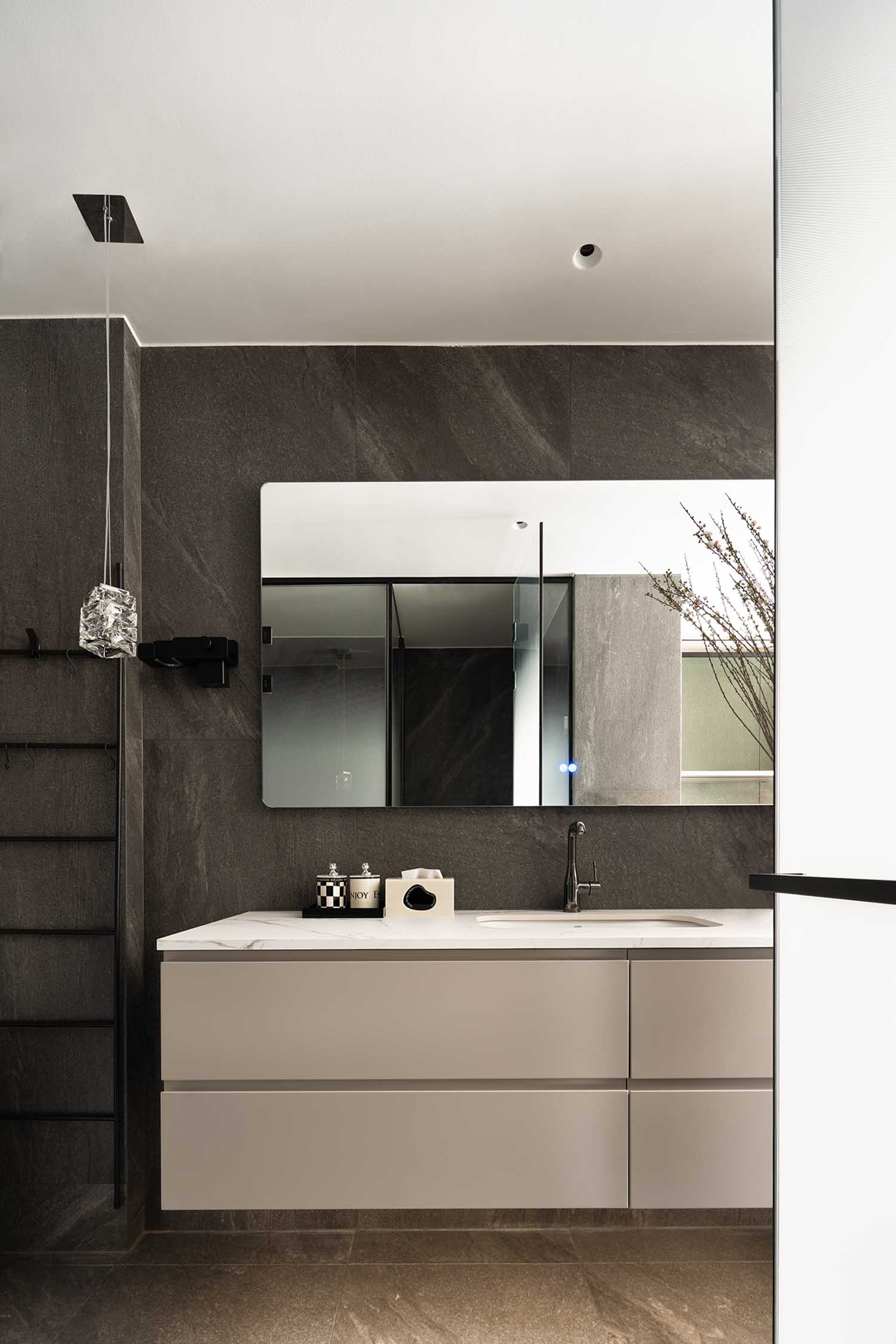 How did you shape the concept in terms of material, layout and form?
In terms of material and layout, first of all we needed to have a clear and functional structure, including the lighting and the spacing.
Then we moved onto the material selection, still trying to keep it minimalist by using relatively simple materials. For example, most of the walls were painted using a kind of special art paint, while for the flooring we tried as much as possible to choose white tones. In other areas, especially public ones, we also try to keep a minimalist white feeling.
What was the most challenging part of the design process?
The most challenging part was the original structure, as the original space in Basement level 2 was dark, without any natural lighting, so we had to open it up. All the angles and curves had to be carefully measured and caculated.
In terms of sustainable development, what are the main features of design?
I think this relies in the fact that it allows the ownerto grow old in, and the spaces provide possibilities for his personal life development in the space.
So, the reason why I used a lot of white and open spaces is because I want him to have more space recreation activities.
Secondly, we will did not want to create a specific fixed design, so that the owner can adjust it following his personal growth and that of his family members.
What design features have been used to ensure the privacy of future residents?
We have divided the whole four floors into different functional areas. B2 is the recreational and guests welcoming area, while B1 is the leisure area, where children can study and play LEGOS.
1F is the kitchen and dining area, as well as a recreative space for his parents.
2F is dedicated to the bedrooms and their private area.
Can you tell us about the materials you used in your project?
We used different art paints and some tiles in this space. We used fresco and rainbow glasses to decorate the main bedroom. We wanted to use the most simplified elements to achieve the best result.
Lighting seems to play an important role in the project. Could you tell me more about the lighting design for this project?
The intensity of all lighting, including its color temperature, and its parameters in various aspects determine the underlying charm of the space, so we go to do some design without the main light in each area, such as in the underground floors we used different lights in different spaces to bring it to life.
Then, in the bedrooms, we used comfortable and relaxing lightings. For example, there are sleep-helping lighting modes before going to bed and getting up at night, and there is also a lighting mode suitable for reading.
Art seems to be an integral part of the project. Can you tell us more about the artwork used throughout the project?
There is a saying that "art comes from life". Some works of art can improve the mood and cultural feel of the whole space, and also bring an artistic atmosphere to its owner.
For example, if there are children in the family, we can provide an artistic environment to the children from a young age. So, we use artworks here, including paintings by artists Chang Yu and Chen Qi's, plus some abstract paintings and sculptures. We hope that in this way we can incorporate more artwork and fun into the space than just furniture.
Do you have a highlight or favorite part of the project?
I am very glad that I helped the client solve the lighting and ventilation of the underground floors. We chose to sacrifice some spaces of B1 to make the air convection of B1 and B2 more effective. In addition, the background of the bedroom is our original design, decorated with carefully researched murals.
What is your ultimate goal?
I want to let more people see our original design.
What's next for your company? What projects are you currently working on and can you give us a preview of your upcoming projects?
At present, we are mainly working on private and luxury houses, so we have a more direct communication with the owners. Many of my owners are sophisticated people , so our projects are constantly improving and changing. I want to say that each project has a different style and characteristics. I hope to make a perfect and ad-hoc home for each client.
We are also working on various projects in Beijing, such as Jiuzhang Villa, Yosemite, Kangcheng Nuanshan and One thousand Pearl River.
Project Information
Project Name: Xirui Chunqiu
Project Location: Chaoyang District, Beijing, China
Project Type: Interior Design
Design Firm: Rui Design
Principle Designer: Wang Rui
Project Year: November, 2021
Furnitures: Camrich, Marazzi Grande
Budget: 3 millions RMB
Photo Credit: Huabin Architectural Photography