Project: Hippodrome de Longchamp
Designed by Marc Anton Dahmen & Studio DMTW
Project Team: Marc Anton Dahmen, Ulrich Merres, Maximilian Schmitz, Bettina Lemoine, Laura Kell, Mint Penpisuth Wallace
Collaboration: Tilke & Partners
Location: Paris, France
Website: work.marcdahmen.de & studio-dmtw.blogspot.com
Tilke & Partners takes the sentiment of contemporary while delivering their proposal design for the renovation and extension of the famed Hippodrome de Longchamp in Paris. Proposal took the third prize in the competition for the re-design of the Hippodrome, for more images and architects description continue after the jump: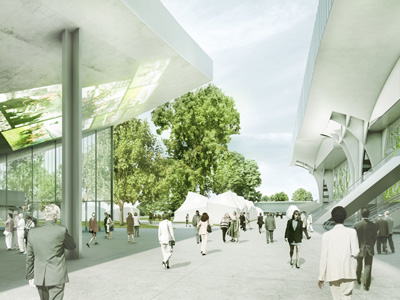 From Studio DMTW:
The Longchamp racetrack is the most important horseracing facility in Paris. The Hippodrome was built in 1857 on top of the ruins of the abbey Longchamp caused during the French revolution.
Every first weekend in October, Longchamp hosts the Prix de l'Arc de Triomphe. This prestigious event is one of the most important races of the year and attracts the best horses, horse owners and jockeys from all over the world. During that day the attendee adds up to 60,000 people.
In 2011, the operator of the racetrack, France Galop, announced a competition comprising new buildings for the Grandstand, the Parade Ring, extension for the stables, and a convention centre.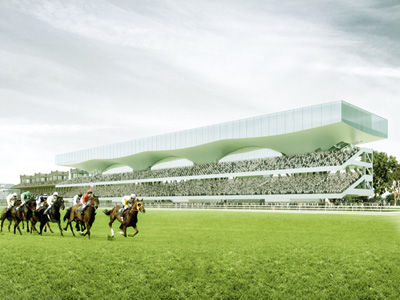 One of the main aspects of the design is to understand each new structure as a solitary sculpture within the park to respect the landscape and nature of the Bois de Boulogne. Therefore it was very important to conserve as much of the spectacular mature trees as possible.
In that sense, the design is aimed to maximise clear open moving space within that park. Consequently, the groundfloor of the Grandstand was designed to be as open as possible to aids the visitors between the track and the betting halls, and also to achieve logical circulation between all functions within the site. All enclosed functions within the Grandstand such as restaurant, and parlours are located aginst all conventional programmes in the topmost level and serve as a roof shelter to the public on the stands below.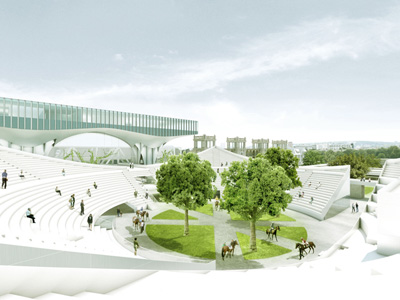 The new Parade Ring intentionally consists of simple shapes to achieve a voluminous sculptural impression and hence serve as an identification point within the park. It represents the pivotal point of each racing event and links all of the main functions to each other on multiple levels. Various cuts in the volume direct the attention of the public users out from the park to the events held inside the ring.