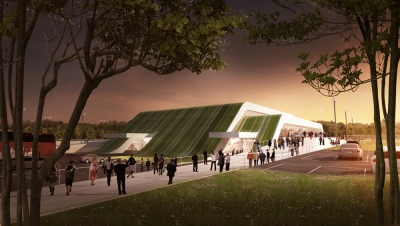 Project: Multipurpose Sports Hall in Budapest XVI District
Designed by MACA Estudio de Arquitectura
MACA Estudio de Arquitectura: Christian Álvarez, Jorge Garrudo
VIRAI Arquitectos: Juan Manuel Herranz, Marta Parra
Team: Natalija Stankovic, Elisavet Hasa, Erika Nyary
Client: Local Government Of XVI Of Budapest
Size: 3 750 m2
Location: Budapest, Hungary
Website: www.macaestudio.es
Visualizations: vvv-visual.com
Contemporary shaped design for Multipurpose Sports Hall in Budapest XVI District coming from the drawing board of MACA Estudio de Arquitectura. Shaped for a location on the outskirts of Budapest, the building is imagined as a unique transition between urban and rural area of the city.
For more images as well as the architects description continue after the jump:
From the Architects:
A sports stadium is projected on a large green plot with existing sports facilities on the outskirts of Budapest. There is a proposal for the urban planning of the complete plot as a second phase within the competition.
The building aims to be a transition between the urban landscape and the rural agricultural landscape nearby. It looks for an innovative but integrated image into the environment, with materials and colors that resemble the park and the trees of the area, like a still life that copies the tone and appearance of the surrounding vegetation.
It aims to be a catalyst for the image of the neighborhood in which it is framed: a modern look for a different building.
The project seeks to achieve both an effective circulation of the various users of sports: athletes and audiences, and the right position in the existing a park, complementing it with the necessary parking space and accesses.
Instead of placing a large, squared volume, we choose to "continue" the green space integrating the sports park in it.
The proposal is almost a landscape rather than a building, composed of folding surfaces and green waves. A large deck with three overlapping wavebands emerges on the lot, starting from the floor and rising above the ground to accommodate the different indoor activities beneath. Light is entering from the top and the height of the lower bands allows light entrance from both sides.
The building sits in the park with some simple interventions that leverage the existing topography, placing the playing field and changing rooms on the lower level of the plot and raising the side stands to the upper bound of the plot.
Gentle ramps link both levels with the parking to the north side and the main pedestrian path to the south, allowing pedestrian access to all users of the area. Finally, the large, light deck is placed above, unifying all the intervention with a smooth transition between the landscape of the park and the building.