Brooks + Scarpa has recently completed works on their latest project – Rose Apartments. This new LEED Gold four-story, 35-unit Rose mixed-use apartment building for transitional aged children. When children "term out," as they are called when they reach the age of 18 and are forced to leave a juvenile institution, the vast majority end up living on the streets because they have nowhere else to go. Rose Apartments gives this young adult a place to live who might otherwise be homeless. The structure is situated in an area where a car is not required.
The new building is right across the street from Whole Foods, 7 Eleven, a laundry, Lincoln Hardware, and a number of other facilities, and it is only seven blocks from the ocean, next to the tony stores and restaurants on Venice's diverse Rose Avenue. The structure is planned around an elevated courtyard above ground level business space, similar to the neighbouring Horatio Court, which was erected in 1919 by Irving Gill. The courtyard type has been around for over a century in Los Angeles. It supports pedestrian-oriented neighborhoods as an alternative to sprawl by providing useable space in the project's core rather than unusable, excess space outside of the building volume.
Rose Apartments is based on courtyard southern California home typology, but unlike older typical structures, it is more unique, providing more protection, privacy, and openness while connecting to the larger community beyond the building boundaries. By integrating transitional aged youth housing, the non-developer was able to take advantage of California State Assembly Bill AB763 for higher height and density, raising the project density from an area average of 12.30/DU/A to more than 110 units/acre. This much-needed affordable housing provides homes for poor and disadvantaged communities in an affluent section of town where low-wage workers are required but cannot afford to live.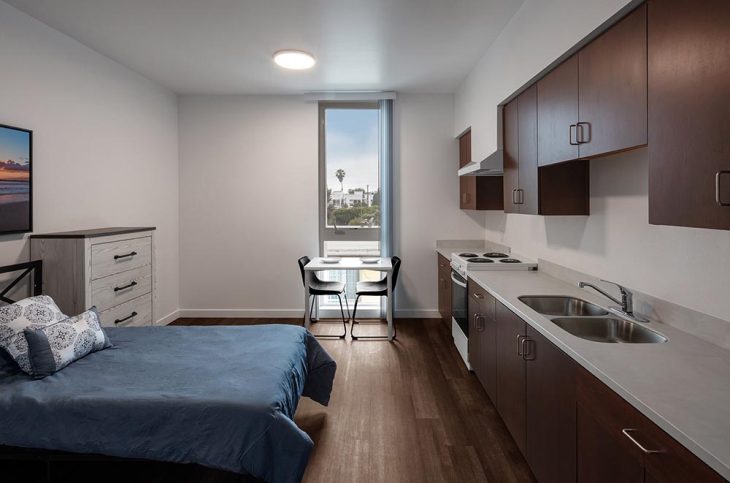 The main exterior material of Rose Apartments, used in many other historic courtyard constructions before it, is exterior cement plaster. However, at Rose, the walls are scalloped to add depth, relief, and texture, a problem that many cheap housing developments face. These walls also include surface-applied sparkle grain, which makes the façade glimmer as people walk past. In a matter of seconds, sunlight and brilliant lighting conditions soften and silver the façade. It's a fast-moving phenomena that, depending on the time of day, bends light and forms shadows.
Project's Formal Name: The Rose Apartments
Location of Project: 720 Rose Ave, Venice, CA 90291
Client/Owner: Venice Community Housing Corporation
Total Square Footage: 20,900 SF
Lot Size: 13,150 (0.31 acres) 35 units = 113 units/acre
Total Cost: $12,400,000
Completed: 2021
Architects: Brooks + Scarpa – brooksscarpa.com
3929 W. 139th Street
Hawthorne, CA 90250
Tel. 323-596-4700
1147 NE 7th Ave
Fort Lauderdale, FL 33304
Tel. 954-683-1236
Project Team: Brooks + Scarpa
Lawrence Scarpa, FAIA , Lead Designers
Angela Brooks, FAIA, Principal-in-Charge, Flavia Christi, George Faber, AIA, David Garcia, Carlos Garcia, AIA -Project Architect, Tod Funkhauser, Jeffrey Huber, FAIA, Dionicio Ichillumpa, Iliya Muzychuk, Micaela Danko, Eric Mosher, Eleftheria Stavridi, Fui Srivkorn, Yimin Wu, Juan Villareal, Project Design Team
Landscape: Brooks + Scarpa with Tina Chee
Engineering: Labib Funk – Structural and Civil Engineering
Breen Engineering – Electrical, Mechanical and Plumbing
Homage Design (Shellie Collier) – LEED Consultant
Southern California Geotechnical –Geotechnical Engineering
Wayfinding: Brooks + Scarpa
Contractor: Walton Construction
Photography: Jeff Durkin and Brooks + Scarpa (as noted)