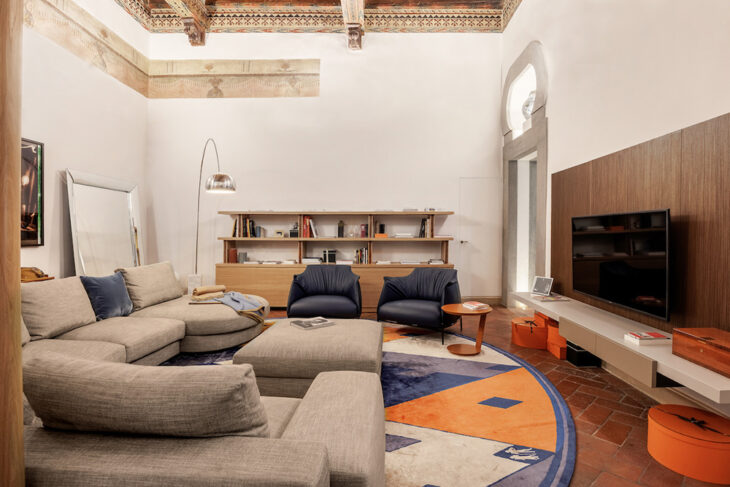 Pierattelli Architetture recently completed work on its latest renovation project of a 240 m2 apartment in Borgo San Frediano, a neighborhood in Florence, Italy. The designers gave it new life by restyling it to produce an elegantly functional sense of welcome that reflects the location's identity and eclecticism.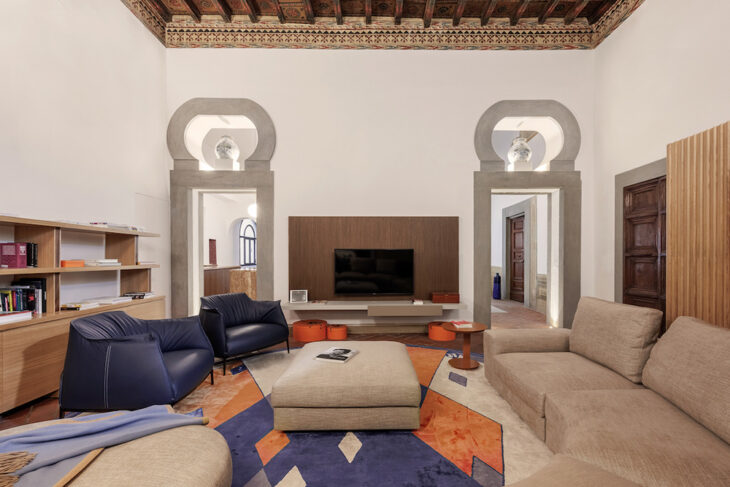 The light-filled, expansive rooms are defined by warm, bright colors, custom-made artisan solutions, and natural materials. The neutral wall colors contrast with the subtle tones of the painted ceilings. Existing significant artwork, such the frescoes and vaulted ceilings, adds value to the entire home and attests to its lengthy past. This residence offers a roomy living space with a living room that is joined to the kitchen and dining area, as well as a more private sleeping area.
The architects characterized the entry hall, which was built entirely from scratch during the restyling, by designing a curving panel with a brass base and a structure in ribbed wood. The semi-circular modular couch in Venise beige, created by Gabriele & Oscar Buratti for Lema, in conversation with the gentle lines of the two Archibald armchairs, designed by Frenchman Jean Marie Massaud for Poltrona Frau, then maintains this curving line across the living room.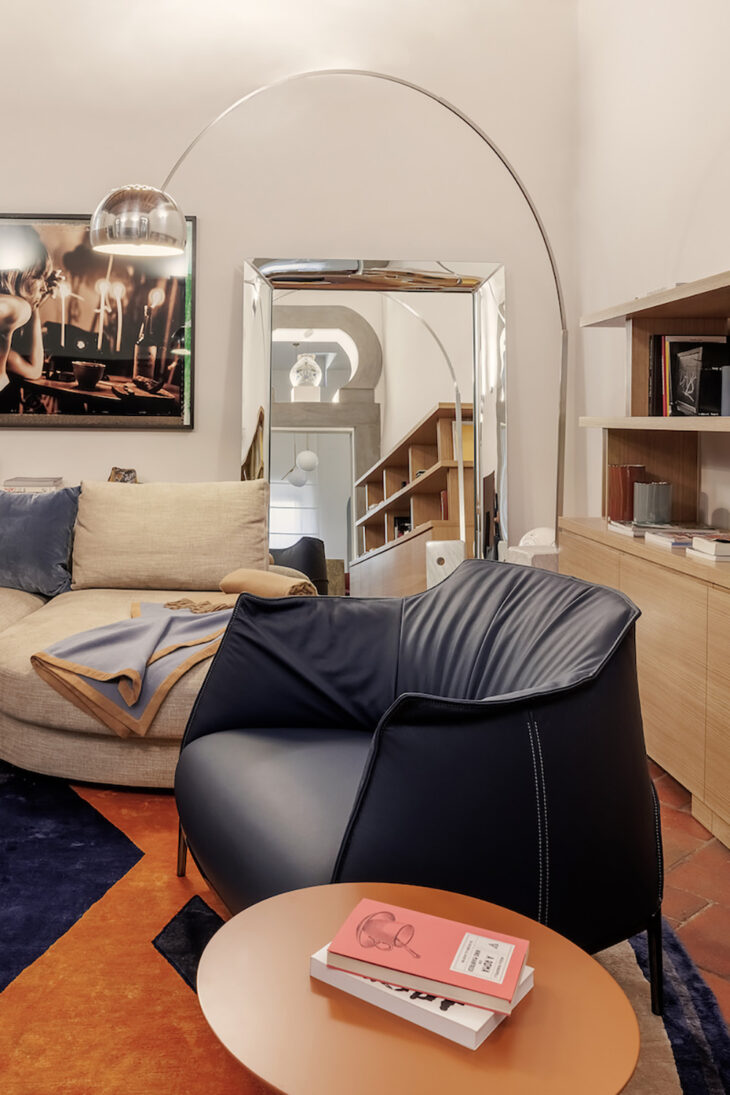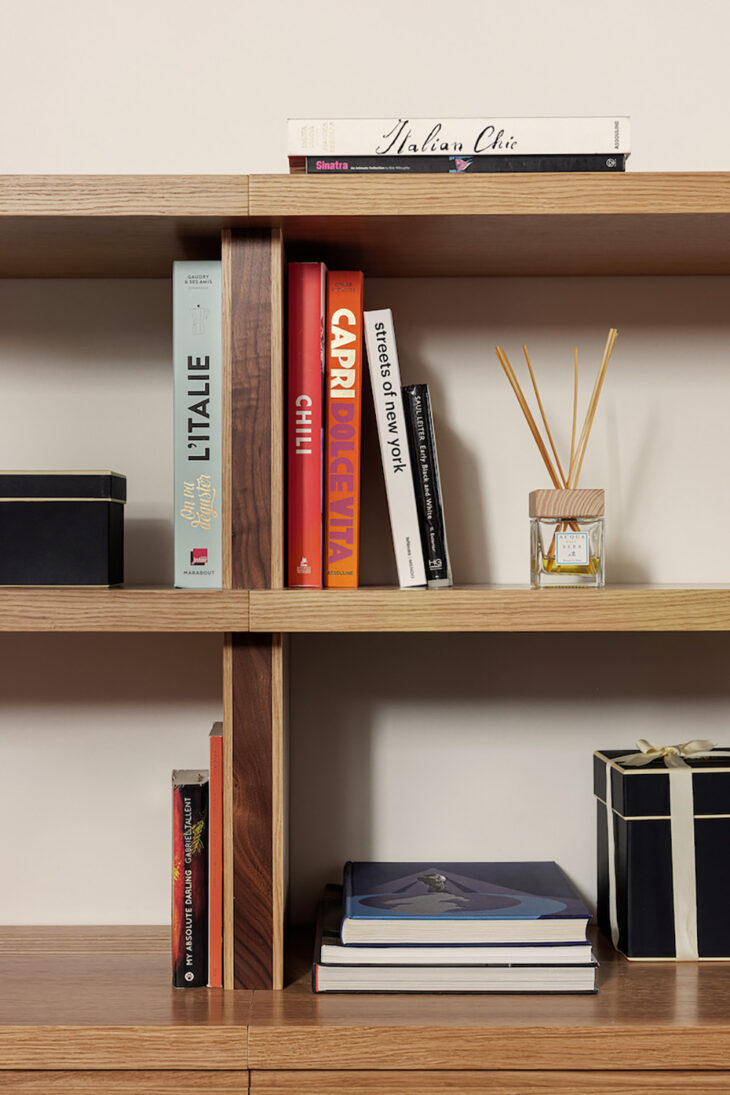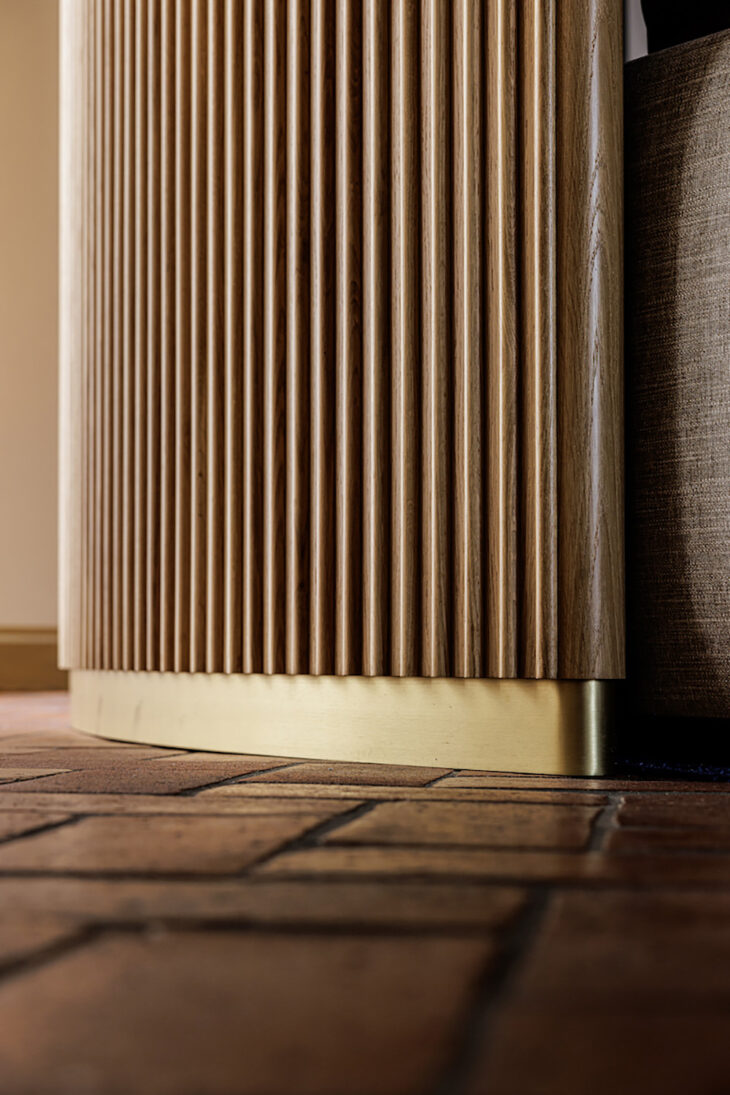 The architects created a circular rug with strong visual impact that was produced in Pakistan and unites the numerous colors on exhibit, from the various hues of blue to orange and light beiges, to provide a sense of warmth and "embrace" the various pieces present.
The dining room and open kitchen are connected by the living room's two openings.The walnut travertine top was made by a local craftsman in warm Mediterranean earthy tones, which are enhanced by the red of the Archibald stools by Poltrona Frau.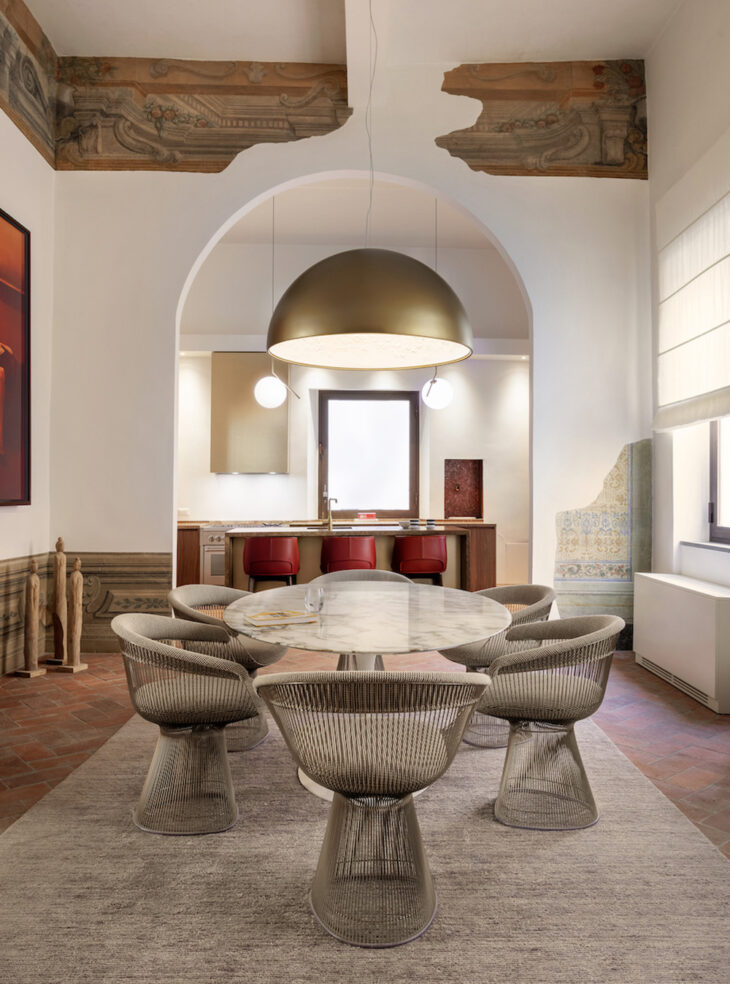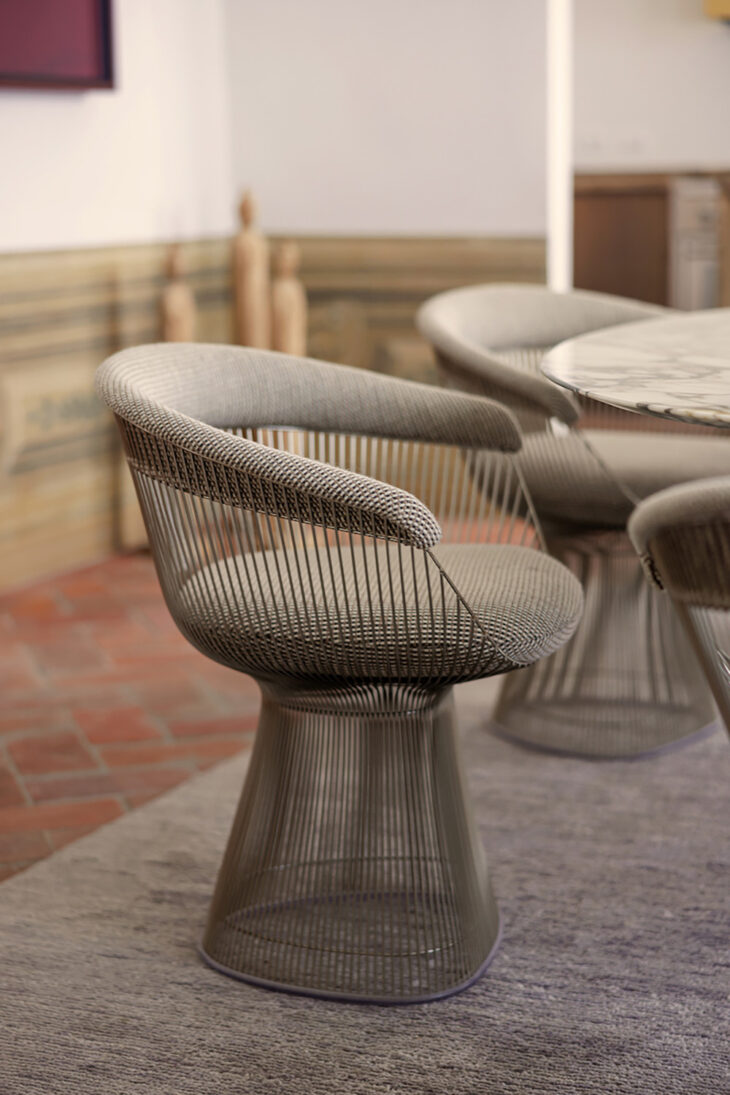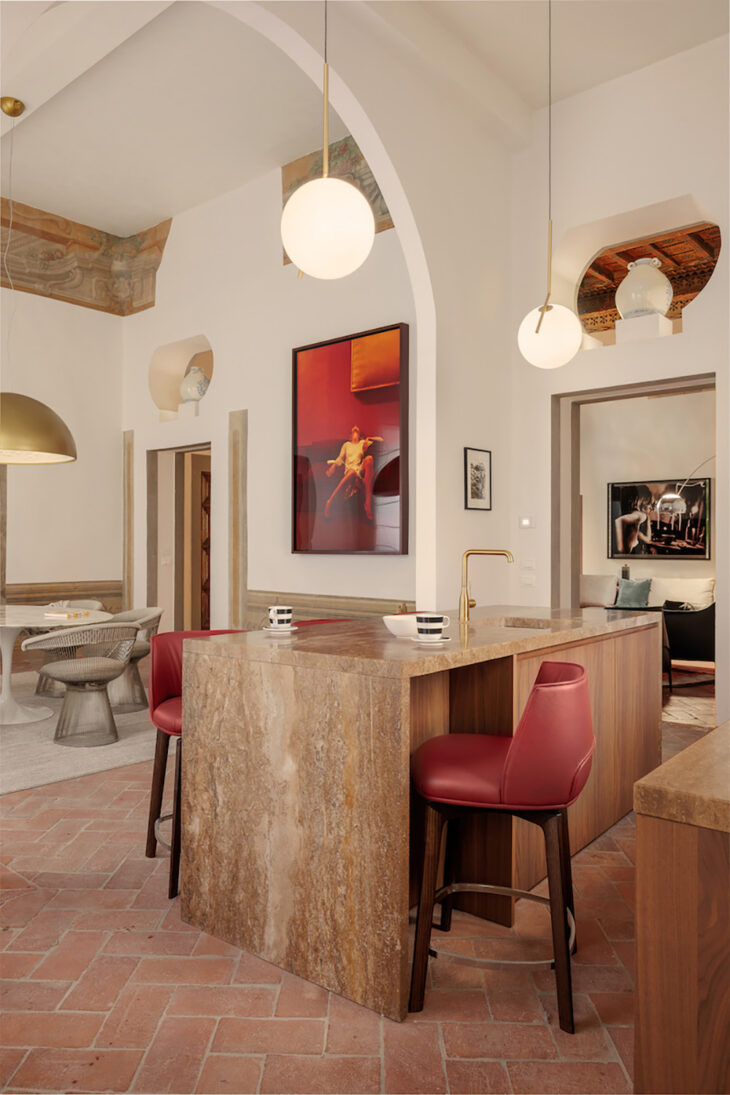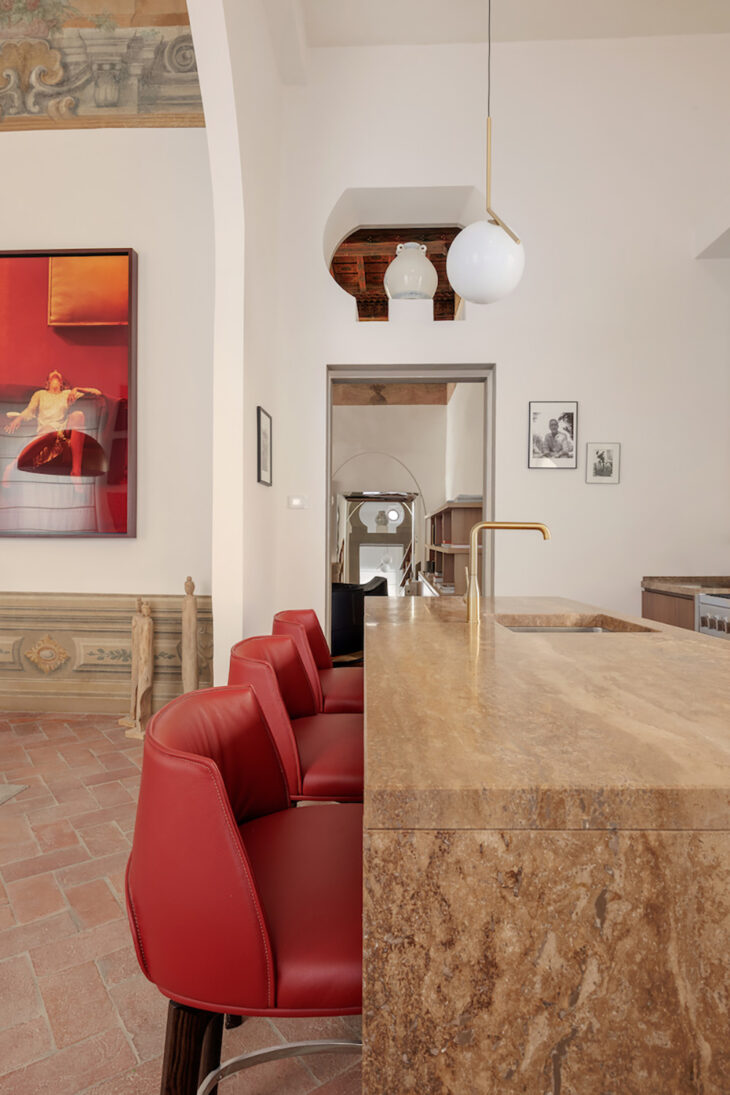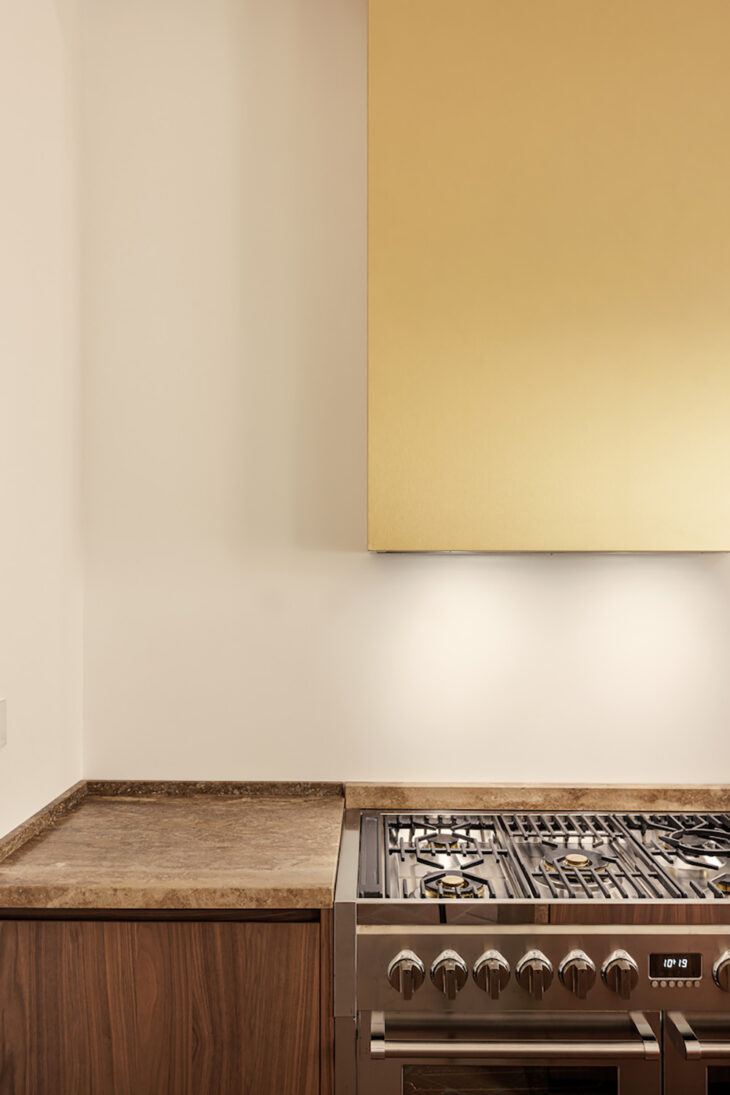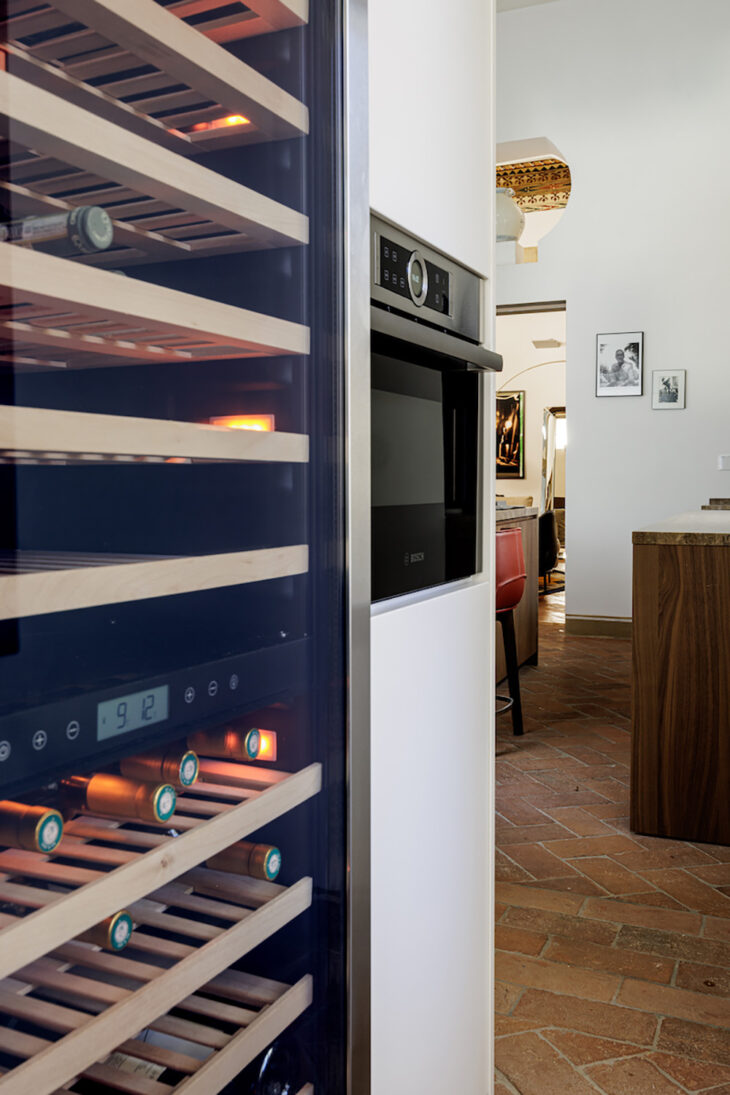 The Canaletto walnut headboard created by Pierattelli Architetture,serves as the bedrooms' defining feature. A study and two bathrooms with various types of travertine—classic for the master bathroom and moonlit blue for the guest bathroom—that were totally refurbished by the architects round out the flat. The apartment's historic pietra serena spiral staircase leads to the Turkish bath, which is located on the second level.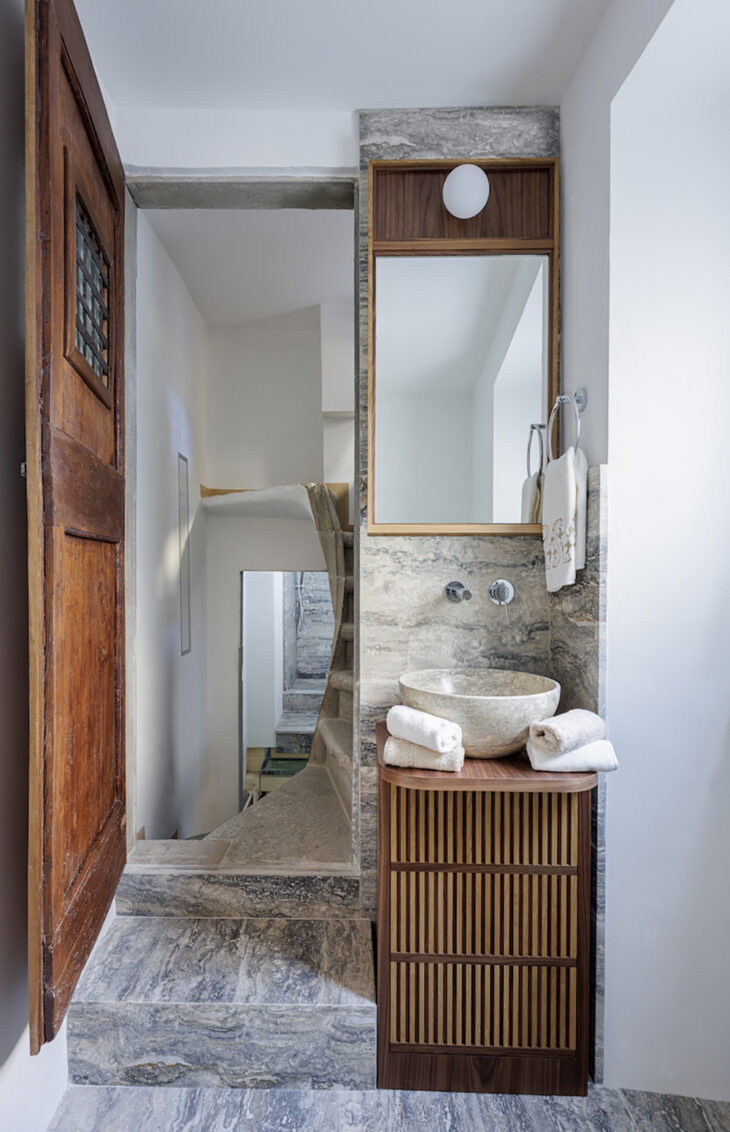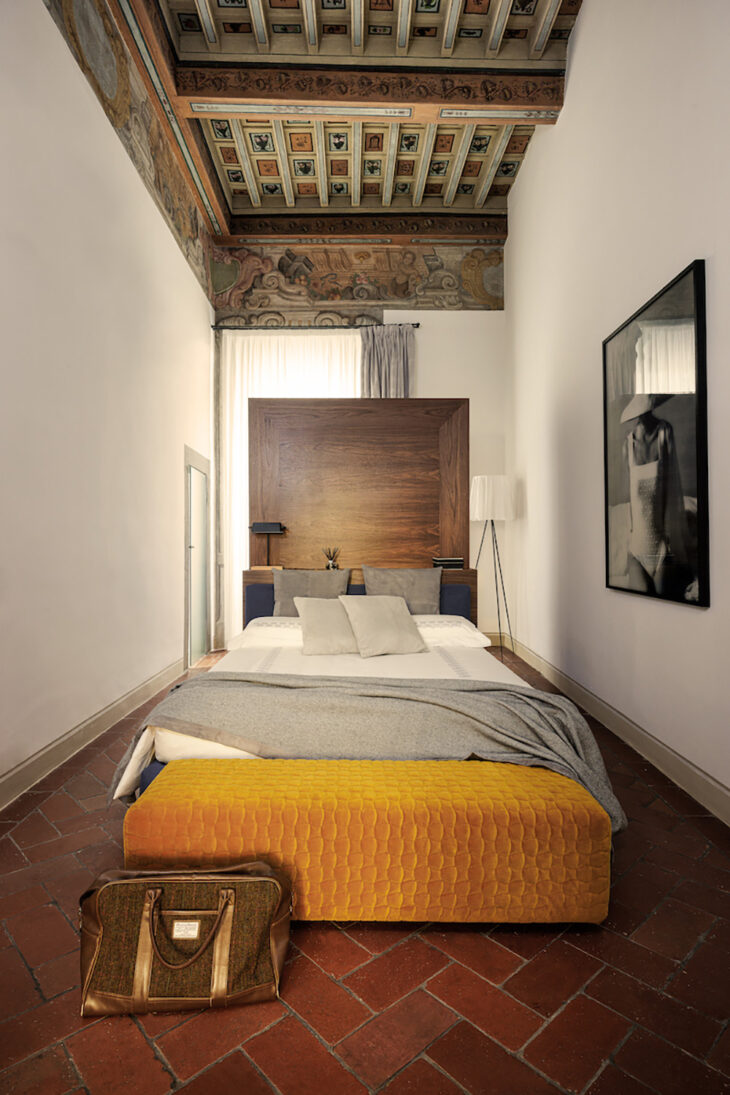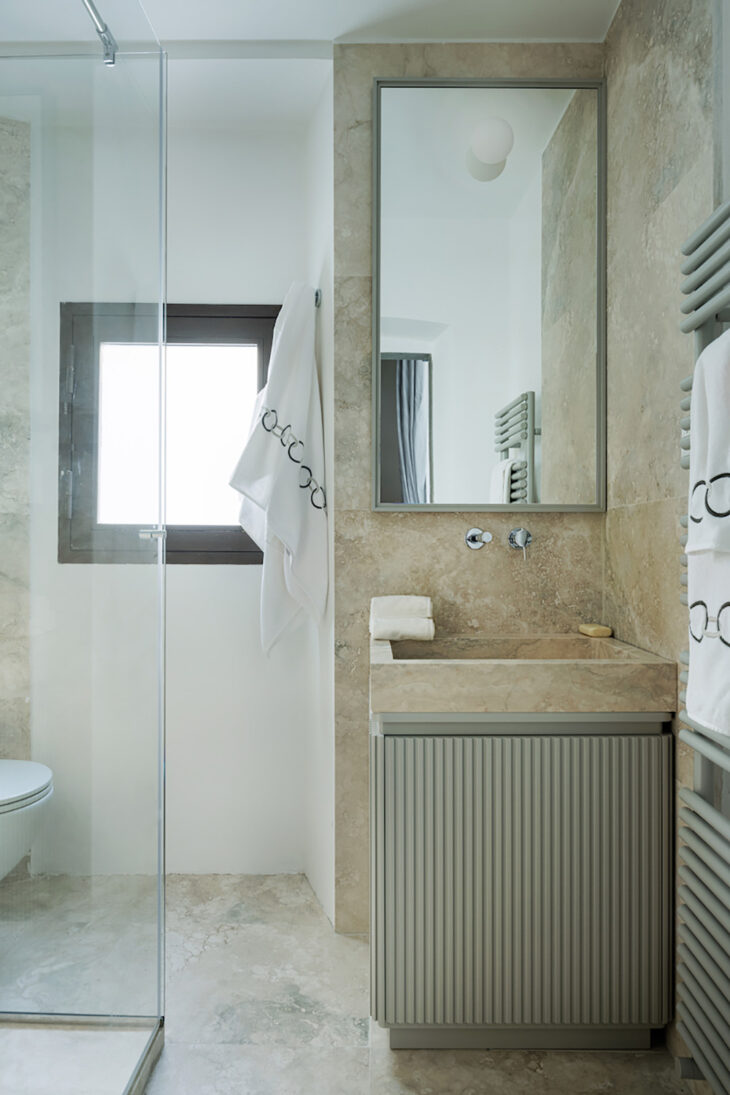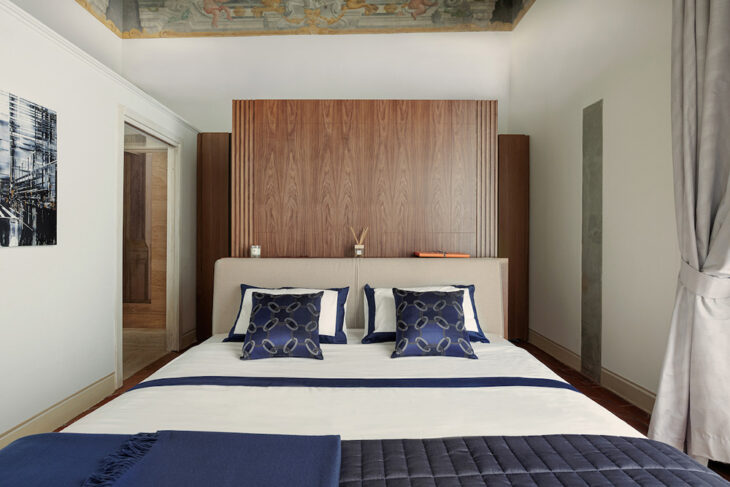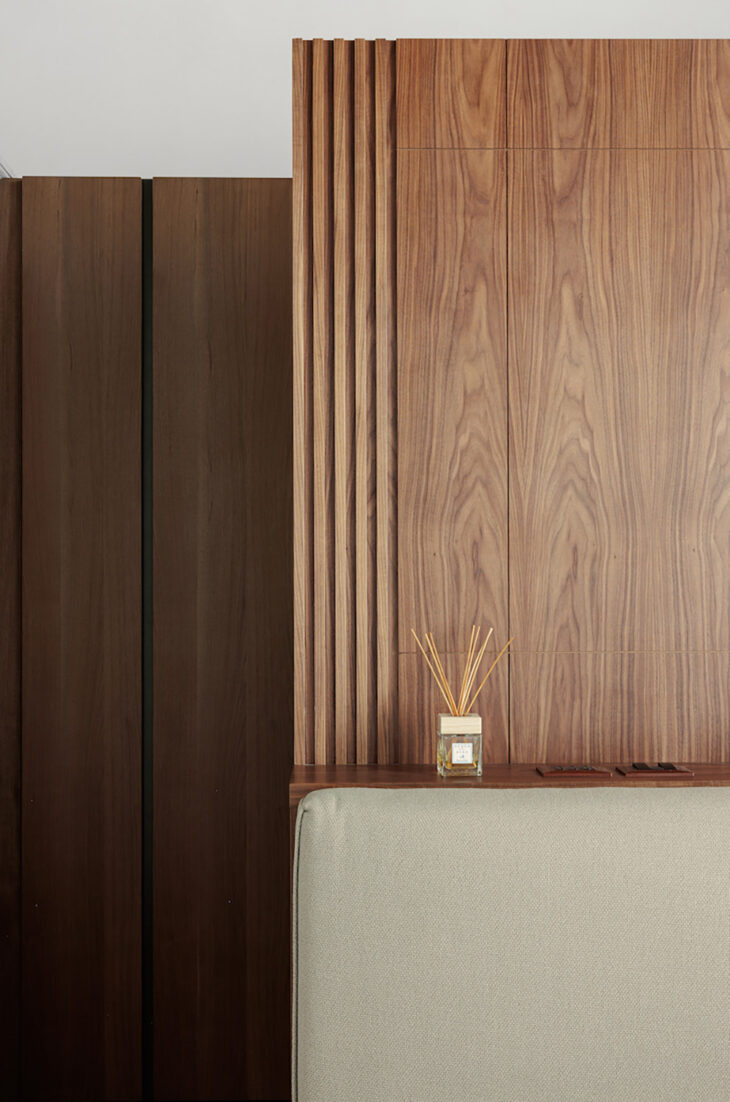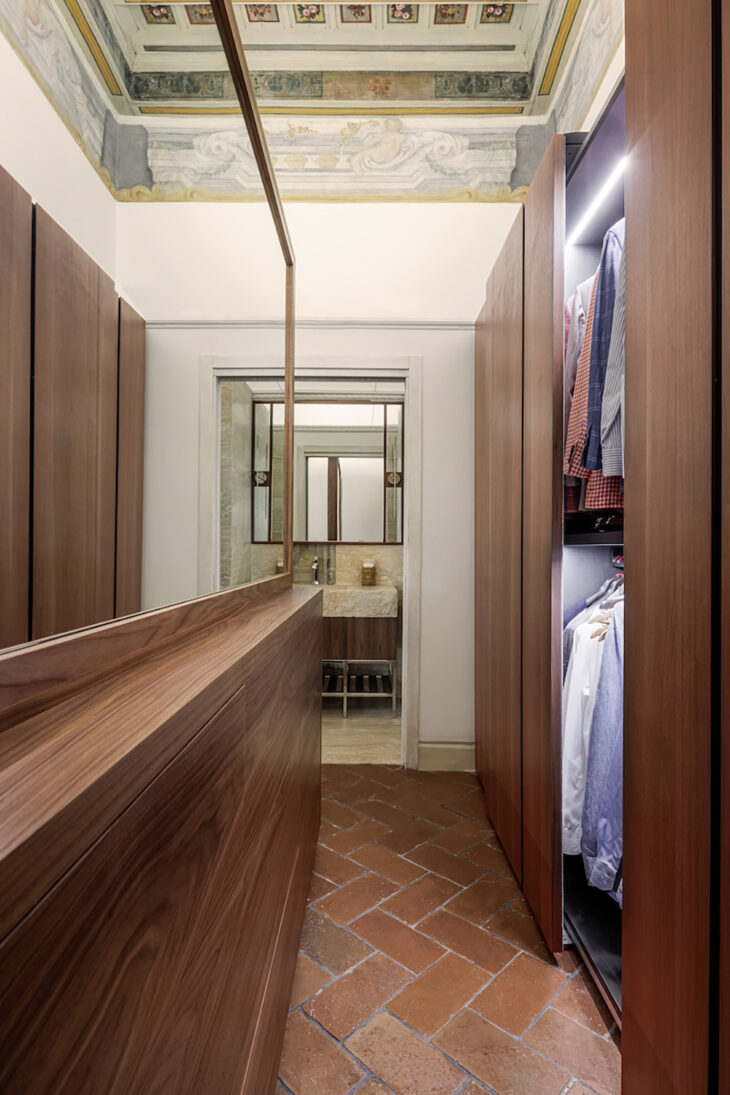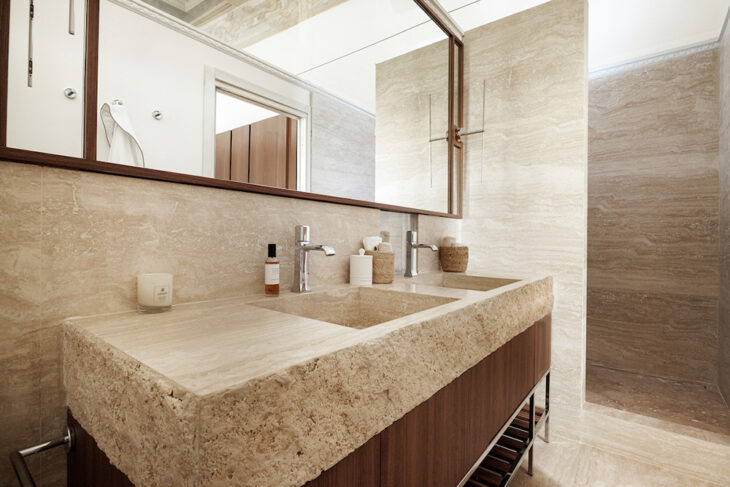 The original Tuscan terracotta floor, one of the oldest and most traditional building materials, has been preserved throughout the home. Its warm reddish tones give the rooms a cozy feeling, while Hervé Saint Hélier's beautiful images are displayed in various locations on the walls.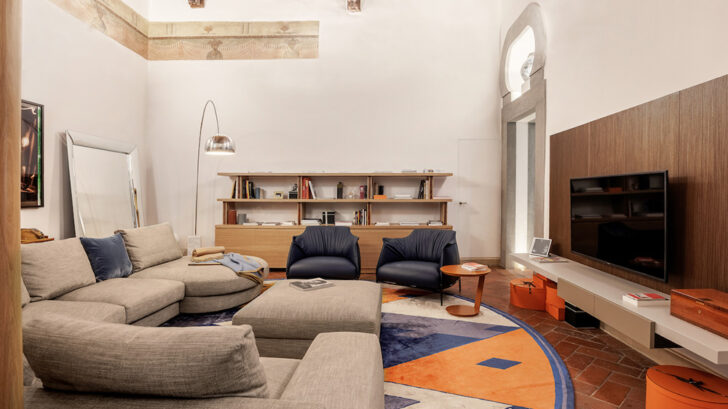 DESIGN: San Frediano apartment
LOCATION: Florence, Tuscany
ARCHITECTS: Pierattelli Architetture
AREA: 240 sqm
CREATED: 2022
FURNISHINGS: Lema, Poltrona Frau, Knoll, Flos
KITCHEN: Elmar
PHOTOS: Iuri Niccolai
Find more projects by Pierattelli Architetture: www.pierattelliarchitetture.it