Dior Maison is joining forces with Philippe Starck for the first time and has invited him to reinterpret the Medallion chair for the Salone del Mobile 2022 in Milan. Medallion chair wich is a symbol of the Louis XVI style, dear to Christian Dior.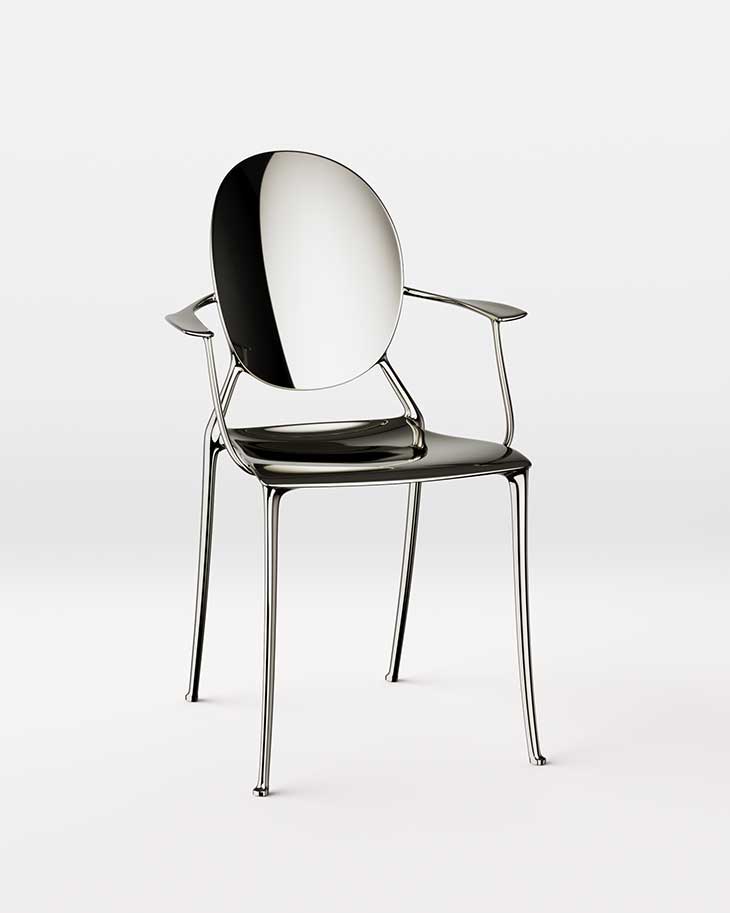 The internationally renowned creator has designed a chair named Miss Dior, a tribute to a certain kind of femininity, imbued with bold elegance. Driven by a "passion du minimum", he has refined the structure of the famous seat to the extreme, seeking the absolute purity of its silhouette, emphasized even more by the lightness of aluminum, of which Philippe Starck values the nobility and durability, as well as its precious simplicity.
Expressions of virtuoso craftsmanship, the curves of this model outline a unique shape, strike a perfect harmony. This quest for perfection was fueled by the desire to create an eternal chair, an emblem of longevity. Made in Italy, the unique piece transcends the boundaries of possibility: only one injector in the world was capable of making a mold meticulously adapted to its unusual architecture while exercising a fabulous command of the material. To achieve this perfection, only one craftsman in the world accepted the challenge. A specialist in injection molding, he developed a unique, elaborately engineered process, and selected aluminum of the utmost purity to ensure that each realization is of ultimate finesse.
Once molten, the liquid aluminum is poured into a concrete tank called a crucible, and then injected into a meticulously adjusted mold. A tremendous mastery of the material is then implemented to produce an infinitely precise form, adapted to the unusual architecture of this creation. Then the pieces are cleansed of any imperfections in a final polishing stage before being dipped in an electrolytic bath for the black chrome and pink copper versions, or vacuum sprayed for the gold one. Longevity is a fundamental parameter of this chair. With its timeless design and the extreme durability of its materials, Miss Dior by Starck takes on an eternal cultural, historical, and symbolic aura.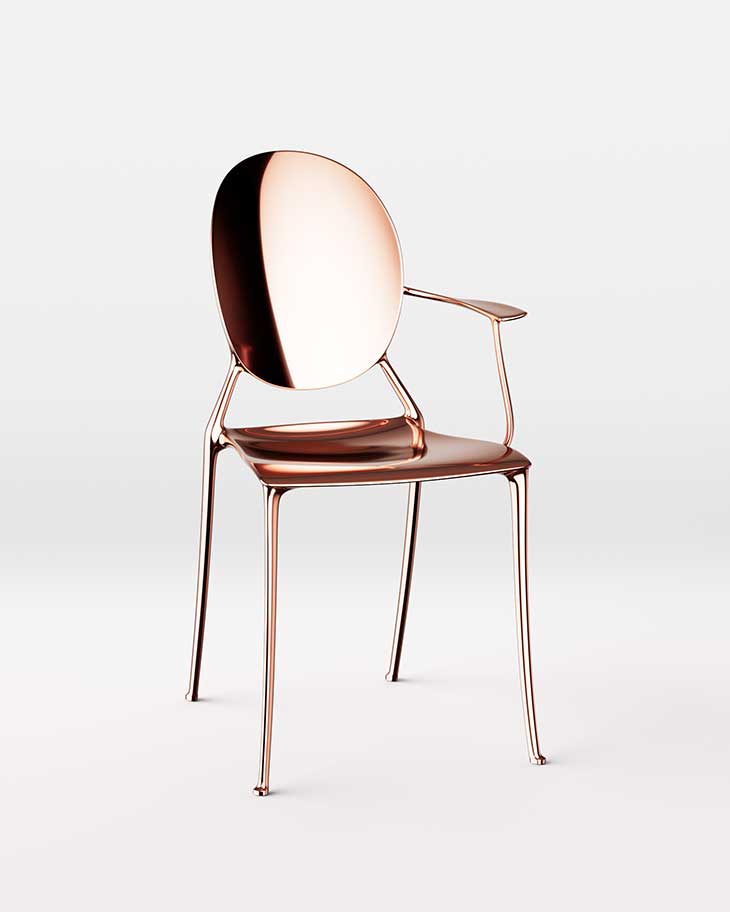 Philippe Starck has succeeded in unveiling the quintessence of the legend that the Medallion chair embodies in his eyes, through three exceptional models, with one, two or no armrests. This work of art is available in two finishes – satinated or polished – as well as in four shades, evoking modernity, softness, technology or the sacred.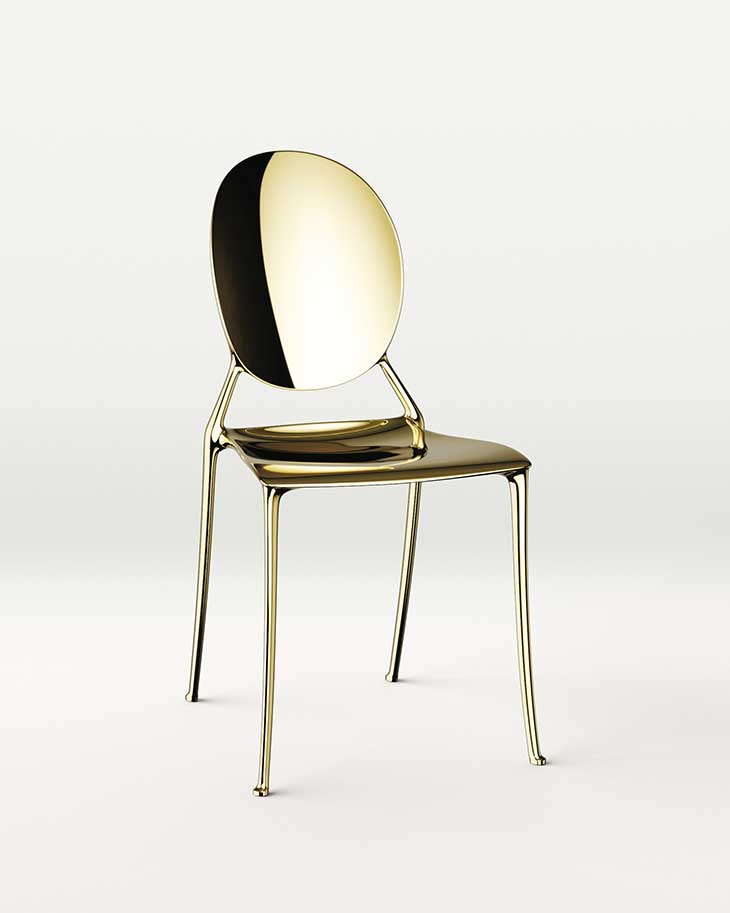 These timelessly elegant pieces have been elevated to the status of works of art and are to be discovered at Palazzo Citterio, a sumptuous 18th century edifice located in the heart of the city. They will be presented in a monochrome decor of a deep, matte black. A staging that is both theatrical and refined, specially designed to bring out their different shades: polished or satinated black chrome, pink copper or gold. Conceived as a vibrant, immersive experience, the installation will be brought to life by an interplay of light, punctuated by a musical composition created for Dior by Soundwalk Collective (Stephan Crasneanscki, Simone Merli), based on a work by Erik Satie. A striking scenographic choreography that will unveil, one by one, each of the twenty-four Miss Dior chairs.